English alumna Anne Meisenzahl confronts spirituality and self in her novel, Long Time Gone
---
English alumna Anne Meisenzahl confronts spirituality and self in her novel, Long Time Gone
By Molly Wexler
Anne Meisenzahl has a lifelong career in educating formerly incarcerated and underprivileged adults. Outside of her work in the community, she recently published her first novel, Long Time Gone, which was drawn from aspects of her professional life.
Meisenzahl, a 2009 alumna of Florida State University's English department, originally earned a master's degree in Elementary and Exceptional Education from Bank Street College of Education in New York City. She has always loved poetry and writing, however.
"I've always just gone to writers' workshops and written on my own time, so when the opportunity—after my career was established and I was a mom—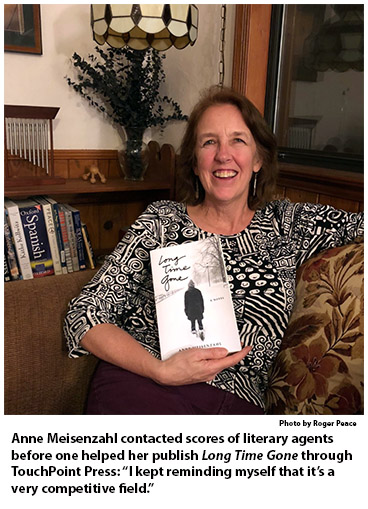 to go back to school to study writing and literature for fun came along—that was really motivating for me," she explains.
She enrolled in FSU's Master of Fine Arts Creative Writing Program with a small inheritance from her father. Her original focus was poetry when she began her studies, but she soon fell in love with short story and fiction technique courses, which led to her novel.
Long Time Gone tells the story of a character named Grace, who embarks on a journey into her childhood Catholic Church to confront her troubled past, find unexpected love, and discover a renewed spirituality. The novel takes place in 1998, which purposely predates the Boston Globe's 2002 investigative articles into the Catholic Archdiocese of Boston sex abuse scandal, which inspired events and themes in the novel.
Meisenzahl added autobiographical and biographical elements and used personal memories and past experiences for the narrative. Several of the characters, overtly or subtly, are based on people from Meisenzahl's life.
For example, the experiences of Grace, a writing teacher in Los Angeles, are inspired by Meisenzahl's thirty-five years working in adult education. The character of Frankie is based on a real 26-year-old student Meisenzahl taught when she was the same age at a Bronx adult education program.
"Frankie was my favorite student," Meisenzahl says. "He had been in prison for ten years and he had come out just ready to change his life and do positive things."
Tragically, former criminal associates of Frankie's killed him once he was free. His story and his passion for writing inspired Meisenzahl to memorialize his character on the page.
Long Time Gone started as essays and short stories about family members and her own teenage spirituality under the direction of FSU Professors Diane Roberts and Elizabeth Stuckey-French.
"I loved both her [Stuckey-French's] encouragement and her critical evaluation of our work…The genesis for [Long Time Gone] was written as a short story in her class," Meisenzahl says, adding that Stuckey-French also was a great help in teaching her about the publication process and how to submit her short stories to publications.
FSU Senior Lecturer Barbara Hamby was Meisenzahl's mentor, MFA committee chair, and an inspiration in furthering her study of poetry. Hamby says Meisenzahl was "lovely to work with" and "I always felt that her poetry and her fiction came from a place of complete integrity."
Hamby says she saw in Meisenzahl the genuine desire to make the world a better place, while having "a sense of the absurdity of human beings and their foolishness, too."
English Professors David Kirby and James Kimbrell also stood out to Meisenzahl as enthusiastic and encouraging when she would workshop her poetry with them.
"They're all just very generous, generous instructors," she says. "The workshops were fun and engaging, but exacting and demanding at the same time—so it was really special."
Professor Jerrilyn McGregory, who teaches and writes about folk lore and African American and multiethnic literature, also had an enduring influence on Meisenzahl's development as a writer.
Long Time Gone was at first a very personal project to Meisenzahl, detailing her relationship with Catholicism as a teenager, alongside her family's history and secrets.
"This is a novel about a person's attempt to come to terms with what is wonderful about and what is wrong with the Catholic Church in particular," she says, "and religion in general."
As she continued writing, though, the novel developed further to interweave matters close to her heart such as teaching, societal issues of incarceration, and the damaging effects of priest abuse.
"It started out as me exploring my own history and it evolved into all these other issues that are important to me," she says. "It's about coming into one's own in the face of authoritarian dogma."
Through the experience of writing Long Time Gone, Meisenzahl has become acquainted with the challenges and triumphs of publishing a novel.
"I told myself that I was going to contact a hundred agents before I gave up," she says, laughing.
Meisenzahl contacted at least that many agents at first, with no luck.
"But I kept reminding myself that it's a very competitive field," she says.
She began working with an independent literary agent, who contacted TouchPoint Press, a Mississippi-based publisher that took on Long Time Gone.
The book truly was a family affair. Meisenzahl's daughter designed the cover art, which was originally a photo of her niece taken by her sister.
Even though Long Time Gone is Meisenzahl's first novel, she has contributed poetry and two essays to notable publications such as Apalachee Review, The Georgetown Review, and Teaching Tolerance.
In addition to her career as an adult educator, Meisenzahl is the author of Adult & Community Education's reentry / life skills / GED curriculum.  She is currently the Chair of the Big Bend A.F.T.E.R. Reentry Coalition (BBARC).
BBARC advocates for formerly incarcerated people and provides resources for substance abuse treatment, intervention, housing, education, employment, and community programs to reduce recidivism.
Every month coalition members from various social service agencies, faith-based organizations, and criminal justice entities share what they are doing in the community and what services they are offering.
"At every meeting without fail, people attending the meeting say, 'I'm so glad to know about what the community has to offer because now I have another place I can refer my client,'" says Meisenzahl.
Meisenzahl's dedication to criminal justice and teaching has always played an important role in her life, and now her passions have translated into the artful, poignant literature of Long Time Gone.
Molly Wexler is a senior majoring in English with a concentration in editing, writing, and media, in addition to a Teaching English to Speakers of Other Languages certification.