English alumna Andrea Loaiza brings simple photographs to life through her artistic vision
---
English alumna Andrea Loaiza brings simple photographs to life through her artistic vision
By Tabitha Labrato
Andrea Loaiza, an artist and photographer known for her whimsical portrayals of everyday life, takes one look at the ordinary world and declares, "I can do you one better."
As a Florida State University alumna, who graduated in the fall of 2017 with her bachelor's degree, Loaiza stretches the skills she acquired as an English major into expressing her creativity in different ways.
A woman with angelic wings. A clock eternally ticking. Greenery growing from the back of a human being.
With just a flutter of a camera lens and the clicks of a computer mouse, Loaiza can transport viewers into a fantasy world where anything is possible.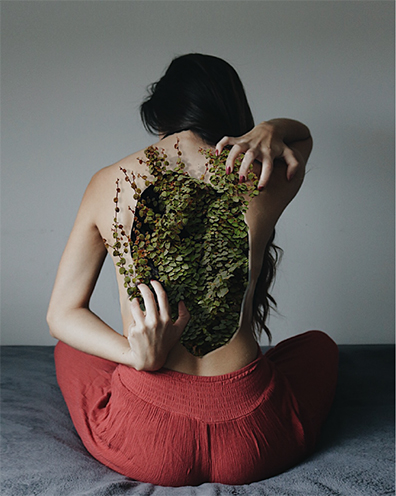 Even herself swan-diving into a cup of hot coffee.
Bringing beautiful images to life through the use of Photoshop and photography, including anything from a girl peeking into another galaxy or a woman with a book for a head, Loaiza visually tells stories that look like they are straight out of someone's dream-journal.
"I consider myself a storyteller," she says. "It was interesting to see how I could create stories and scenarios and then transform what I had in my mind from words into an actual visualization of the story."
However, incredible creations like these don't appear out of thin air. Loaiza, who studied on the Editing, Writing, and Media track, has an elaborate process when it comes to making masterpieces.
First, she always starts with a detailed sketch. If the edit requires an elaborate background, she finishes the entire scenery before she adds herself. Next, using the correct lighting and perspective, she sets up the photograph of herself, which she adds to the image in progress.
Finally, "final touches" are usually done in Lightroom or Afterlight to add some grain and adjust the exposure and contrast. Sometimes, she will modify the colors, so the image looks similar to others she has created.
"The time can vary depending on how elaborate the edit is, and mostly, how elaborate the background is," she explains. "Usually, I won't spend more than a half an hour taking the pictures, but the editing itself can take from two hours to eight-plus hours."
Loaiza, who now lives in Panama, Panama, says she credits much of her love for storytelling to her studies in the English department.
"There were a lot of professors who helped me to get out of my cocoon and helped me understand my writing style," Loaiza says, recalling the courses that helped shape her future. "Without the English professors at FSU, I might have never realized that my writing style had a storytelling side, too."
Additionally, because the English major is focused on the analysis of writing, she says her instructors helped her to better grasp the "why" and deeper meanings behind art or text.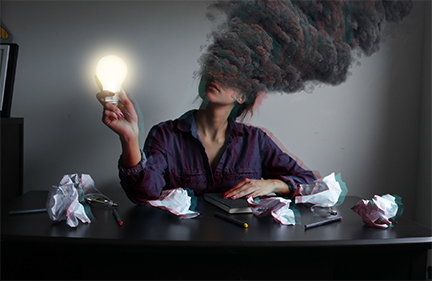 She explains that in some EWM-focused courses, for example, you are taught to look further into a sentence as simple as "The door is red." The lessons push you to find out what the door represents, why it is red, and what it could possibly symbolize.
"When I was in Rhetoric, I remember my professor was talking about how nothing is original; everything we do and everything we create is based on something else," she says. "I remember that affected me because I was like, 'well, I could be original!'" Loaiza adds, laughing when describing her determination to be an independently inspired artist.
Her goal to avoid copying others clashed with the professor's statements, and that worried her a bit.
"But after the professor explained how inspiration and copying something are two different things, it made me realize how our voices are the real art and our interpretation is what tells the story," she says.
She explains how reposting images from a film or book is not enough when it comes to showing her audience what an image can truly capture, which is why she adds herself to them. She prefers to transform her thoughts and ideas into the images that she creates to show the readers what the art looks like through her eyes.
Not only does her audience get to see the subject of her pieces through her eyes, but most times, she also incorporates herself into her art as if she is personally experiencing her fantastical fictional scenes.
Throughout the duration of her time creating these photography/Photoshop hybrids, Loaiza's imagined identity has visited some sensational scenes. Whether lounging in a pool of hot cocoa, visiting an enchanted castle, or floating atop of a city with an umbrella, Loaiza leaves her fans wishing they could visit the remarkable regions that she creates.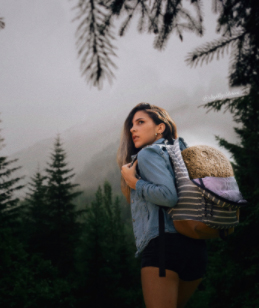 Taking in the range of Loaiza's artistry, to say that she is an "out-of-this-world" artist would be an understatement.
When it comes to inspiration, she likes to start with a word or a theme to guide herself.
"I get inspired mostly by illustrations, quotes or story ideas," she says. "Sometimes, even just a random idea will pop up in my head."
Loaiza has been working on completing an "ABC Challenge," daring herself to find inspiration in each letter in the alphabet to create her latest pieces, resulting in 26 separate works of art. She is nearing the end of this conquest, and when she is finished, she will have one creation for each letter.
"Right now, the ABC challenge I have going on in my Instagram feed helps me with a bit of guidance and order, but now that I'm finishing it, I have a couple more 'challenges' that I'd love to try out," Loaiza says.
To view Andrea Loaiza's online portfolio to view more of her artwork, click here. To see more of her work on her Instagram page, click here.
Tabitha Labrato is an English major, on the editing, writing, and media track, with a minor in communications.
Follow the English department on Instagram @fsuenglish; on Facebook facebook.com/fsuenglishdepartment/; and Twitter, @fsu_englishdept