English alumna achieves success in law school; her next career step is to join the JAG Corps
---
English alumna achieves success in law school; her next career step is to join the JAG Corps
By Elizabeth Chailosky
For most first-year-students, the thought of eventually securing a professional job upon graduation can be daunting. With so many academic opportunities and different career paths available, deciding the right fit for a major can be difficult.
Florida State University English alumna Marisa Anderson experienced this same uncertainty and distress as an undergraduate.
Anderson admits joining the U.S. Army was never a goal of hers in May of 2017, when she graduated from FSU with her bachelor's degree.
Even so, she embarked on a journey that would push her toward new experiences and opportunities and an eventual acceptance into the U.S. Army Judge Advocate General's (JAG) Corps.
Throughout her four years of college, the thought of going to law school always remained on Anderson's mind. Despite this intrigue, and following her passion for reading and writing, Anderson chose FSU's English major with a concentration in editing, writing, and media.
"Editing, writing, and media was everything I was looking for. It was fate ending up on this track," Anderson says. "The classes helped me in more ways than I could have imagined."
Right out of college, because she had such enthusiasm for journalism, Anderson accepted a job at The Villages Magazine, a monthly lifestyle publication located in Lady Lake, Florida. During her time as the magazine's assistant, Anderson wrote articles on a variety of topics.
However, after only a month, Anderson knew she wanted to do more than just produce content for the magazine.
"I wanted something that was going to challenge me to the point where it was going to make me change who I was as a person," Anderson explains.
Despite her reservations and insecurities concerning her ability to succeed in law school, Anderson quit her job and studied for the LSAT for three rigorous months.
The interviewing skills she honed as a journalist were helpful when researching being a lawyer as a career.
"I wanted to interview all these people in order to gather enough information so that I could make the best decision for myself because I knew it was going to be a lot of work and a lot of loans," Anderson says.
Their honest answers concerning the loans and mental obstacles that accompany law school filled her mind with renewed doubt, but Anderson refused to allow her reservations to hinder her dream.
Anderson chose Florida International University's College of Law in Miami due to its excellent program and esteemed faculty. Right away, during the first month and a half of law school, Anderson found herself surrounded by students who always knew they wanted to be lawyers, and she felt like she didn't fully belong.
She began to feel some solace in her legal writing class.
"I loved it because I felt like I was back in English class and I was able to write and use what I knew," she says, referring to why she succeeded in this particular class when other students struggled.
Now in her final semester of law school, Anderson credits her success to remaining resilient.
The most important thing that I've learned is you just have to take each blow, and you have to adapt and learn from the mistakes you make; that makes you either excel or fail.

Marisa Anderson
"The most important thing that I've learned is you just have to take each blow, and you have to adapt and learn from the mistakes you make; that makes you either excel or fail," Anderson says.
Law school was "rough in the beginning," she adds, but her resourcefulness and hard work made joining the U.S. Army JAG Corps feasible.
Jack Clifford, FSU's English department media specialist, worked with Anderson during her time as a student in the Fall 2016 semester and when she was a student editing for the Spring 2017 semester. He admires Anderson for her tenacity.
"I have stayed in touch with Marisa as she goes through law school," he says. "She is hard on herself, often fearing the worst about her academics, which I always know will turn out for the best because she is a brilliant student. I have never doubted Marisa's ability or her determination to overcome any obstacle in her way. She is going to be an exceptional lawyer."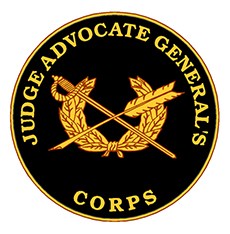 The U.S. Army JAG Corps is a government organization that comprises of a broad list of legal disciplines, including civil litigation, tort claims, labor law, and international law. In addition, judge advocates can choose to serve either as full-time legal practitioners on active duty or as members of the U.S. Army Reserve.
Ultimately, Anderson will have the opportunity to serve the U.S. as a member of the judicial branch and as an advocate of justice once she completes training. She is excited about the mission ahead.
"I'm gaining so much; it's going to be a hard road ahead because I have to do soldier and job training," she says, "but I will be learning about all of those things which is going to be so helpful as a person and as an attorney."
While having good grades in law school is a significant requirement, Anderson contributes her acceptance into the JAG Corps to her background in journalism.
"As a journalist, you are taught how to get resources and how to talk to people so you can get the resources you need. Just going to class and taking notes is not enough to help," she explains. "So, it's just being resourceful and resilient and finding the tools you need to succeed."
In addition to having those qualities, Anderson points to her ability to succeed in uncomfortable situations as what will help her the most during training.
"In the JAG Corps you're a soldier first, so you're going to have to be okay with them telling you 'You're going to here now' and adapting on the spot," she says.
The military has many financial, career, and health benefits, but for Anderson the most important benefit of becoming a judge advocate is the experience and prestige the accomplishments will gift her.
"It's a good thing to set me up for a career that will be respected when I walk into a room, which is especially important for women attorneys," Anderson points out.
In addition to serving as a stepping stool for future career opportunities, the JAG Corps will introduce Anderson to a much more extensive training and a set of skills that a civilian firm could not provide.
Anderson overcame her initial skepticism when applying to both law school and the JAG Corps with perseverance, diligence, and strength. Those attributes and her JAG Corps training and mentorship will benefit Anderson as she works toward one day becoming a trial attorney.
Anderson acknowledges that no specific college major prepares students for law school. Still, she attributes her underlying foundation in writing, rhetoric, and advocacy as contributors to her success.
"I see my training and undergrad manifest in so many different ways in law school. I couldn't have had better training than in my undergrad," she says.
Elizabeth Chailosky is a double major in English, on the editing, writing, and media track, and Women's Studies.
Follow the English department on Instagram @fsuenglish; on Facebook facebook.com/fsuenglishdepartment/; and Twitter, @fsu_englishdept