Eleanor Boudreau goes through range of emotions with recent publication of Earnest, Earnest?
---
Eleanor Boudreau goes through range of emotions with recent publication of Earnest, Earnest?
By Cristi McKee
Florida State University doctoral student Eleanor Boudreau became a first-time published book author on Sept. 8, 2020, when the University of Pittsburgh Press released her collection of poetry, Earnest, Earnest?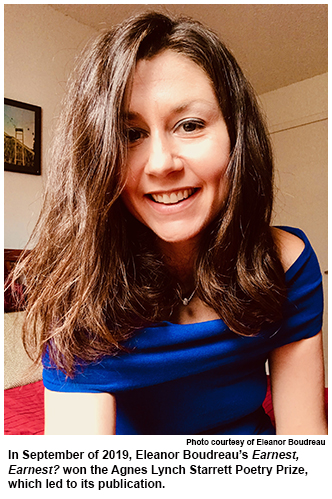 With this achievement and new experience comes what Boudreau calls "two very contradictory worries—What if people read my book? And what if no one reads my book?"
Her book tells the story of main character Eleanor and her on-again, off-again "lover," Earnest. Throughout the book, the exchange of postcards between the two of them raises questions of irony and sincerity, Boudreau says.
Boudreau says she tends to look at events in her own life as metaphors, which sometimes influences her writing.
"To me, my first book does seem similar to the period in which I finished it. Earnest, Earnest? was almost a disaster, then it was a book," she says. "Or Earnest, Earnest? was a disaster and it is a book. Something like that. I don't think I could have completed Earnest, Earnest? under happier circumstances."
The character "Earnest" may be read literally as Eleanor's lover, but seems to better be understood as another side of the poet's self. The story's inspiration came from readers' feedback on Boudreau's popular "Dear Diary" poems, a series of poems that eventually were turned into the letters that Earnest writes in the book.
"I invented Earnest because when I wrote poems that were not addressed to a man, readers complained that there was no 'objective correlative' for the speaker's feelings," Boudreau explains. Readers would often wonder if these poems were about a breakup or a heartbreak, but many of them were not.
"In my experience, the end of a romance is not the most common cause of heartbreak in the world," she says. "There are a lot of different ways the world can break your heart. In my mind, the 'Dear Diary' poems were about all of them simultaneously, but that wasn't coming across to readers."
In April of 2019, Earnest, Earnest? won the Agnes Lynch Starrett Poetry Prize, awarded by the University of Pittsburgh Press, which led to its publication. The book was selected from a pool of 639 manuscripts, but the size of the competition was not what proved to be most daunting to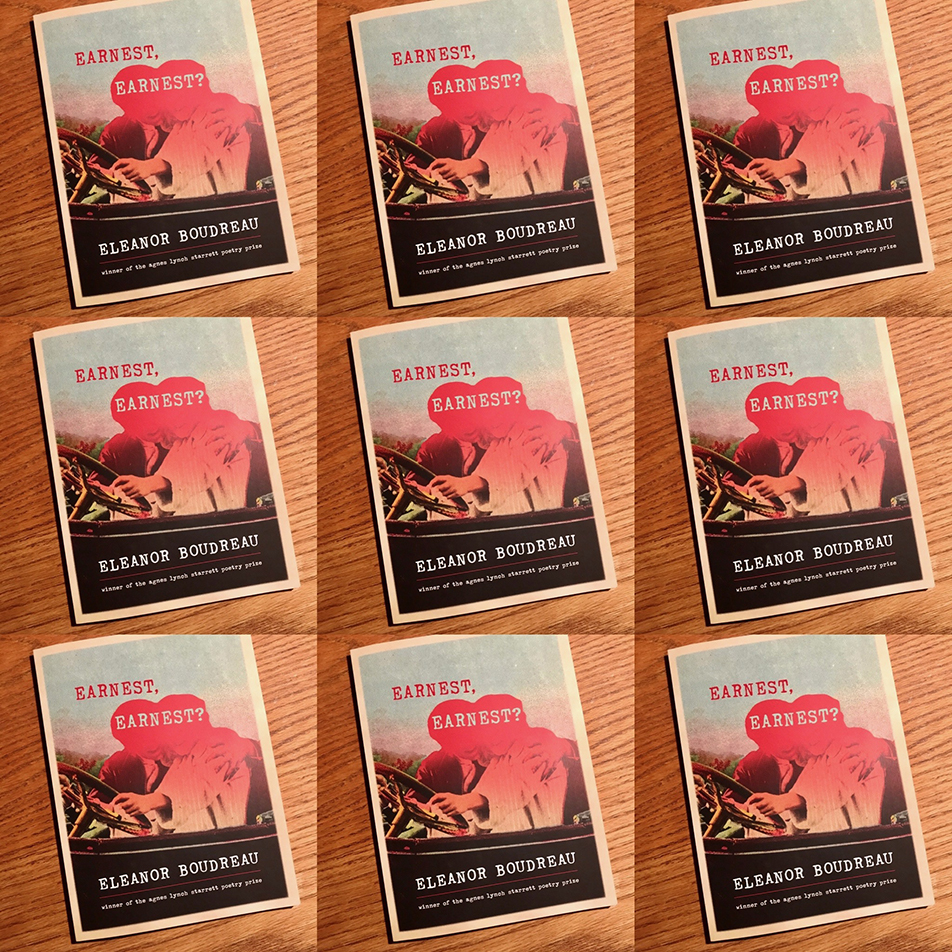 Boudreau. While waiting to hear back from University of Pittsburgh Press about her submission, she also entered Earnest, Earnest? in a number of other contests, which proved to be an expensive process.
"I've never made much money and the expense of applying to book contests was breaking me," she says. "I was using savings to do it and I didn't have much savings."
Winning the 2019 Agnes Lynch Starrett Poetry Prize brought her, primarily, relief.
"Winning meant I didn't have to spend money submitting to contests anymore, at least not for a few years, and that was an enormous relief."
The inevitable excitement did soon follow, however: "I did feel joy and excitement and these feelings lasted for a long time."
Boudreau holds a B.A. in English from Harvard College and a M.S. in broadcast journalism from Columbia University's Graduate School of Journalism. She is currently pursuing her Ph.D. in Creative Writing at FSU, and in early September, she kicked off the Jerome Stern Reading Series, hosted by the Department of English, with passages from Earnest, Earnest?
The publication has accumulated acclaim from the FSU community, including English Professor James Kimbrell, Boudreau's dissertation committee chair and mentor.
"It has been a joy working with Eleanor—she takes her poetry very seriously and has the results to show for it," Kimbrell says.
In a 2018 graduate workshop led by Kimbrell, Earnest, Earnest? was "arguably the most experimental book of the eight manuscripts that we reviewed," he says. From there, Boudreau garnered the Agnes Scott Lynch Poetry Prize, one of the top dream awards for every young poet.
"The fact that she can bring home honors at this level while risking more than many poets are willing to risk on the page is a testament to the power of maturity of her voice," Kimbrell says. "Eleanor is the real deal and Earnest, Earnest? marks the debut of an important new voice, one that I expect will dazzle us all even more in the years ahead."
Cristi McKee is an English major, on the editing, writing, and media track, with a minor in business.
Follow the English department on Instagram @fsuenglish; on Facebook facebook.com/fsuenglishdepartment/; and Twitter, @fsu_englishdept