Dyan Neary doubles up with Adam M. Johnson Fellowship and PEO International Scholar Award
---
Dyan Neary doubles up with Adam M. Johnson Fellowship and PEO International Scholar Award
Article and Q & A by Olivia Cameron
Florida State University doctoral student Dyan Neary had an eventful spring 2019 semester.
Neary is earning an English Ph.D. in creative nonfiction, and she won the department's inaugural Adam M. Johnson Fellowship in late February. She followed up that success in early April by winning a PEO International Scholar Award.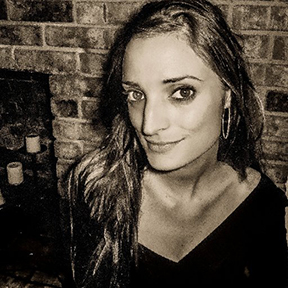 The Adam M. Johnson Fellowship is funded by contributions from FSU English department alumnus Adam M. Johnson, the family of Christy Kimbrell Brown, and English Professor Robert Olen Butler. The fellowship is designed to provide support for off-campus research for a graduate student in creative writing. The off-campus research might include, but is not limited to, research at national libraries, museums, and other institutions within the United States and abroad.
"I love working in an English department whose faculty, administrative staff, and writing program director have been so consistently generous with their support, and among graduate students who are always so encouraging of one another," Neary says.
The PEO (Philanthropic Educational Organization) award recognizes and encourages academic excellence and achievement by women in doctoral-level programs, according to the organization's website. The award is a highly competitive national award and is for $15,000, which also funds off-campus research.
Neary moved to Tallahassee from New York City six years ago for FSU's master of fine arts program, and she stayed to earn her Ph.D. She received her bachelor's degree in journalism from New York University and works as a freelance journalist, focusing on investigative magazine reporting.
Q: How does it feel to have your work recognized with the Adam M. Johnson Fellowship?
DN: I was excited and definitely honored to find out I had been awarded the Adam. M. Johnson fellowship for my writing and research. I've been working on issues of mass incarceration my entire adult life, and for the past six years I've volunteered at Gadsden Correctional Facility teaching a creative writing class.
Q: What is the project you will be working on? What kind of off-site research do you plan to use the fellowship toward?
DN: The book I'm writing is a lyrical history-in-vignettes about the U.S. prison system tentatively entitled As If We Were Already Free: An Untold History of American Justice. For my off-site research, I plan to travel to Eastern State Penitentiary in Philadelphia, the world's first true prison, as well as Connecticut's first underground copper mine-turned-prison in 1773. I'd also like to conduct interviews at Louisiana's Angola.
Q: What inspires your research and writing?
DN: I'm inspired by a lot of things. One is a commitment to transforming the prison system as it exists today, and by all those working toward this goal at organizations like the Vera Institute of Justice, Books Through Bars, Common Justice, and others, and by people like Agnes Furey, the victim of a brutal crime who is yet fighting for restorative justice as an alternative to prison, right here in Tallahassee. I'm inspired every day by other writers and my nonfiction mentors here at FSU—Bob Shacochis, Ned Stuckey French, Diane Roberts, and others. I'm continually inspired by the people I've had the opportunity to teach, both inside and outside prisons, and by those who have given years of their lives to that system who are now working to highlight those injustices, and work toward the liberation of others.
Q: What else do you like to do in your free time?
A: In my free time I generally spend time with my daughter—on weekends we volunteer at a soup kitchen, go hiking or to the beach with friends, or host game nights. I love to travel, and having dear friends scattered all over the globe gives me an excuse to do that. I was just invited to Rojava, Syria in June, in part to talk about alternative models of justice in law.
Olivia Cameron graduated in May 2019 with her bachelor's degree in English, with a concentration in editing, writing, and media.