Dr. Martin Luther King Jr. Book Stipend Award winners describe his impact on their education
---
Dr. Martin Luther King Jr. Book Stipend Award winners describe his impact on their education
By Savannah Tindall
In late January 2020, Florida State University's Center for Leadership and Social Change awarded several undergraduate and graduate students with $350 through its annual Dr. Martin Luther King Jr. Book Stipend Award. This is a competitive award that aims to assist FSU African American students in completing their education.
Undergraduate students Ksamesvari Edwards, who is majoring in English, with a concentration in editing, writing, and media, and Erika LeFlouria, who is majoring in media and communication studies and minoring in English, both received the prestigious award. Below, Edwards and LeFlouria highlight their academic goals and discuss how the Book Stipend Award helps them achieve those goals.
Why did you apply for this award?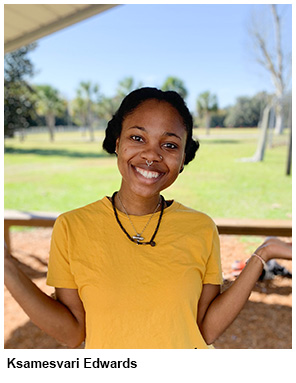 Ksamesvari Edwards (KE): I applied for this award initially because I was looking for extra aid for my last year of school. In reading through the award application, I found that the questions prompted me to think deeply about myself and others in ways that I hadn't done for a long time.
Erika Leflouria (EL): I actually wouldn't have known about this award if not for the FSU Class of 2022 Parents Facebook group. My mom saw one of the parents encouraging fellow African American students to apply for it. When my mom sent me the link, I immediately applied because I knew that this scholarship could make a difference for my junior year of college.
What does winning this award mean to you?
KE: This award means so much because it helps to ensure that I can finish my education in a timely manner. I was excited to win this award and align myself with the goals and success of Dr. King.
EL: This award means that I can continue my time here at FSU with help financially. As an out-of-state student, any amount of money goes a long way toward paying for college and continuing my dreams and journey. It also means that I was worthy enough to receive a scholarship that carries Dr. Martin Luther King's name. This award is something that I take great pride in and only adds to the many reasons why I love being a part of the FSU community.
How does Martin Luther King Jr inspire you in your academic career?
KE: Dr. Martin Luther King''s eloquent words united a nation against injustice and gave a voice to those who were underrepresented. He persevered against great hardships and changed the lives of thousands for the better. In my academic career I strive to always persevere even when situations are tough and I feel that giving up would be easier. Remembering that a huge reason why I have the opportunity to pursue higher education is due to Dr. King helps me to push through.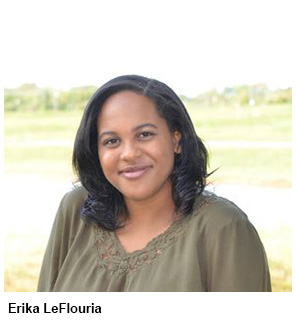 EL: If not for Dr. Martin Luther King Jr. I wouldn't be a student at Florida State. I wouldn't have some of the best friends that I have. It's incredible to think about how one man changed the course of history, and I recognize that every day. Because he helped me have this opportunity to get an education at a historically white university, I push myself to defy the expectations that some still have for black students. I work hard to better my life, my future, and my race. All of my determination comes from the efforts of Dr. Martin Luther King Jr.
How do you plan to leave your impact/legacy at FSU?
KE: I'm not sure how I plan to leave an impact at FSU just yet. What I do know is that whatever I leave behind will be something to be proud of.
EL: I want to leave my legacy at FSU as a student who was hardworking, determined, and diverse. In my remaining time as a student, I plan to continue to be a part of many organizations and classes that expose me to everyone that this university welcomes. I want to take a little bit of knowledge from each organization and use it in every aspect of my life after college. When I am gone, I will always be an FSU alumna, and I'll make sure to be a proud one. The opportunities this university has given me will prepare me for the future, and the alumni who donate to the scholarship funds that have helped me pay for college are things I will be forever grateful for. I hope that one day I can return the favor to the students after me.
What do you plan to do after college?
KE: After college I plan on moving to New York and getting a job at an editing/publishing company.
EL: After college I will pursue a career in sports broadcast journalism.
Note: Some of the answers have been slightly edited for style and clarity.
Savannah Tindall is a junior double majoring in English, with a concentration in editing, writing, and media, and public relations.
Follow the English department on Instagram @fsuenglish; on Facebook facebook.com/fsuenglishdepartment/; and Twitter, @fsu_englishdept