Dorothy Chan Wins 2016-17 Chapbook Contest for Chinatown Sonnets
---
Dorothy Chan Wins 2016-17 Chapbook Contest for Chinatown Sonnets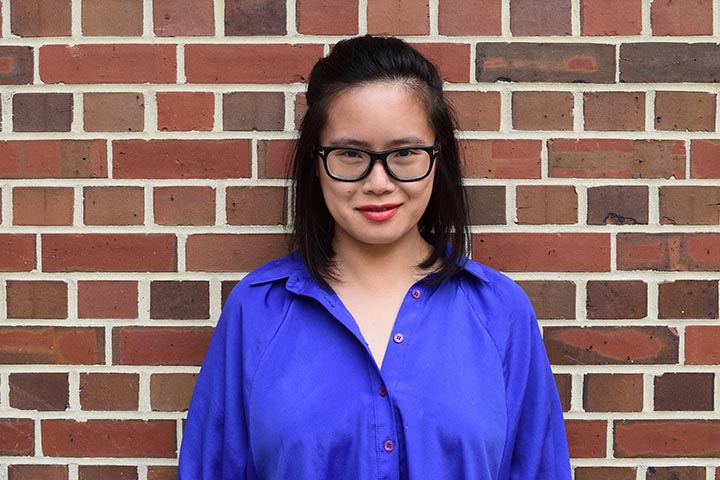 When Dorothy Chan was an undergraduate at Cornell University, she met with one of her advisors, Associate Professor of English Lyrae Van Clief-Stefanon, to discuss the process for applying to graduate programs. Chan specifically asked if she should cater the package of poems she sent with her applications to the specific schools.
"She gave me the best answer - she said, 'No, because you should always represent yourself with what is the strongest work,'" Chan says. "If a school, or let's say a journal, doesn't want you even with your strongest work, you cannot continue your life and career as a writer by just catering to what someone else wants."
Chan, who now is in her second year as a Ph.D. student in the creative writing track, has continued to follow that advice.
"It's a very unhealthy mindset to write toward achieving something," Chan says. "Obviously, you want to achieve finishing your manuscript or achieve finishing your poem, but you also have to understand that in the end, your biggest asset is how strongly you believe in your aesthetic."
New Delta Review, an online literary arts journal published at Louisiana State University, recently rewarded Chan for that approach by choosing her Chinatown Sonnets as winner of its 2016-17 Annual Chapbook Contest.
This is Chan's first nationally recognized award. She won departmental creative writing awards at Cornell and while she was in her Masters of Fine Arts program at Arizona State University. She also was a 2014 finalist for Poetry Foundation's Ruth Lilly and Dorothy Sargent Rosenberg Poetry Fellowship, and most recently, she was finalist for the Pleiades Press Lena-Miles Wever Todd Prize for Poetry.
Chan is happy to win the chapbook contest, but she says it has been just as gratifying to establish a working relationship with New Delta Review, especially editor Phillip Spotswood.
"The attention to detail that Phil has given me in looking at and evaluating my manuscript has been great," she says. "Honestly, we work on it a little bit, day by day. So, it's turning into a very beautiful work in progress."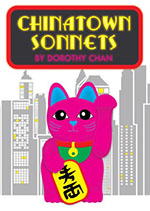 Preorder links for Chinatown Sonnets went live April 14, and the final version goes to the printer April 21, with the release date set for May 5. Chan is thankful for how efficient the journal's editors are at running the literary magazine.
"The amount of work they put into the journal and how professional they are is, honestly, unrivaled," she says. "Everyone wants to win awards, but it is also just as important to find a press that treats you well, that you communicate well with, and that fits your needs."
The contest's guidelines stated submissions should be work that "attempts, through form, content, or both, to push against traditional concepts of literature and art. We want to see you refuse to conform, and to impress us with your unique vision." Poet Douglas Kearney judged this year's contest, and he wrote about Chinatown Sonnets, "Dorothy Chan winds her way through the Chinatowns of wide screen imagination, the global marketplace, and personal memory, constructing a collection that is wryly diasporic, housed in a European form."
"She cakewalks Ezra Pound in 'What to Buy in a HK Metro Station'; braids last lines to firsts; crowns a dead fish; piles 'oranges' into a monument; displays vividly a district of 'American life'; and, through it all, feasts with hedonic gusto," he continued. "Chan writes of her kin, 'We eat with our eyes.' Take a look at Chinatown Sonnets; you will too."
Chan has been working on this collection since her junior year at Cornell. She was in a verse writing class with Van Clief-Stefanon, who introduced students to the sonnet form, calling it "a box of tension and release." Chan wrote her first seven sonnets for Chinatown Sonnets that semester.
She also worked on the collection with professors and poets Jeannine Savard, Norman Dubie, and Alberto Ríos while she was at Arizona State for her master's program. Dubie taught her to make her work quirkier and Ríos taught Chan about the kenning, and she uses a lot of these hyphenated-words in her sonnets.
When she looked at doctoral programs for her PhD, Chan knew she wanted a broad perspective for her studies.
"You want to go to a place where you know you are going to work with great poets," says Chan, who also is Assistant Editor of The Southeast Review. "You also want to go to a place that has a very strong literature program because all of these fields work together."
Chan also knew immediately that she wanted work with Professor David Kirby and Senior Lecturer Barbara Hamby, who are co-chairs of her doctoral committee.
"Both David and Barbara are like the gatekeepers of voice in poetry," she says. "You know when you hear a David Kirby or Barbara Hamby poem. I think establishing a recognizable voice is one of the greatest challenges of being a writer."
Kirby says Chan's poetic voice "is steady and confident; when I met her, I was surprised to find out how young she is."
Chan says Kirby adds depth to her studies with his reading recommendations and his perceptive feedback when reading her poems. "He also is really good at titles," she says.
"I call her Dorothy 'The Machine' Chan, but I mean a sweet machine, one that just goes ahead and takes care of business - like Mars Rover, say, but terrestrial," Kirby says. "I never worry about Dorothy, not one bit. All you have to do is say what the task is, whether it's fixing a line or a poem or an entire manuscript, and the next thing you know, it's done.
"It's nice that she thinks I and her other professors have been helpful, but the way I see it, she's doing it all on her own. A great career lies ahead of Dorothy Chan, and I'm just happy to be here at its landing."
Hamby agrees that Chinatown Sonnets is "the beginning of a brilliant career" for Chan, and she continued to work on the collection while at FSU, with Hamby's guidance.
"The amount of detail and scrutiny that Barbara puts into not only individual poems, but also in helping students with their manuscripts, is tremendous," she says. "She is really bringing out my strengths."
Hamby says Chan is "a dream student, especially in terms of revision."
"She will revise over and over to make the poem as strong as possible," Hamby says. "I am continually amazed by how many times she is willing to revise. That's why the Chinatown Sonnets is such a great sequence."
Chan writes about food a lot in her work, which Hamby appreciates: "No one writes about food the way she does," she says.
"The Chinatown Sonnets have a lot of eating in them, and not just Chinese food," Hamby says. "I'm dying to go to Hong Kong and eat street food because of Dorothy. She is also funny, which I think comes across in these sonnets."
For example, in "The Times Square of Asia" Chan writes about going to Mong Kok, one of Hong Kong's major shopping areas, with a mix of old and new multi-story buildings and businesses. The speaker and her cousin walk through the crowds, looking at the clothing for sale, wanting to adopt the puppies, and searching for the best street food.
"It's interesting because there's a lot of jolliness to the scene, first of all," Chan says. "There is a Frank O'Hara, Walt Whitman influence in the language, especially with 'How cute you are, Hong Kong.' But when you think about it, the speaker is coming to understand Hong Kong, where her family is from. Of course, growing up in America, everything is taken from an American perspective, along with the idea that it's very hard going to Hong Kong and not notice any American influences.
"There is a tension there, because you have a lot of old school Hong Kong, especially in Kowloon, but then you also have a lot of Western influence."
One of the most popular street foods in Mong Kok is a waffle snack; instead of the indented, checkered pattern normally associated with waffles, however, these have rounded, egg-like protrusions. The waffles are now sold in big U.S. cities, especially New York, where vendors add garnishes such as ice cream or Fruity Pebbles.
"When I see things like that on social media, it excites me because I would totally eat that snack, but at the same time it pisses me off," she says. "Some of this Chinese culture has existed for thousands of years, and then Americans pick up on it and it becomes a craze. Sometimes you think it is kind of silly."
With Chinatown Sonnets, Chan says, "I want people to look at culture differently. I want it to be a postmodern experience for them."
Her chapbook has 28 sonnets, and she plays with the sonnet crown format. Traditionally, the first line in the first sonnet is the final line of the final sonnet, and the last line of the first sonnet is the first line of the next sonnet, and so on.
"When Phil and I talked about how we were going to set up the sections, we decided to mess it up because I'm all about breaking the form," Chan says. "Right now, there will be three distinct sections, all with a different kind of theme. If I am asking the reader to think about the East-West influence, I'm also asking the reader to think about how we can break form and how it is presented."
Being a feminist has shaped Chan's scholarship and voice, which may not resonate as much with Chinatown Sonnets because the focus is predominantly with culture. Her minor area of study in the English department is 18th-century American and British women in literature, and she works with Associate Professor Dennis Moore on that focus of her degree. In fall 2015, she took his Gender Romance and History course, studying women's novels of the time and the status of women.
"Feminism and intersectionality are very important elements in my poetry, and my speakers tend to be very feminine, and sensual, and really ballsy," she says, adding that one goal she has with her work is to expand the scope of poets and novelists who are studied. "There needs to be, obviously, more women, more minorities, more people of color, and more queer people studied within the canon."
Hamby points out that Chan's willingness to take chances with her writing is one of her many strengths.
"She has a sequence of poems about centerfolds that investigate the objectification of women, but beyond that the minds of the women who allow it and, more than that, embrace it," Hamby says, adding that the collection secured Chan's acceptance into the PhD program. "They were so edgy and took so many risks. Yet now, two years later, Dorothy has written so many new poems that use those centerfold poems as a jumping off place to a more complex meditation on the same subject."
As she continues to advocate and to write, she also will continue to submit her work for publication and for awards. Chan does not have a strict routine for her writing, but she tries to write with a high frequency.
"I'm just making observations because I'm a very visual person," she says. "I'm always looking at photos, going to an art blog, discovering a new artist or a new photographer."
Chan also will continue to heed the advice of her mentors. She recalls what Alberto Ríos told her when she was at ASU: "It is your job to submit to everything, as many places as you can, and then forget about it once you submit."
With Chinatown Sonnets, however, Chan likely will remember submitting her strongest work to New Delta Review.