Dorian Paul Rogers brought his US experiences and his powerful poetic voice to Abu Dhabi
---
Dorian Paul Rogers brought his US experiences and his powerful poetic voice to Abu Dhabi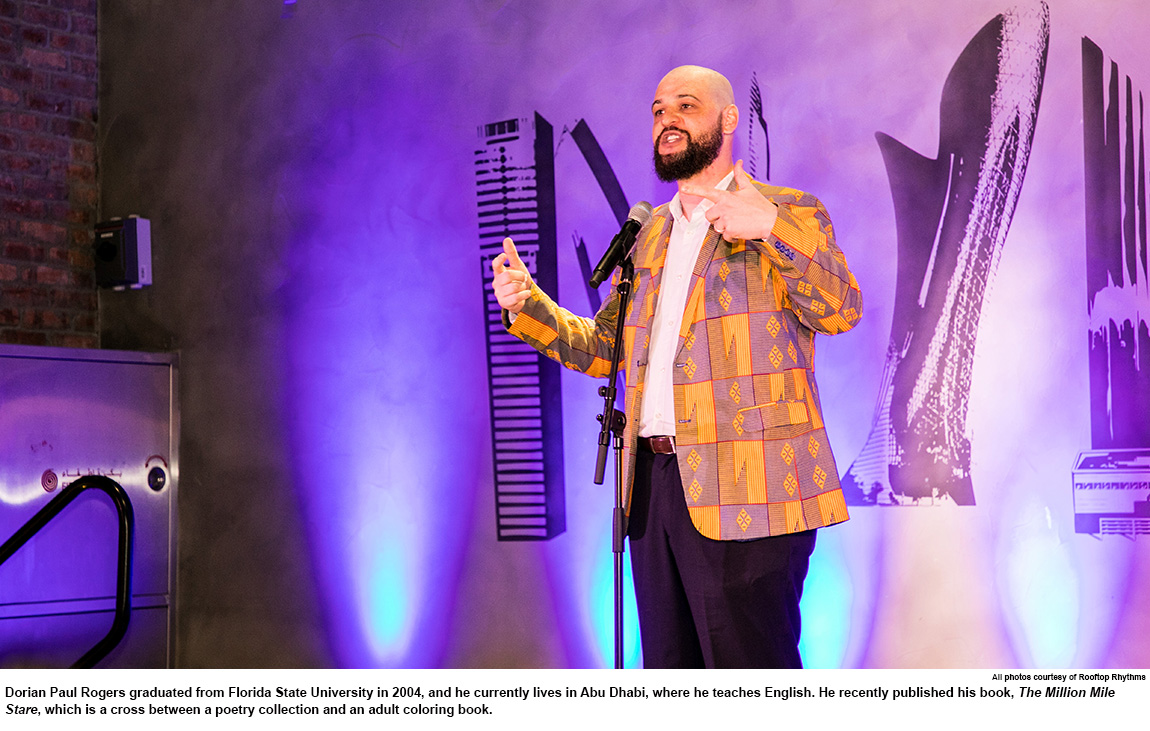 By Faith Matson
Dorian Paul Rogers has never done anything halfway—not when he ran slam poetry groups throughout Florida and Georgia, not when he moved to Abu Dhabi to teach English, and certainly not when he put together his new book, The Million Mile Stare.
The book is a cross between a poetry collection and an adult coloring book, and Rogers, a 2004 graduate of Florida State University's English Education program, collaborated on the book with his sister, who completed the illustrations.
The Million Mile Stare is a departure from Rogers' typical work, which leans heavily toward spoken word poetry. Since his undergraduate years at FSU and throughout his career, a passion for poetry performance has followed Rogers everywhere—even to Abu Dhabi, the capital of the United Arab Emirates, where he currently lives. There, he teaches English and runs a series of open mic nights and poetry slams called Rooftop Rhythms.
"It's not an exaggeration to say that Dorian has been one of the most important cultural figures in Abu Dhabi for nearly a decade," says Bill Bragin, who serves as executive artistic director at The Arts Center at New York University Abu Dhabi. He is closely involved with Rooftop Rhythms.
In his youth, Rogers had only been familiar with page poetry (poetry that is written, rather than spoken aloud), but his exposure to spoken word drew him to the craft. During his time at FSU Rogers took several courses in the English department. When Rogers attended a meeting of Black on Black Rhyme, a campus poetry group founded and headed by Keith Rodgers, he saw spoken word poetry performed on stage.
"One day, I believe in my freshman or sophomore year, my friend was like, 'Let's go see poetry!' And I was like, 'Robert Frost?'" Rogers says, recalling his skepticism.
Once they arrived at the open mic night, Rogers completely changed his tune. He was amazed by the performative aspect of the poetry, how the poetry varied from person to person, and how poetry suddenly seemed like a "hip thing to do."
"I just found my life home…. I went weekly for maybe four years," Rogers recalls. "I started competing in competitions nationally, regionally, and then, in 2005, right after I graduated, I won a big slam competition." 
One faculty member of FSU's English department, Professor David Kirby, also had a profound impact on Rogers' passion for poetry.
"He, for me, was a gateway and an important part of my life, where he helped me to see validity in…performative poetry," Rogers explains.
Rogers remembers one specific time when, instead of turning in a manuscript for a project in one of Kirby's classes, Kirby allowed Rogers to perform a piece of spoken word poetry in Kirby's office instead.
"I think that was just a beautiful coming of home moment for marrying my performance passions with academics," Rogers says, adding that he appreciated how Kirby often transcended the barriers of generation and status in order to forge connections with his students. "He could tell that I appreciated him and his mentorship. He's just a cool guy."
I liked Dorian Rogers from the very start, as a student but as a person as well. I knew he'd end up doing something big.

— David Kirby
Rogers' feelings were mutual. Kirby remembers the impact Rogers left both on him and his fellow students.
"I liked Dorian Rogers from the very start, as a student but as a person as well," Kirby says. "I knew he'd end up doing something big."
Kirby cites how as a junior in his Poetry Workshop class, Rogers was already participating in the Black on Black Rhymes competitions. In addition to Rogers' long list of accomplishments, Kirby was thoroughly impressed by the strength of his character.
"He was also just a person of tremendous authority in the way in which he spoke and carried himself," Kirby says. He remembers one time when he, Rogers, and another student were outside the Williams Building, and the other student began smoking.
"Dorian raised an eyebrow. 'You smoke?' he asked, sounding like an English nobleman inquiring about somebody's hobbies," Kirby says, describing the incident. "The student giggled sheepishly and said yes, whereupon Dorian put his hand upon her arm and said, in the gentlest voice possible, 'Stop.' And then he added, 'Today.'
"I couldn't have done that. I would have sounded like a scold," Kirby continues. "Dorian sounded like a friend, like someone whose only concern was his fellow student's health."
While at FSU, Rogers worked with Student Campus Entertainment as the culture and arts chairman, a position that enabled him to bring in famous performers, such as tap dancer Savion Glover and poets from Def Poetry Jam, to entertain students on campus.
Not only did Rogers leave a lasting impression in Tallahassee, but Tallahassee also holds a special place in his heart. Looking back, Rogers has many fond memories of his time in Tallahassee.
"I love Tallahassee," Rogers says. "I just think Tallahassee has a sleepy, demure, elegant vibe about it."
Early Years
Rogers was born in Cleveland but moved in 1990 to Albany, a small town in south Georgia. Coming from a multiracial background, Rogers' experience with race contrasted between the two places. In Ohio, Rogers explains, he felt accepted and welcomed.
"We were the only people that maybe appeared to be white in our neighborhood, but we were never called 'white boy' or treated in a racist manner," he says.
Living in Georgia, however, Rogers felt a stark difference in the region's racial tolerance. His family was treated as the "token different multi-racial family," and for the first time in his life, Rogers felt excluded. At times, people in his community even called him racial slurs.
"I think that definitely shaped my life, just dealing with what I consider some traumatic situations at that age," he explains solemnly.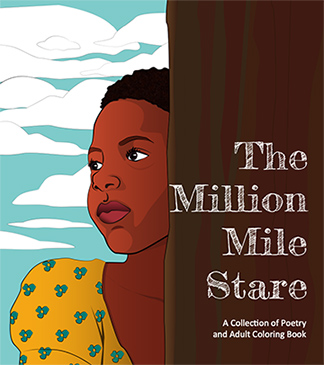 In The Million Mile Stare, Rogers grapples with some of these childhood experiences and how racial identity and appearance affect children growing up in the United States.
When the time came to go to college, Rogers knew he wanted to leave Albany and start somewhere new.
"My town is a product of sharecropping history after slavery, and so Albany, Georgia, was known as the town where the conservatives did not want the major interstate…that will take you back to Atlanta to come through this small town," Rogers explains. "They preferred to be a sleepy town, so that affected the energy growing up there."
He decided to attend FSU in a city 90 minutes away from his hometown. To him, Tallahassee was close enough to be with family if needed, but the move was far enough away to start over. He was drawn to FSU during the admissions process, and he felt like the university was genuinely interested in him. He also appreciated that Florida A&M University, a historically Black college/university (HBCU), neighbored the FSU campus.
"I always loved the fact that you have an HBCU very close to I guess what they'd call a traditional state university," Rogers says. "I was not confident going to an HBCU because of my appearance and the explaining I would have to do,…but I did think that would be nice to have access to a well-respected HBCU so I could be involved in both scenes."
Beyond FSU
After his graduation from FSU, Rogers continued on with Black on Black Rhyme, founding a chapter of the organization in Atlanta. While in Atlanta, he also pursued a master's degree in educational leadership and worked at a middle school. After a few years there, however, Rogers felt ready for a change of pace and thought leaving the school was his best option.
On a whim, he discovered a teaching job in Abu Dhabi. He applied, got the job, and he's now been teaching in Abu Dhabi for 10 years.
"I was not expecting to come out here and live here for 10 years," Rogers says. "I was just kind of like, 'Let's see how it goes for a year,' and it's just a day that changed my life."
He currently teaches English to 11th- and 12th-grade students at a public school. His students are curious about the United States, and they enjoy asking him questions about things they see on the internet. Rogers explains that his relationship with his students is built on a foundation of mutual respect.
"I think they are intrigued that someone would travel halfway around the world to come here, and then I think they're impressed that I respect Islam, that I try to integrate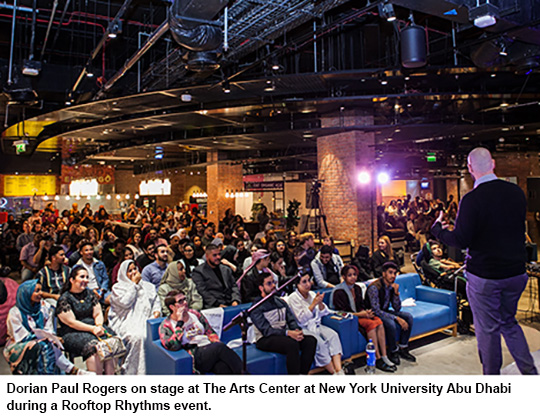 Islamic or their culture into the education," he says. "I feel like I'm a culturally sensitive and aware person, and that's very important with moving here."
When he first arrived in Abu Dhabi, Rogers learned that the region has a long history of poetry rooted in the maritime industry and nomadic lifestyles and has historically placed importance on oral language. At the time of his arrival, the art and culture scene was just beginning to expand, which he saw as the perfect opportunity to introduce more spoken word poetry to the community.
Rogers decided to start his own organization, Rooftop Rhythms, to serve as a venue for artistic performance. Their first meeting in 2012 had about 100 people, and the attendance at their monthly performances has continued to grow ever since.
Bragin, Rogers' colleague, believes Rogers to be extremely influential within the artistic community.
"Rooftop Rhythms is a rare entrepreneurial cultural activity that has galvanized the creative community," he says, "creating opportunities for seasoned spoken word and musical artists and newly developing ones, to share their work to extremely supportive audiences."
Bragin adds that Rogers' work with Rooftop Rhythms has inspired the creation of other open mic nights and has elevated the position of spoken word poetry in their culture. When Bragin first arrived in Abu Dhabi, many people reached out to him, recommending he attend Rooftop Rhythms and meet Rogers.
"They were right," Bragin says. "Dorian is an incredibly supportive mentor to many artists in the community. He knows Rooftop Rhythms' audiences well, draws them in further, and in many cases, helps people to make the scary step from audience member to performer."
The Million Mile Stare
Rogers' new poetry collection and adult coloring book, The Million Mile Stare, published in January, draws inspiration from a book Rogers originally published during his time in university.
His sister, Gabrielle Fludd, contributed illustrations for this recent book, as she did for his first book, For Mulattoes Only, published in 2002. The title, he says, is a play on the common labels under Jim Crow laws that established "white only" or "colored only" designations for access, and he used the poetry collection to discuss his race and identity.
Years later, out of a desire to explore this same idea more deeply, Rogers has released an updated book that more accurately reflects his perspective as it stands further into his adulthood.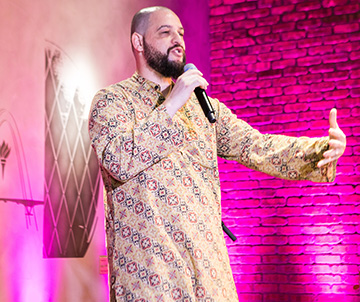 "The idea just came to me that I wanted to do an adult coloring book and a poetry collection, as I just always try to find ways to innovate a space," he says. "Just like, 'How can we take something to the next level?'"
The title of The Million Mile Stare is a play on another common trope, "the thousand-yard stare," which is a militaristic figure of speech used in reference to a soldier's shell-shocked, despondent gaze on the battlefield.
"Going back to some of the trauma I feel like I experienced as a multiracial child in south Georgia, I feel like some of the…abandonment and neglect and things like that, that was kind of the inspiration behind that title," Rogers says.
He hopes the book reaches adults who have unresolved issues from their childhood, which he believes most people have in some form, though they may not always be considered trauma. Rogers aims for his book, which has helped him to work through some of his childhood experiences, to help others as well.
"Since adult coloring is usually intended to reduce stress and anxiety," Rogers explains, "I really would like it to resonate with other people who may not share the same stories that I've shared, but [who] should be able to, through the illustrations and the poetry, hopefully get some type of cathartic feeling where they may start to also analyze their own childhood a little better."
Through its interactive form, The Million Mile Stare works cyclically to heal both author and audience.
"I think it's very much so a mental health book, but also a journey for me and my voice on page," Rogers says.
Rogers has seen many journeys in his life, both through his work as a poet and his global pilgrimage. Needless to say, whatever his next journey holds will certainly be something for the books.
Faith Matson is an English major on the editing, writing, and media track, and is also pursuing a certificate in Global Citizenship.
Follow the English department on Instagram @fsuenglish; on Facebook facebook.com/fsuenglishdepartment/; and Twitter, @fsu_englishdept