Doctoral student Feroz Rather has time on his side
---
Doctoral student Feroz Rather has time on his side
By Grace Ott
​​​​​​Feroz Rather says that the whole idea of joining a creative writing program is to buy time.
"Everyone is trying to write something without really knowing what shape it will finally take," says Rather, who is a doctoral candidate in Florida State University's Creative Writing program. "Being in the Ph.D. program gives you time and necessary distance from the outside world."
Rather is from Kashmir, but he has been living in the United States for the past eight years. He has a bachelor's degree from Aligarh Muslim University and a master's degree in English literature from Jamia Millia Islamia, located in New Delhi. He earned a Master of Fine Arts degree in creative writing from California State University, Fresno. Most of his stories are set in Kashmir and Delhi.
"My experience with Tallahassee has been great and the years I have spent at FSU have been the most productive years of my life," Rather says.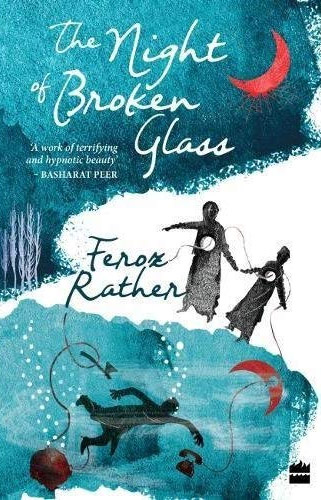 Rather's stories, essays, reviews, and interviews have appeared in The Common, Chicago Review of Books, Kenyon Review, Ploughshares Blog, The Millions, The Rumpus, Caravan, Barrelhouse, and other publications. His debut novel, The Night of Broken Glass, was published in the summer of 2018 by HarperCollins India. His essay "Poet in Srinagar," about the Kashmiri-American poet Agha Shahid Ali, appeared in the anthology, Mad Heart, Be Brave, which was edited by Kazim Ali and published in 2017 by the University of Michigan Press.    
The Guardian recently heralded his book as one of "the best books to understand the current geopolitical crisis caused by India's military siege and communications blackout in Kashmir."
"Feroz Rather's fierce and lyrical new book of linked stories 'The Night of Broken Glass,' with its evocation of Kristallnacht, tells of those everyday lives, forgotten by the west," writes the publication.
Rather says his book is commonly associated with "Kristallnacht," or the violence that the Nazis in Germany carried out in November 1938 against the Jewish population. His title was inspired by the violence that he witnessed in Kashmir; "the night of broken glass" comes from a scene in one of the book's stories, "The Pheran," where a car in front of a military base is shot at and the shattered glass flies through the night.
In fact, broken glass is a recurring theme throughout the novel. In the last chapter, aptly named "The Night of Broken Glass," assailants enter a mosque and shoot, breaking all the glass windows, the rose water bowls, and the chandeliers.
The insights Rather can provide into the violence the people of Kashmir are experiencing have garnered a lot of attention recently. Along with the reference to his work in The Guardian, The Columbia Journalism Review quoted him in an August 28, 2019 article, "The Kashmiri Narrative."
Rather has already started working on a second novel set in Kashmir and California. This is going to be a story, he says, about passion, revenge, and loyalty with a Kashmiri protagonist who appeared in The Night of Broken Glass.
"Joseph Conrad is very important to me," Rather says. "Tradition of exile and dislocation in relation to the question of power is important, and I would like to explore that question in my next book set in Kashmir and the United States."
Over the years, Rather has realized his approach to writing has changed. Though his grappling with Kashmir remains, his language has become more cosmopolitan.
Rather thinks Tallahassee and FSU are creative, supportive environments. He says he will likely stay in Tallahassee for at least one year after the completion of his Ph.D.
"The English department is an excellent mix of teachers and students; everyone understands that we are a very competitive place and it translates to everyone trying to do their best," Rather says.
Although he was granted admission to other universities for his Ph.D., Rather chose FSU mainly because English Professor Skip Horack is on the English department faculty. Horack delivered a talk on trauma narratives at California State University in Fresno while Rather was earning his master's degree, and that interaction put FSU at the top of his list of universities.
When Rather came to FSU's Creative Writing Program, he already had a fair amount of drafts for his novel. He had written initial stories and characters, and as he went along, he explored the minor characters and wrote stories from their points of view.
Rather took an independent study with Horack in order to write chapters of The Night of Broken Glass, and Horack helped him finish the book.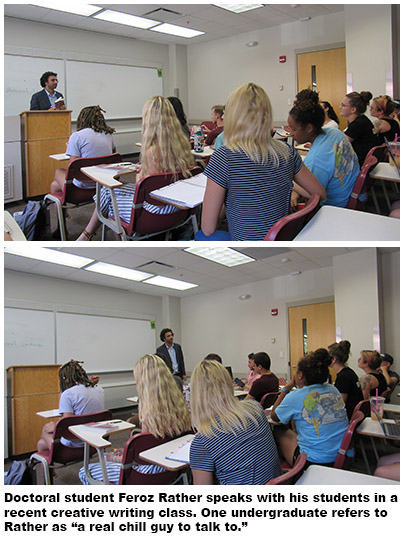 "Feroz has a true and wide-ranging love of literature and language, as well as an impressive collection of interests and life experiences," Horack says, "all of which have helped cultivate the distinctive and important voice, worldview, and social consciousness that makes his writing so affecting."
Rather brings those perspectives into the classroom, and his students respond to the way he teaches.
"I really appreciated how Feroz structured the class—he weaned us on canonical essays and the reasons for their success, before having us craft our own works," says Joseph Bayliss, who took Rather's class in the spring of 2018. "That made me far more confident diving into the personal essay, as did the workshop format that the class took on. Everything felt very constructive, designed to further our craft in a comfortable social setting."
Bayliss found Feroz to be personable and approachable, "a real chill guy to talk to." After Bayliss read Rather's essay "The Throwaways," he said he came to understand that Rather has quite a story to tell. He realized that he never made this a focal point of the class, however, focusing instead on his students.
"Rather is an incredibly interesting, yet humble person," Bayliss says.
Bayliss shared how Rather encouraged his students to dig deeper into the content of their stories and to think critically about what exactly they are trying to express. His unique approach to teaching molded his students into interesting writers, as well as writers who are technically proficient, Bayliss says.
"The most important thing is working with students, you don't feel like you're a writer as much as you feel you are a student among students," Rather says.
Seth Russel, another one of Rather's former students, respected how Rather treats his students as intellectual peers rather than people who are beneath him.
"He's very kind and genuinely wants us to succeed, even going so far as to recommend us places to submit essays for publication, some of which are places he is published and could help us get our foot in the door," Russel says.
Rather—a published author, a well-respected English department doctoral student, and a recognized voice on his home region in crisis—demonstrates to his students the importance of honing the meaning of a story. His past laid the foundation for his worldview that inspired the meaning in his own works.
Rather is currently working on his next novel, teaching, and pursuing his education. With this, and his past accomplishments in mind, it is compelling to consider where his voice and writing will take him next.