Diamond Forde's poetry thrives as she enhances her self-exploration to push creative boundaries
---
Diamond Forde's poetry thrives as she enhances her self-exploration to push creative boundaries
By Jessie Colegrove
With her Bible next to her for reference, and the thought of her late grandmother as inspiration, Diamond Forde wrote the three poems that earned her the 2020 Furious Flower Poetry Prize.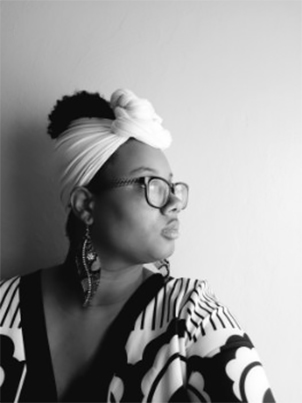 Forde's award-winning poems—"Creation Myth," "The First Born," and "How to Build a Holy Tabernacle"—are part of Forde's dissertation project for her Ph.D. in Florida State University's Department of English. She refers to the work on her dissertation as a meditation process, one that helps Forde recreate her maternal lineage through the King James Bible.
She focuses her study on the Black women in the Bible who were not given strong voices. Her grandmother was the matriarch of Forde's family, and her passing had a significant impact on her children, whose lives centered on their mother.
"I'm trying to recollect their memories of her, rewrite those memories, situate them in their childhoods, and give my grandmother essence again," Forde says.
Forde views her achievements as validating, knowing that the work she puts in matters, but also intimidating because they've allowed her to "step into a really incredible lineage especially for Black writers."
"I like being stuck in between that balance because it keeps me humble," she says. "But the feeling also makes me feel more motivated to work and makes me feel like the work I'm doing is part of something bigger."
James Madison University's Furious Flower Poetry Prize requires entrants to submit three poems that explore Black themes. Winners receive a prize of $1,000, publication in Obsidian, the literary journal of Illinois State University, and a $500 honorarium to give a reading at James Madison. Forde was announced as the winner in late March 2020.
Forde considers herself an independent and self-reliant person, someone who doesn't want help unless she asks for it. Still, she welcomes the support she receives from professors in the English department.
The best thing that's happened to me here is I've been given a lot of space to figure out stuff out on my own and experiment and then when I'm ready, to say "Hey, these are the things I've been working on."

— Diamond Forde
"The best thing that's happened to me here is I've been given a lot of space to figure out stuff out on my own and experiment and then when I'm ready, to say 'Hey, these are the things I've been working on,'" Forde says, adding that the hands-off experience makes her more diligent and builds her writing skills, while knowing that when she reaches out for help, her professors will give "great, immediate feedback and encouragement."
She appreciates the patience and support provided by her committee chairs, English Assistant Professor L. Lamar Wilson and English Senior Lecturer Barbara Hamby, as well as the rest of her committee, English Associate Professors Alisha Gaines and Ravi Howard, and Associate Professor of Italian Studies Silvia Valisa.
Wilson also served as Forde's thesis director at the University of Alabama when she was completing her Master of Fine Arts, and he welcomes the way Forde writes in such a positive light.
"There's such research, rigor, and emotional work that Diamond navigates before she writes a word," Wilson says. "That wisdom, that time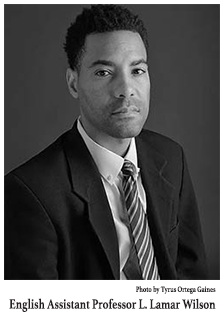 that she takes to make sure that what comes from her pen is poetry shows. In this moment in which we are inundated with so much of the worst that the news has to offer, it's poetry like Diamond's that we need."
Additionally, Wilson respects the ways Forde uses her writing to challenge stereotypes surrounding Black women, specifically ones that focus on the way their sexuality is observed and appropriated.
"At every turn, when you think you have her, her poems say 'This isn't for you. You can come and learn if you want, if you're open, but don't come here for entertainment and consumption of what I've been through, of the wisdom that I know. Come to be changed, but don't come to be entertained,'" Wilson says.
Wilson says working with Forde during her doctoral studies has strengthened his admiration for the way she takes feedback to not only make her writing better, but also to take her poetry further than he sometimes envisions is possible. Forde, he says, also respectfully sets boundaries in the revision process when something is important to her to convey.
"There's a reason that you're able to really talk to her as an artist who isn't too defensive to take critique but who is also open to it in ways that are going to overall improve her aims," Wilson says. "You get to see her continually pushing the boundaries of what is possible in poetry, the things that the imagination can create. You see someone who is incessantly aiming for a better self on the page and in the way that she lives her life. You find someone who makes you want to give your all because she gives her all.
"It's always a beautiful dance and a beautiful conversation. She's the best kind of student."
Along with her dissertation studies and her own writing, Forde works for the Southeast Review, FSU's graduate student literary journal. She started as the journal's assistant poetry editor, which she enjoyed because the position exposed Forde to others' writing and she learned more about the extent of what poetry can be.
"When I started out writing poetry, my little box of what poetry is was so small, and then you read other poems and people do really dope, crazy things and you're like, 'Holy crap, that is a poem—I'm in love,'" Forde says.
Forde was promoted to assistant editor for the 2020-21 academic year, and she now gets the opportunity to carry her own vision into the publication. She recognizes the work that the current editor in chief, Zach Linge, has done to continue to strengthen the publication, and Forde says she looks forward to studying and learning more under Linge's direction. She will continue to reach out to diverse audiences in order to publish writing that pushes boundaries.
Through their work with Forde on the Southeast Review, as well as in a poetry workshop, Linge says they notice that Forde is someone who does not feel the need to comment often, but when she speaks, people pay attention.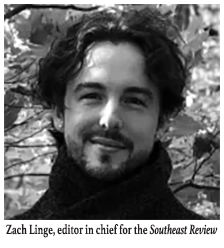 "You listened because while the rest of us blabbered on, she silently evaluated the poem, the situation, and reached conclusions to which the rest of us would have been oblivious," Linge says, describing a typical group meeting with Forde. "When she spoke, the case closed, and those around her were better off for her input."
Linge also has strong praise for Forde's writing.
"What makes Diamond an enviable writer is also what makes her a strong leader: deep empathy matched by the ability to evaluate complex situations, and somehow, by a feat of Diamond magic, decisively communicate them in ways her audience or readership can relate to and understand," Linge says.
After earning her Ph.D., Forde says she will continue to teach and write, with a future goal to return to her hometown of Atlanta, and build a workshop for Black women and nonbinary writers. She wants to create a writing home that offers regular workshops and welcomes guest writers, while ensuring no age or financial restrictions prevent people to join.
"If anybody feels like they want to write poetry and they're not sure if they should or if what they have to say is worthwhile," those are the writers Forde wants to reach, because "nobody can say exactly what you have to say the way you want to say it, so if you don't write it, it never gets said," she says.
Jessie Colegrove is a senior majoring in public relations with a minor in psychology.
Follow the English department on Instagram @fsuenglish; on Facebook facebook.com/fsuenglishdepartment/; and Twitter, @fsu_englishdept