Diamond Forde treasures significance of winning the 2019 Margaret Walker Memorial Prize in Poetry
---
Diamond Forde treasures significance of winning the 2019 Margaret Walker Memorial Prize in Poetry
By Olivia Cameron
Diamond Forde recognizes and appreciates the literary foundations laid out for her and others to build upon. That makes winning the 2019 Margaret Walker Memorial Prize in Poetry even more special to Forde.
"I know every time I put pen to paper I'm walking in the footsteps of great, Black writers like Margaret Walker, and that those writers are the sole reason I can strut my poetic stuff today," she says. "But this award makes that connection so much more immediate and tangible."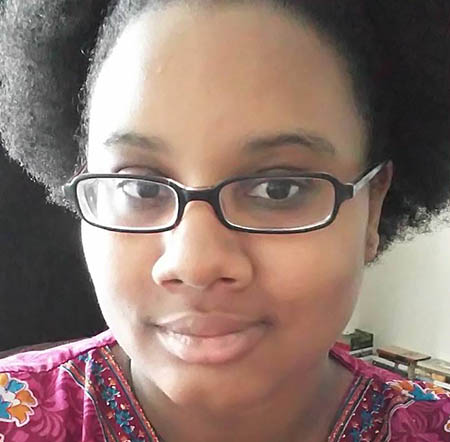 Walker is known for her groundbreaking poetry and prose. She was the first African-American poet to receive the Yale Younger Poets Prize, which she won in 1941 for her debut collection of poems, For My People. Walker, whose novel Jubilee was published in 1966, is considered to be one of the most influential writers of her time.
"Receiving the award is surreal—it confirms a direct resonance with Walker's legacy that's so wild to believe," Forde says.
The poems Forde submitted for her award application to the College Language Association (CLA) committee come from a manuscript centered on the lives of Mildred and Richard Loving. The Lovings were the principal figures in the U.S. Supreme Court's 1967 Loving v. Virginia decision that removed state bans to interracial marriage.
"They are poems that think about Blackness, womanhood, interracial intimacy, power, and all the echoes the past carries forward, now and beyond," Forde says. "They were difficult poems to write, and I'm glad that difficulty meant something to someone."
Forde is grateful for the financial boost the award gives her, and she says breaks like this allow her to steady her focus on the work she strives to get done.
"Opportunities like this make it easier for me to concentrate on the demands of teaching, reading, writing papers, and developing a manuscript," Forde says.
Her work has appeared in publications such as Ninth Letter, The Offing, and Massachusetts Review, among others, and she is a Callaloo and Tin House Fellow. Forde is from Atlanta, and she earned her Master of Fine Arts in poetry at the University of Alabama before joining FSU's English department.
"I couldn't say no—the reputation FSU has for its creative writing department is hard to turn down," Forde says.
She credits the department faculty and her student colleagues for supporting her and lifting her writing to the level she has achieved.
"I've had several professors and members of the administrative staff support me during my adjustment here," Forde says. "I won't say names because I don't want to embarrass anyone, but I'm grateful for the love and support I've gotten so far: people meeting with me to discuss my poetry, or help me sort out life problems, or help me plan out my Ph.D. journey, or give me sage wisdom.
"In fact, and I'm sure she won't mind me mentioning, I couldn't even submit to CLA's Creative Writing Contest without Dr. Maxine Montgomery's support. She's only one of several faculty members here who really believe in my work, and I'm really lucky to have that."
Olivia Cameron graduated in May 2019 from FSU with her bachelor's degree in English, with a concentration in editing, writing, and media.