Diamond Forde looks forward to the release of her first publication, "Mother Body," a book of poetry
---
Diamond Forde looks forward to the release of her first publication, "Mother Body," a book of poetry
By Tabitha Labrato
For the past four years, writer Diamond Forde has drawn on her poetry to explore the societal influences that women face not only to be a literal "mother" to children but also to have a "mothering" relationship with their community.
"There is a stereotypical pressure of being a woman with a uterus who's expected to have three children and the definition of being a 'mother' starts there," explains Forde, an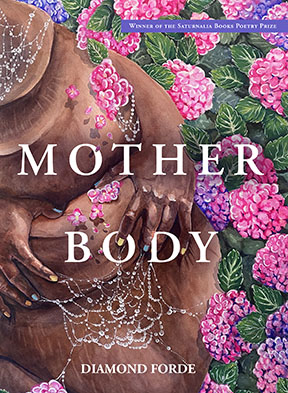 English doctoral student at Florida State University. "But this grows into new manifestations of the word that introduces 'self-mothering' within my Black body because I am forced to play mother to my community, who is constantly under threat of death."
Forde is now set to see her first book of poetry, Mother Body, released on March 15. Mother Body, which won the 2019 Saturnalia Books Poetry Prize, covers the idea of mothering Forde's "Black body," she says, and her poems also delve into the concept of self-love related to a woman's weight with her character, who does not have a name but is rather titled "fat girl."
"These ideas are not only relevant to my Black body but also my fat, Black body and I think that there were a lot of factors that led to my creation of the character 'fat girl.'" she adds.
Forde has been working on this manuscript diligently and still cannot believe that she has truly finished her book.
"It is crazy to think that this thing that has only ever existed on my computer is now going to be available for everyone to read and hold," she says. "This book is my baby. I put my soul into it and I just hope that someone is able to find something in my book that they can resonate with."
She continues to write poems that could have fit into Mother Body because of her love of its subject matter.
Throughout the writing process, Forde has workshopped her poems with English department faculty members and a few graduate students. Forde recognizes that her poems have been in the hands of many talented writers and she says they all have helped her get to this point of publication.
Lauren Howton, an FSU doctoral student in creative writing and a close friend of Forde's, was in a workshop with Forde while she was writing some of the poems for Mother Body.
"Diamond is my idol and a very dear friend," she says. "To say that I helped her would be a gross overstatement. Her poems all but sprang out of her pen meticulously formed."
She continues on Forde's same note by describing how her colleague's poems, specifically the poems in Mother Body, contemplate and challenge ideas of body ownership and body love.
"Fat bodies in the dark are sometimes brightest, they create their own gravity, they protect and are to be protected," Howton says.
Forde admits she is anxious but excited about the upcoming release of her book. Still, she happily shares her advice for any other students who hope to accomplish a similar feat.
"Write into your obsessions," she says. "Choose a topic that confuses you, frustrates you, and sparks a passion. Once you find that passion, the threads start to create themselves."
To view Forde's Mother Body on Small Press Distribution Books click here. To preorder the book on Amazon, click here.
Tabitha Labrato is an English major, on the editing, writing, and media track, with a minor in communications. 
Follow the English department on Instagram @fsuenglish; on Facebook facebook.com/fsuenglishdepartment/; and Twitter, @fsu_englishdept