Department of English Advisors give support to students seeking guidance
---
Department of English Advisors give support to students seeking guidance
By Jana Padula
Being a college student comes with an array of questions and thoughts, especially about the future.
Luckily, the Department of English has advisors who are available to help students figure out if an English major is best for them, to discuss course mapping issues, to make sure all university requirements are fulfilled, and even to discuss post-graduation options.

Inmaculada Silverio, Chantelle Tuffigo, Jarmal Desire, and Cathy Barrios are the friendly faces that students may come across in the advisors' area on the fourth floor of the Williams Building. In addition to the topics listed above, they are available to address any concerns or questions students have about the major. Click names for profiles of Inmaculada Silverio and Cathy Barrios; click here for profiles of Chantelle Tuffigo and Jarmal Desire.
"The days are challenging and different," says Silverio, the department's academic program specialist. "Meeting a student's needs makes my job extremely rewarding."
In addition to being the department's academic program specialist and pre-law advisor, Silverio also is the advisor for the Garnet and Gold Scholar Society. She meets with seniors to discuss issues related to the final year in the major. Tuffigo advises students in the first three years of the major, and Barrios is FSU's Career Center liaison for the department.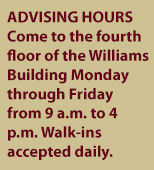 Deciding to major in English is only the first step a student makes—then comes picking a focus. The major is made up of three different concentrations: Literature, Media, and Culture; Creative Writing; and Editing, Writing, and Media. 
"When students are picking a concentration, I try to understand what they want to do in the future," Silverio says. "I will ask questions like, 'Why English?' and 'What is your goal with adding English to your education?'"  
Generally, three main groups of students decide to major in English, although they usually share the appreciation of literature and the enjoyment of reading and writing, but they all choose English to improve their critical thinking and writing skills. Some will want to work toward becoming an academic, others will want to strive to become a published fiction or poetry author, and for some, editing or social media field is a draw. 
Students who were previously in another major, pre-med or business, for example, regularly visit the advising department seeking to change or add English to their education. Many previously took English courses that sparked up an interest in the major.  
"Regardless of what you decide your focus to be, your diploma is going to read 'English,'" Silverio says. She stresses that the more important component is what happens in the classrooms. "What matters are the skills and tools that you gained that will help you succeed in the future."  
Advising a major with over 1,400 students can get tough, Silverio says. Students have their own histories, and the advisors' goal is to help them navigate the obstacles, academic or personal, they encounter during their time at FSU. 
"Our job is to make sure students get the best support while they are English majors, so they can be at their best when preparing for their next step in the professional careers," she says.
Every student deals with a unique situation, she says, and while having the three different tracks in the major adds another layer of complexity, the advisors in the department appreciate each individual's story. Silverio adds that advising is more than just helping students manage their class schedules; advisors connect students with campus and outside resources and help with career advising.
"We frequently hear that we are one of the friendliest advising offices on campus," she says.
The English department is flexible with its hours: the office is open Monday through Friday from 9 a.m. to 4 p.m. and accepts walk-ins daily.  
Jana Padula graduated in August 2018 with her degrees in English and Communication.