Creative writing Ph.D. candidate Aimee Seu found the 'sweet part' of her poetry with first full-length publication, 'Velvet Hounds'
---
Creative writing Ph.D. candidate Aimee Seu found the 'sweet part' of her poetry with first full-length publication, 'Velvet Hounds'
By Sergio Diaz-Silverio
Aimee Seu fondly recalls her reason for choosing Florida State University's English department for her doctoral studies in creative writing. Her decision, she says, came down to intuition and a genuine connection she made.
"The feeling I got from Barbara Hamby, when she called me, was just so warm," says Seu, referring to the department's Senior Lecturer and Distinguished University Scholar. "She knew the poems that I had applied with, without even looking at them, and she was able to name titles and quotes. That kind of commitment to applicants made me feel really special."
In addition, FSU's program is focused on creative projects, not extensive papers.
"I looked at all the Ph.D. poetry programs in the country, which there are surprisingly few, and then I cut down the list anytime the dissertation was critical rather than creative," says Seu, explaining she just wanted to write poetry. "I just didn't apply to those because I don't think I could do that."
Now a doctoral candidate at FSU since the fall of 2021, Seu recently celebrated her first publication, Velvet Hounds, which won the 2020 Akron Poetry Prize. She has been writing for many years, with innumerable single poems being published, but this is her first full-length publication. The work is a collection of poems she has been writing throughout her youth, she says, adding that many of the ideas and themes were shaped and driven by her adolescence.
"There are very rarely themes that I try to tackle, or tell myself that I have to tackle," she says. "I think my work sort of just ends up through my fascinations related to ideas that have morphed my life and my experience a lot of the time."
Seu is from Philadelphia, and aside from a brief stint at Mills University, a small liberal arts college in Oakland, California, she earned her undergraduate degree at Temple University in her hometown. She graduated in 2020 from the University of Virginia's Creative Writing MFA Poetry Program as a Poe/Faulkner Fellow. While at UVA, she was recipient of the 2019 Academy of American Poets Prize.
Describing the different themes she writes about, Seu says she sees her work as being dynamic, with no one specific through line.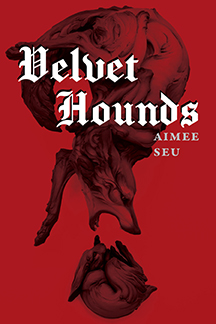 "The only thing that I had assigned myself to write about in Velvet Hounds is bulimia, because I don't think that there's enough writing about it and it is so common but still taboo," she says, adding that "in whatever microscopic work my book can do in the universe, I hope I could sort of unlatch how secret, dark, and shameful that topic can feel for people."
Other messages in her work include the ideas of danger, pleasure, and addiction. Seu says many times when writing poetry, she begins her creative process by getting obsessed with a specific word. Then she makes use of that word repeatedly in the work or as the basis for a more far-reaching idea.
The poems can even occur to her at the most inconvenient moments possible.
"One of the poems in Velvet Hounds is called 'Surfer,' and I wrote it in my brother's Notes app on his phone at a concert, years ago," she says. "That's just when it arrived to my brain."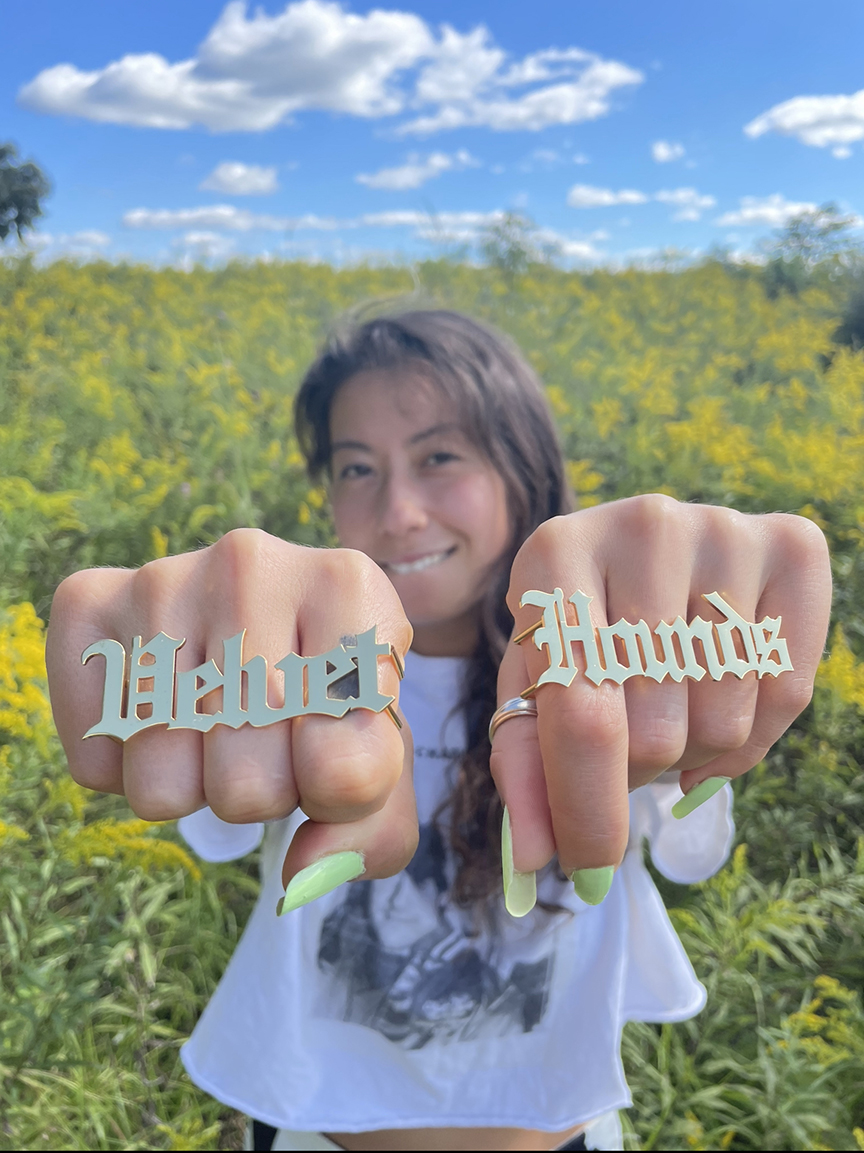 She admits that her creative and artistic process is not always consistent. Oftentimes when she is writing, she sits with her laptop and works to come up with a concept she likes. When she tries to force her creativity, though, the poem almost never comes to her.
Now, Seu focuses on practice and trying to learn, but she says consistently writing trying to improve what you write does not always accomplish what she wants.
"A lot of times for me, [the practice] is just the chore of it, what you do to get to the sweet part of the poem, which arrives at a random time that you can't predict," she says.
That sentiment could also refer to the way Seu is a student in FSU's English department, arriving at a time for a reason she couldn't have predicted.
Sergio Diaz-Silverio is an English major, on the editing writing and media track.
Follow the English department on Instagram @fsuenglish; on Facebook facebook.com/fsuenglishdepartment/; and Twitter, @fsu_englishdept