Colby Blackwill: IDEA Grant winner for his research into life after Chernobyl
---
Colby Blackwill: IDEA Grant winner for his research into life after Chernobyl
Florida State University undergraduates who win IDEA Grants have to select a faculty supervisor to guide and mentor them through the research and completion of their project. Senior English major Colby Blackwill chose English Professor Jimmy Kimbrell, and Kimbrell has the highest praise for Blackwill and his academic excellence.
"I cannot recall ever having the honor of mentoring an undergraduate student who is more immersed, ambitious, and capable than Colby Blackwill," Kimbrell says, "and I have had many wonderful students during my nearly two decades at FSU."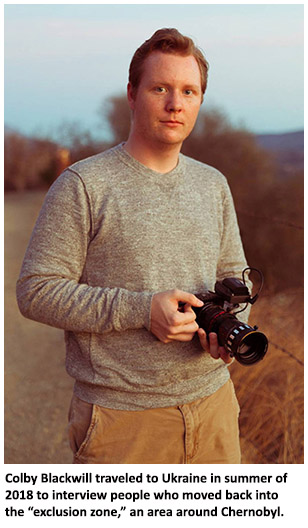 Blackwill is a senior English major, with a concentration in creative writing. His IDEA Grant project, "Chernobyl: The Legasov Syndrome, Exile and Return to Home" stems from his longtime interest in the history of nuclear energy, going back to middle school. He knew quite a bit about the Three Mile Island accident, which occurred in 1979 and is the most significant nuclear power plant incident in U.S. history.
"When I looked at Chernobyl, though, I thought 'wow, I've never heard of that and there is so much I don't know about it,'" says Blackwill, referring to the 1986 accident in the Soviet Union town of Pripyat. "I read about it, I watched documentaries about it – the story was so dramatic and compelling."
Even with all of the information he found about the catastrophic disaster, such as documentary films told from the filmmakers' perspective or details about what led up to the accident and the ensuing political consequences, Blackwill knew an important piece was missing.
"I was more interested in what happened to these peoples' lives and what happened to the people who had to be evacuated," he says.
There is a largely uninhabited area that extends 30 kilometers in all directions from the Chernobyl plant called the "zone of alienation" or "the exclusion zone." The area is also open to visitors, with special permission and under strict rules.
"Once I learned people were still living inside the exclusion zone, after the accident happened, I thought 'Oh my god. Why? Why would they live there?'" Blackwill says.
That's when he delved deeper into his research, and he found the 2015 documentary The Babushkas of Chernobyl, which paid more attention to the villagers.
"I thought, I have to be here, this is a zone where time is frozen still," Blackwill says. "I found out I could visit the area, and that's when I became serious about the project. I wanted to ask questions to these people."
He traveled to Ukraine during the summer of 2018, and Blackwill's project, which serves as Blackwill's honors thesis, will result in a collection of related short stories anchored by the events and resilient residents of Chernobyl. His project supervisor raves about Blackwill's commitment to the process.
"This is a task of monumental undertaking for any writer or scholar, let alone an undergraduate, but Colby has navigated each challenge with skill and sensitivity," Kimbrell says. "His genuine interest and enthusiasm for this subject is contagious; his determination to follow through with his plans leads me to believe that he will succeed beyond even his own expectations. That he intends to bring his research and field work to fruition in the form of literary fiction, is especially encouraging to me."
Blackwill spent 15 days in the country, and he was in three different locations: Kiev, the capital of Ukraine; the small city of Slavutych, which was built in response to the accident, and which is where many people who were evacuated now live; and the exclusion zone at Chernobyl.
He describes his experience at Chernobyl as one of action and unpredictability. He notes that the villagers who live there now are older and living their lives day to day, a perspective he adopted: "Take one day at a time," he says.
"I was going to interview a villager but that day she became horribly sick," Blackwill says. "I was always on the move, going from one location to another and trying to find people to interview. That was the objective. There was a lot of reactionary action."
Blackwill's final result, Kimbrell believes, will be of interest not just to readers of fiction, but to those in a number of different fields, from Russian studies to environmental science. Two other professors, Skip Horack in English and Valliere Richard Auzenne in the College of Motion Picture Arts, helped supervise Blackwill's project, but he calls Kimbrell "the backbone when it came to me going through the process."
"His support extends beyond advising me and helping me figure out what I was going to do when I returned," Blackwill says. "He was such a big support when it came to believing in my project, acknowledging my passion for the project. He said, 'Even if you don't get the IDEA Grant, you should still go because this is too important.'"
Kimbrell says Blackwill's work fits into recent creative work that is grounded in geographical areas of political and cultural isolation. He points to FSU alumnus Adam Johnson, who visited North Korea for research that led to his own work of fiction,The Orphan Master's Son, which won the Pulitzer Prize for fiction in 2013. Kimbrell mentions Johnson's success, he says, "to illustrate the fact that projects that may seem somewhat off the beaten path are often the very projects that yield the highest artistic and intellectual accomplishments."
"That Colby is an undergraduate in no way places any limits on the ultimate fate of his project," Kimbrell says. "Given the nature of the project and Colby's ambition, I expect this collection of short stories to be of a publishable quality and that it will provide a solid foundation for his future work as a scholar and artist."
After graduation from FSU, Blackwill plans to pursue his master's in film, and he aspires to be a cinematographer as well as direct documentaries.