Cocoa Williams Wins PEO Scholar Award
---
Cocoa Williams Wins PEO Scholar Award
By Tara Volz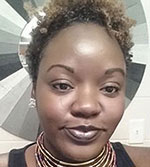 Cocoa Williams, a Ph.D. student in the English department at Florida State University, is a 2016 recipient of the Philanthropic Education Organization Scholar Award, a $15,000 merit-based honor for women pursuing doctoral degrees.
Williams is pursuing her degree in African-American Literary and Cultural studies with a concentration in American Modernism and Black Diasporic Modernism. Her research interest spans from African-American women's literature to modern African-American art.
"This award will give me the financial means to do a considerable amount of archival research at libraries and archives in New York and Washington, D.C., whose collections of African-American art and literature as well as other historical documents produced during the interwar period are unparalleled," Williams says.
The P.E.O. Scholar Award provides support for women, from the United States and Canada, who are dedicated to research and who seek to make significant contributions to their field of study.
Williams first discovered she won the award through a congratulatory email. Letters are sent out to all nominees, but Williams says she didn't receive the initial notification because she was busy preparing for her preliminary exams.
"The news was very welcome after my first day of testing," Williams says.
She plans to complete the research for her dissertation at the Schomburg Center for Research in Black Culture and the Smithsonian Archives of American Art. Williams' project aims at engaging in new discourse about Black Modernist studies that blends literature with the visual arts. According to Williams, analyzing poets and prose writers who wrote and published between the two World Wars reveals a fondness they had for the visual movement.
"By creating painterly texts, New Negro writers sought to demolish the most pervasive stereotypes attributed to African Americans in the arts, simultaneously critiquing and participating in modernist aesthetics, solidifying a tradition in African-American letters that continues into the contemporary moment," Williams says.
Williams attributes much of her academic success to the directorship of English Professor Maxine Montgomery. Williams was able to finalize her Ph.D. dissertation project, tentatively titled "Paint, Poetry, and Prose: The Painterly Tradition in New Negro Writings," after completing a directed independent study with Montgomery.
Williams says Montgomery worked one-on-one with her in preparation for seminars, presentations, and other scholarly endeavors, adding, "I have no doubt that Dr. Montgomery's recommendation for the PEO Scholar Award weighed heavily on the scholarship committee's decision."
Several years ago, Montgomery taught a graduate seminar, Fiction of Toni Morrison, and Williams was one of her students. This was the first time Montgomery met Williams and was able to interact with her.
"I could tell there were a lot of articulate, well-spoken, well-read and engaging students [in the class] but she tended to stand out even in that graduate seminar," Montgomery recalls.
Montgomery eventually supervised Williams during a directed individualized study that focused on examining "painterly moments" in representative texts by Harlem Renaissance writers. Montgomery was impressed by her work because no other scholar had dealt with that subject before.
"I think it was Claude McKay's 'Home to Harlem,' and although I've read and taught 'Home to Harlem' many times before, when Cocoa began to talk about the emphasis on color, painting, and artistic sensibility that seemed to be infused into that text I began to see that novel in a completely different light," Montgomery says.
Montgomery was thrilled when she found out that Williams had been selected as a recipient of a national award that would allow her to complete her doctoral dissertation. She looks forward to working with Williams in the summer, teaching a section in the Center for Academic Retention and Enhancement program at FSU, which provides academic assistance to first-generation college students.
"So not only is she an excellent scholar, but a terrific teacher as well," Montgomery says.
Williams says that many committee members and colleagues have helped her over the past three years. Professor Jerrilyn McGregory and Associate Professor Dennis Moore, who also served as a mentor for Williams throughout her graduate career, both wrote letters of recommendation on her behalf for the P.E.O. Scholar award. Williams also expresses gratitude to her graduate student peers who served as an academic and personal support system.
Yolanda Franklin is a Ph.D. colleague of Williams' and she is one of those peers who provided motivation and support for Williams throughout her academic career.
Franklin acknowledges the hard work Williams has devoted to all of her academic enterprises, adding "she has one of the best work ethics I have ever seen and when you couple that with ingenuity, talent and intelligence, she is unstoppable."
They supported each other in their academic careers, encouraging each other's personal aspirations, and Franklin says she worked closely with Williams in preparing her for multiple scholarships and poetry contests. Franklin appreciated Williams' talent and pushed her to send out her poetry and perform public readings of her poems.
"It was cool to watch this confidence build with her getting these awards and short listed for major prizes in poetry," Franklin says.
Among others, Williams acknowledges Adrienne Stephenson and Sarah Cox in the Graduate School of FSU, for their dedication in preparing Williams for every stage of the application process, she says.
Tara Volz is an undergraduate student in ENC 4352, and she writes for the department's online magazine.