Carla Della Gatta and Aaron C. Thomas work together to add diverse resources to library
---
Carla Della Gatta and Aaron C. Thomas work together to add diverse resources to library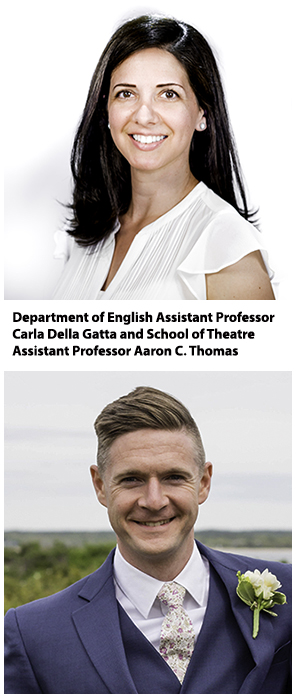 By Jessie Colegrove
English Assistant Professor Carla Della Gatta realizes the importance of teaching courses related to sexuality, race, and gender. In addition, her own academic research has strengthened her belief for the need to provide resources on those topics to other academics and students.
Della Gatta joined Florida State University's faculty in the fall of 2019, and she focuses her own scholarship on Shakespeare and Renaissance drama, Latinx drama, LGBTQ drama, and Spanish Golden Age drama, among other related topics. She teaches and incorporates queer performance into certain courses she teaches as well as her graduate seminars.
Della Gatta recently joined forces with FSU School of Theatre Assistant Professor Aaron C. Thomas to apply for and receive a Bradley Library Grant to diversify FSU's library holdings in queer theatre and theory.
"The co-application is an extension of our mutual scholarly and teaching interests, and it speaks to the cross-disciplinarity of the humanities and arts," Della Gatta says. "We both feel strongly that making these resources more accessible to students and faculty promotes greater possibilities for learning about queer theory and queer theatre, both of which are integral to our disciplines more largely, and to any study of history, aesthetics, culture, and identity."
The $2,000 grant approval ensures that materials will be added to the FSU library over the upcoming months. In addition to physical copies of plays, some will be available in e-book format, allowing students to access them without paying a hefty price.
"This grant further strengthens the long-standing relationship between the English Department and the School of Theatre," says Professor Gary Taylor, chair of the English Department and also a specialist in drama. "It also contributes to our strategic investment in making the English Department more welcoming to the full spectrum of diversity among our students."
Furthermore, professors and instructors can contact the FSU Library to upload as many as three films to their class Canvas sites, so students can view documentaries and films they would otherwise not be able to access.
"These resources will be used in our classes, and we hope that they will complement curricula throughout the university," Della Gatta says. "The books and plays we requested enhance the possibilities for research and offer a greater selection of work by queer playwrights of color."
The resources include works by Latinx queer playwrights Maria Irene Fornés, Edwin Sanchez, Virginia Grise and Tanya Saracho, African American playwrights Tarell Alvin McCraney, Tanya Barfield, and Aziza Barnes, and artists Paula Vogel, Harvey Fierstein, and Terrence McNally.
"We are thrilled that FSU supports an expansion of this work that has and will continue to shape our understanding of gender and sexuality and the arts today," Della Gatta says.
Jessie Colegrove is a senior majoring in public relations with a minor in psychology.
Follow the English department on Instagram @fsuenglish; on Facebook facebook.com/fsuenglishdepartment/; and Twitter, @fsu_englishdept