Campus-wide Festival of the Creative Arts bonds FSU community to collaborate on innovative and creative programming ideas
---
Campus-wide Festival of the Creative Arts bonds FSU community to collaborate on innovative and creative programming ideas
By Rachel Zak
Florida State's first annual Festival of the Creative Arts begins Oct. 6 and continues through Oct. 9. This campus-wide collaboration highlights the talents and creativity of Florida State's faculty and students, and FSU's English Department is well represented across three of the scheduled panels.
"FSU has a very active research profile in the arts and the festival is a celebration of what can be achieved when we collaborate on various innovative programming ideas across the campus," says festival organizer Iain Quinn, College of Music Associate Professor of Organ and Coordinator of Sacred Music.
Robert O. Lawton Distinguished Professor of English David Kirby is featured on an Oct. 7 panel, Imagining the Future–Educating the Next Generation, a symposium that addresses the future of arts education. The work of five English-Creative Writing graduate students will be featured in the Oct. 9 Kaleidoscope performance, an interdisciplinary presentation that includes students from creative writing, fine arts, music, theater, and dance.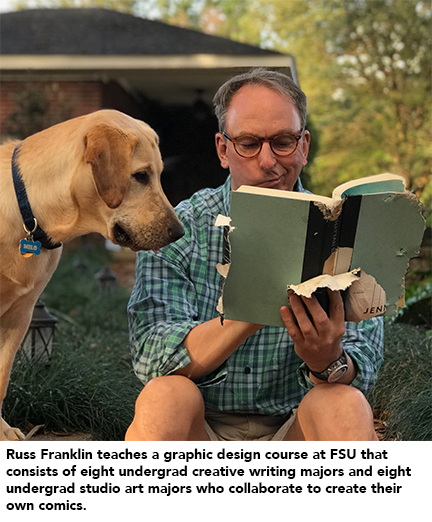 The Oct. 7 panel Science and Words comprises cyborg poet and English Associate Professor Jillian Weise, Pulitzer Prize-winning novelist and English Professor Robert Olen Butler, and English alumnus and faculty member Russ Franklin, recipient of the 2004 Wallace Stegner Fellowship at Stanford University. The trio will collaborate to look at the overlap between science and literature. Franklin will read from the first chapter of his forthcoming novel, which is currently titled Mr. Reality: A Celestial Woman's Guide to Beautiful Navigation.
"I'm so glad and so excited to be part of this festival," says Franklin, whose first novel, Cosmic Hotel, was published in 2016. "I got invited to do this festival because I'm a crossover person, so I'm excited that my math major is finally paying off."
Though now an accomplished professor, writer, and overall creative type, Franklin was not always set on being a novelist. When he first enrolled at Mercer University in Macon, Georgia, he was drawn toward math and physics, he says, because his math scores were a great deal higher than any of his English scores.
"I liked doing math and math was always fun to me, so I did that for four years," Franklin says.
Franklin's decision to pursue and earn a master's degree in English at FSU was ultimately sealed by six words: "It's OK to want to write," he says. He also earned his doctoral degree in English from FSU.
The change in Franklin's career path came as an epiphany after realizing he had spent the four years in college borrowing books from his English major friends. Franklin has always been interested in novels, especially graphic ones, reflecting on his comic book fascination as a child that carried on into his teen years.
"I was a comic book kid; I would get them all through the mail," he says. "I was always a big reader."
His love for comic books faded once he began his undergraduate studies at Mercer, Franklin says, but after helping a colleague teach a graphic novel project during his Stanford fellowship, his enthusiasm for that genre was reignited.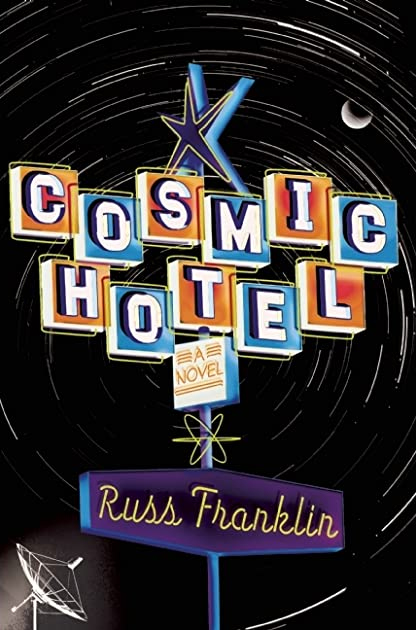 This rejuvenation persuaded him to inquire about teaching a graphic novel class upon his return to FSU. The course, which Franklin still teaches, consists of eight undergrad creative writing majors and eight undergrad studio art majors who collaborate to create their own comics.
His appreciation for teaching the course comes from the students.
"I get to teach English and art majors and I love being around them and being reminded that what we're doing is supposed to be fun," Franklin says.
Franklin says society tends to view science and literature as entirely separate. Even ACT scores are separated into analytical and verbal sections to try to easily put someone into one category or another, and he does not agree with this system. The Festival of the Creative Arts is a great opportunity to show the parts of science and literature that do intertwine, he points out.
Franklin adds that, though it may be selfish, he is most looking forward to being able to share the first chapter of his in-progress novel at the Science and Words panel.
Read more about the Festival of the Creative Arts here.
Rachel Zak is an English major on the editing, writing, and media track, with a minor in humanities.
Follow the English department on Instagram @fsuenglish; on Facebook facebook.com/fsuenglishdepartment/; and Twitter, @fsu_englishdept
Friday, October 7
Science and Words
Hear how a cyborg poet, a Pulitzer Prize winning novelist, and a graphic novelist engage science in their writing.
Robert Olen Butler, Russ Franklin, Jillian Weise
2 p.m. – 5 p.m.
MagLab
Imagining the Future – Educating the Next Generation
Symposium with faculty discussing the future of arts education
Leon Anderson, Geoffrey Deibel, David Kirby, Sahoko Sato Timpone
5:30 p.m. – 6:30 p.m.
Dohnányi Recital Hall, Housewright Building, College of Music
Music and the Visual Arts
Textile Music; Improvising to Images; Choral Works inspired by Art
Kari Adams, Annie Booth, Karen Large, Meredith Lynn, Stephanie Sickler, Liliya Ugay, Levana.
7:30 p.m. – 9 p.m.
Opperman Music Hall, College of Music.
Saturday, October 8
Prelude to a Premiere
A joint performance by the Marching Chiefs and the FSU Flying High Circus
Patrick Dunnigan, Chad Matthews
9:30 a.m.-10:10 a.m.
Westcott Plaza
Paint the Town!
Activity for Children Ages 5-10.
Collaborate on a large mural featuring images of historic, iconic, and memorable places in Tallahassee.
Sara Scott Shields
Exhibition by Interior Architecture and Design Students and Studio D.
Marlo Randsdell
10 a.m. – 12 p.m.
William Johnston Building
Premiere
Take part in the first performance of a new piece for audience and orchestra on a text of Paul Dirac. Works of Nico Gutierrez, Jessie Montgomery, Sibelius and a rare performance of the Vaughan Williams Concerto for Tuba.
Justin Benavidez, Nico Gutierrez, Michael Hanawalt, Alexander Jiménez, Mark Riley,
University Symphony Orchestra and University Choirs
10:30 a.m. – 11:45 a.m.
Ruby Diamond Concert Hall
Beyond the Stage
A behind-the-scenes look at Sweet Charity
12 p.m. – 1 p.m.
Richard G. Fallon Theatre, School of Theatre
RSO Showcase
Join us for a diverse array of performances by Recognized Student Organizations.
3 p.m. – 6 p.m.
Club Downunder, Student Union
Invisible History – Middle Florida's Hidden Roots
Screening of the Emmy-winning documentary on the roots of slavery in Florida
Post-Screening discussion.
Maxine Jones, Valerie Scoon
7 p.m. – 8:30 p.m.
College of Motion Picture Arts
Sunday, October 9
Kaleidoscope
First performance of an interdisciplinary work with contributions from more than 30 students in creative writing, fine arts, music, theatre, and dance
Anjali Austin, Director
2 p.m. – 3:15 p.m.
Nancy Smith Fichter Dance Theatre, School of Dance
MagLab Masterpieces
Explore the intersection of science and art at the world's strongest magnet lab.
Create your own magnet-inspired artwork!
4:30 p.m. – 7 p.m.
MagLab