Brett Hanley pulls together her persona poems, leading to recent publication of 'Defeat the Rest'
---
Brett Hanley pulls together her persona poems, leading to recent publication of 'Defeat the Rest'

By Faith Matson
In her recently published poetry chapbook, Florida State University doctoral student Brett Hanley shapes a modern reimagining of an unconventional Emily Dickinson romance. Hanley's Defeat the Rest, published by the American Poetry Journal in November 2020, is described as "an anxious romp of queer longing and self-invention."
This is Hanley's first published longer work, though she has previously been featured in a number of literary magazines. Hanley actually never planned to release Defeat the Rest—she was initially working toward a full-length book. She reached a point, though, where she felt she had enough material to produce a shorter piece for more immediate publication.
"I just have always had my eyes on that full-length collection, but I was like, 'Oh wait, this kind of works as its own little entity,'" she explains.
The content of the chapbook, Hanley says, was inspired by a course she took with FSU English Associate Professor John Mac Kilgore. The students in the class read love letters written between Emily Dickinson and one of her romantic interests, Susan, who happened to be Dickinson's sister-in-law.
Hanley grew fascinated and began writing from Susan's perspective but then realized she would rather write from a more modern viewpoint.
"I wrote this series of persona poems—they're not me, they're in some cases, sometimes, sort of me," Hanley says. "But it's just a woman named Susan writing her ex-love, Emily, poems about missing her."
These poems connected to some of Hanley's other work, particularly the love poems she writes. She felt a cohesion between all of her love-centric work, so she created Defeat the Rest.
Hanley is a Houston native, and she has known from a young age that she wanted to pursue creative writing as a career. She worked at her high school's literary magazine and wrote poetry, always moving in the direction of her passion.
After completing her Bachelor of Arts in English-Writing and Rhetoric at St. Edwards University in Austin, Texas, she went on to study for her Master of Arts in Literature and Master of Fine Arts in Creative Writing at McNeese State University in Lake Charles, Louisiana. Her master's programs are where she established a much clearer direction for her work.
"I learned so much there," Hanley says. "I feel like I started that program not really knowing what I was doing as a poet, and then I left having somewhat of an idea."
When deciding on a place to pursue her doctorate, Tallahassee's sleepier atmosphere drew Hanley to FSU, contrasting her life in Houston.
"Growing up in the big city, there's a lot of hustle and bustle and a lot of different things going on, but I kind of like the quieter pace [of Tallahassee] for writing," Hanley says.
Out of a passion for learning, Hanley decided to pursue her doctorate in poetry. In her time at FSU, Hanley says the expertise of many faculty members has influenced her. She particularly notes her close working relationship with her dissertation co-chair, Barbara Hamby, a distinguished university scholar on FSU's English faculty.
"She's the best editor of my work, she's been so influential to me. I've learned so much from her," Hanley says.
Hamby notes how Hanley's curiosity and passion for literature shape the work she produces, which can especially be seen in Defeat the Rest.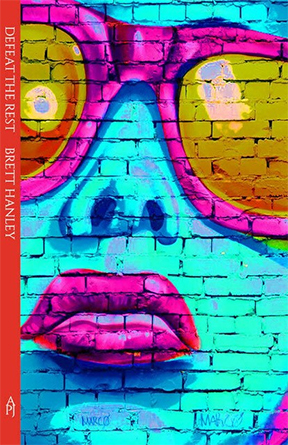 "She dives deeply into whatever she's reading, and it is exciting to see how it surfaces in her own work," Hamby explains. "Her chapbook is an example of this. She has transformed her love of Emily Dickinson's poetry into very personal poems about her own relationships with contemporary images that create a conversation between the past and present."
Hanley is currently working on a series of odes, which she attributes to an odes-themed workshop she took with Hamby.
"And the sequence that I wrote, the Susan and Emily sequence that is the basis of this chapbook, I started in her class," Hanley says. "She really encouraged me with it and helped me carve out what it is and what it became. Barbara's amazing."
Hamby has enjoyed working with Hanley, remarking about her appreciation of Hanley's scholarship and dedication to the craft.
"Brett Hanley is one of those wonderful students whose love of literature and poetry shines in everything she does," says Hamby. "I can't wait to see her odes and how she has translated the ancient poem of praise into her own idiom. She is a young woman with a brilliant future ahead of her."
Defeat the Rest is not Hanley's first published work, however. Some of her work has also been seen in River Styx, Gulf Coast, Puerto del Sol, Yemassee, the minnesota review, Juked, Crab Creek Review, Underblong, North American Review, and Hotel Amerika.
With Defeat the Rest available from American Poetry Journal, what does Hanley hope the chapbook's readers take with them?
"Love is complicated and fraught," Hanley says. "But it's also everything."
Faith Matson is an English major on the editing, writing, and media track, and is also pursuing a certificate in Global Citizenship.
Follow the English department on Instagram @fsuenglish; on Facebook facebook.com/fsuenglishdepartment/; and Twitter, @fsu_englishdept