Brandi George and Jesse Goolsby Win Gold Florida Book Awards
---
Brandi George and Jesse Goolsby Win Gold Florida Book Awards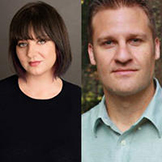 Would-be writers learn early on that being successful is half luck and half skill, author and Florida State PhD student Brandi George says, adding that it is essential for writers to learn how to deal with and ignore rejection as well.
Still, George relies on advice from one of her mentors to push through any negative responses and to keep writing.
"My esteemed professor Erin Belieu once said to [me], 'You've got to play to win.' I tell myself that often," George says.
George and fellow PhD student Jesse Goolsby both recently earned full appreciation for their writing when The Florida Book Awards named them as first-place winners in their respective categories. George won the gold award in poetry for Gog, a collection of her poems, and Goolsby won the same honor in general fiction for I'd Walk With My Friends If I Could Find Them.
"I found out via email, and I had to read it several times to make sure I wasn't imagining things," George says.
Goolsby had a similar reaction when he read his own email naming him as a winner.
"When I saw the message about the award it took a few minutes for it to sink in and I called out to my wife Sarah to come and read it to make sure I wasn't hallucinating," he says. "When she confirmed its authenticity we shared a great moment of appreciation and joy."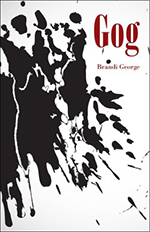 Like George, Goolsby understands that writing is not about success or awards.
"It was a beautiful surprise to receive the news," he says. "I had no expectation that my novel would be recognized. I'm truly honored that the judges felt my book worthy of such a distinction."
The Florida State University Libraries coordinate the Florida Book Awards, which were established in 2006. According to the organization's website, more than 200 eligible publications were submitted for consideration across nine categories of competition.
When George and Goolsby receive their awards at the April 7 annual awards banquet, held at Mission San Luis in Tallahassee, both authors will have a list of FSU and English department colleagues to thank for supporting them and for working with them.
"My book is practically a collaboration," George says. "I've learned everything I know about writing here at FSU. I got my MFA here, and I'm getting my PhD here, too."
She specifically mentions creative writing professors David Kirby, Barbara Hamby, James Kimbrell, Erin Belieu, and Robert Olen Butler for helping her articulate her vision for Gog and for offering revision advice "in all of its messy stages," she says. FSU literature professors, including S.E. Gontarski and Anne Coldiron, were important to the process as well, she adds.
"And I've learned a lot from the graduate students here - they are incredibly talented and generous with their feedback," George says.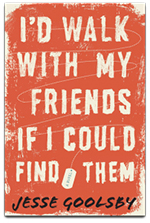 Goolsby appreciates that so many faculty members and fellow graduate students "were instrumental with the completion of this novel by challenging and encouraging my writing and artistic sensibilities. This is true of every class I've taken as well as numerous out-of-class interactions with our fantastic faculty and students."
When Goolsby had questions about his own writing process or about the publishing business in general, he says that professors Robert Olen Butler, Bob Shacochis, Mark Winegardner, Elizabeth and Ned Stuckey-French, and Diane Roberts provided much-needed advice and support.
"They have been there for me at every turn, as mentors and friends, guiding my work, picking me up when I needed a word of encouragement, and patiently answering questions about everything from narrative structure to publishing contracts and interviews," he says, adding that fellow graduate students Charlie Beckerman, CJ Hauser, Kate Kimball, and Eric Schlich also provided vital feedback to him.
Goolsby's next novel, due out in 2017, is titled Derrin of the North, a quest story set across the U.S. and Canada, a story of friendship, sex, death, joy, and the search for identity, he says. George is tackling a book-length play-in-verse titled The Lily Trilogy, which is set in her hometown of Ovid, Michigan. She describes the manuscript as a reworking of Ovid's Metamorphoses as well as Claude Debussy's Prélude à l'après-midi d'un faune, a musical piece inspired by Stéphane Mallarmé's poem, L'Après-midi d'un faune.
"In an effort to explore the sudden erasure of human and nonhuman populations from the area, the poem embodies various voices, forms, and media, including acrylic paintings and musical compositions," George says. "So, it's kind of a beast. Wish me luck."
With their Florida Book Awards in hand, George and Goolsby are confirming that skill plays a big part in their successes.