Ashley Rosado: Imposter Syndrome and Machismo: A Case Study on Latinas Navigating the Tech Startup Industry
---
Ashley Rosado: Imposter Syndrome and Machismo: A Case Study on Latinas Navigating the Tech Startup Industry
By Demetrius Winn
Undergraduate creative writing student Ashley Rosado has explored her passion for identity and community through her research and focus on social entrepreneurship.
Rosado, a junior at Florida State University, had the opportunity to share the findings of her case study, "Imposter Syndrome and Machismo: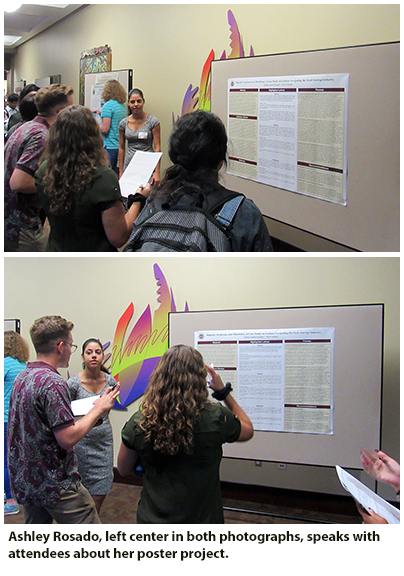 A Case Study on Latinas Navigating the Tech Startup Industry," at the October 1, 2019 President's Showcase of Undergraduate Research Excellence. The case study explores the ways in which Latinas navigate the tech start-up industry.
Rosado conducted her research with FSU's Tech Fellow program within the Center for Undergraduate Research and Undergraduate Excellence. Through the program, Rosado spent the summer interning at 500 Miami, a global venture capital firm in South Florida.
"As an intern, I had the opportunity to go to Miami and work at a business accelerator that focused on tech start-ups," Rosado explains. "Because I was placed in Miami, I knew it would be a missed opportunity if I did not place Latinas at the center of my research."
Rosado says she discovered that Latinas in the technology field tend to support each other when it comes to advancing in the technology industry. Many Latina community members spoke with Rosado at the showcase event and said her research resonated with them.
"Since it was focused on imposter syndrome and machismo, people really saw how machismo can transpire from family life to work life," Rosado says. Imposter syndrome occurs when a person with high qualifications or in a position of authority wrongly believes they will be exposed as a fraud. "I had many Latinx people come to my poster amazed that it could even be a research project."
Rosado's study of the Latina identity is rooted in her own identity and the necessity of Latina representation in research.
"I am Latina, and I have experienced impostor syndrome as a college student," she says. "I was interested in seeing how that transpired into the workforce."
While at FSU, Rosado has been committed to involvement that centers around her identity. She has been on the executive board for the Puerto Rican Student Association and been the executive director of the Pride Student Union. She is also one of the launching members of Design for America at FSU. Design for America is a national idea incubator that provides training for students on how to best tackle social issues in innovative ways.
"When I came to Florida State as a CARE student in 2017, I was really looking for identity-based organizations," Rosado explains. "I realized how much those organizations were helping me and I wanted to create that community for other incoming students."
When choosing an area of study at FSU, Rosado says she wanted to earn a degree that would enable her to make an impact in her community.
"I chose social entrepreneurship because it was all about using business for good, but about a semester or two into the major I still felt unfulfilled at Florida State," she says. That awareness led Rosado to double major in English, with a focus on creative writing, so she could explore her passion for writing.
Since doing so, Rosado believes the creative writing courses have been a nice change of pace from her social entrepreneurship courses.
"It was nice reading diverse literature on topics such as LGBT and Latinx Literature," Rosado says.
One course Rosado discusses is her Introduction to English Studies course taught by doctoral student, Elizabeth Hutchison. Rosado appreciates Hutchison's focus on coming out stories and gender theory in her class.
"She has provided a lot of LGBT visibility in the class, which is something I haven't necessarily seen in any other class," Rosado says.
Rosado's interest in the subjects discussed in the course is manifested in her work, an aspect that Hutchinson admired in her student.
"Her engagement in class is always focused on intersectionality, and additionally related to connections to LGBT literature," Hutchinson says, "such as when Ashley led discussion in our class for poetry selections of Adrienne Rich and other poets exploring identity."
With her remaining time at FSU, Rosado will continue her involvement with community and service on campus and in the greater Tallahassee community.
"I just want to feel the Florida State spirit," she says, "and contribute whatever I can to the community."
Demetrius Winn is a senior majoring in English, with a concentration in editing, writing, and media, and media communication studies.