Amy Cicchino enjoys teaching beyond the typical curriculum, and her students benefit the most
---
Amy Cicchino enjoys teaching beyond the typical curriculum, and her students benefit the most
By Kaylee Kopke
Students at big universities usually do not have input on the design of their classes. Rarely does a professor or instructor give students a list of projects and say, "you're all young professionals here, so pick the journey that you want to take this semester."
Amy Cicchino, an English department alumna who recently earned her doctorate in rhetoric and composition, is just that kind of teacher.
As a Florida State University teaching assistant for four years, Cicchino says she loved to meet different kinds of people from all walks of life and teach them things that will benefit them in their future. But she also loves that teaching gives her the opportunity to learn new things from her students. Collaborating with students and solving problems that might arise from different projects makes teaching all the more worthwhile, she says.
Cicchino believes that the most valuable lesson she can teach students is to "reflect on your goals, reflect on your learning, and reflect on your professional identity."
"It is so rewarding to see what my students accomplish after graduating," she says. "Hearing how [they] have taken the knowledge and moved forward with it is super rewarding for me."
Dr. Deborah Coxwell-Teague, who served as the director of FSU's College Composition program for 22 years before her retirement in May 2019, says Cicchino was a wonderful addition to the program.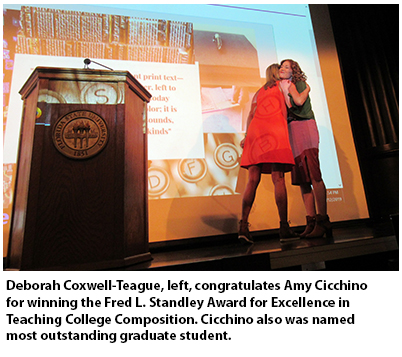 "Dr. Amy Cicchino is clearly one of the most outstanding teaching assistants in the Department of English," she says. "She has been the recipient of several prestigious awards, both at the English department and the university levels."
In April 2019, FSU's Graduate School recognized Cicchino as one of the university's outstanding teaching assistants for the academic year. In the same month, the English department honored Cicchino with its annual award for Outstanding Career as a Graduate Student, in addition to naming her the winner of the Fred L. Standley Award for Excellence in  Teaching College Composition.
Following her graduation from FSU in May 2019, Cicchino became the Associate Director for the Office of University Writing at Auburn University. This position will have her working closely with a team of administrators to support faculty in how to teach writing.
Originally from Buffalo, New York, Cicchino was raised in Punta Gorda, Florida. She attended Florida Gulf Coast University in Fort Myers, Florida, for both her bachelor's and master's degrees in English while she taught high school.
"It took me about four years—it was the slow track," she says. "But, it was nice to do that while I was teaching a classroom full-time."
After earning her master's, Cicchino recognized that secondary education teaching was no longer a good fit for her. With Florida's standardized testing requirements, she realized she could no longer put her students' needs first.
She heard wonderful things about FSU from her brother, Scott Ortolano, who earned his Ph.D. in literature at the university, and Cicchino decided to continue her education in Tallahassee.
"When I reached out to get more information, everyone was warm and so kind, and it was such a community-oriented program, of course I had to come here," she says.
Coming from a teaching background, Cicchino knew the rhetoric and composition focus for her doctoral studies was a good route because she loved being able to teach students how to write and compose. Her research interests are centered on writing program administration and digital multimodal pedagogy.
She had prior experiences with program administration as a department head at the high school level, and she understood that administrators have the ability to connect with not only students of various levels but other faculty as well.
With digital pedagogy, she admits she does not identify as technology-savvy. But she understands the importance of the subject and its concepts.
"Given the world that we are living in, it's no longer an option to not support technological literacy in the classroom," she says. "I wanted to make sure that I could teach my students how to use technology—and use it critically—as well as how to use it to compose things in their professions post-graduation."
Cicchino taught several courses for the English department's editing, writing, and media track, which gives students options to take different routes in terms of career choices. When she taught courses in that area, Cicchino offered students various projects that would help them engage in research and writing activities that interested them, projects that would apply skills that benefited them in the future.
For example, she designed her Advanced Editing and Writing course to reflect the theme of the popular children's books Choose Your Own Adventure, a series of gamebooks designed by Edward Packard. Cicchino was excited when she designed this course, she says, but she also was hesitant to see how her students would react to the structure.
She knew the flexibility could confuse students, since most professors give them stricter expectations. Her students took the liberties in the course and ran with them, though, embracing the fact that they are not going to be students for the rest of their lives.
With her particular course design, the students dabbled in various programs, such as Adobe InDesign and iMovie. The projects ranged from creating ePortfolios to writing blogs to producing podcasts. The goal for students was to gain knowledge that they will be able to showcase to potential employers and to help find the right job.
Cicchino applied those objectives to other courses she taught at FSU. English and communication major Gabrielle Hershkowitz was a student in her Writing, Editing, and Printing Online course.
"This class was all about thinking outside the box and she pushed us to do even more than that," Hershkowitz says. "One special assignment that I hold close to my heart was our first assignment. We had to choose a word and think outside the box on how to explore and showcase that word. I chose to do design, specifically the design of the Holocaust Memorial in Berlin."
Hershkowitz chose to create a documentary, something she had never done before.
"She supported me through every step of the way and even put my piece in the Digital Symposium for FSU which was a very cool moment for me," she says.
Cicchino worked with Coxwell-Teague as her assistant throughout her doctoral career in the English department. Both have left FSU, but Coxwell-Teague says working with Cicchino during the past four years was a pleasure.
"She is both an amazing graduate student and teacher, and she is one of the most brilliant, dedicated, and all-around wonderful individuals I have ever known," she says. "Amy will be sorely missed by her FSU community."/p>