Alumnus Brooks Lockett foregoes the 9-to-5 grind for a more flexible way to employ his writing skills
---
Alumnus Brooks Lockett foregoes the 9-to-5 grind for a more flexible way to employ his writing skills
By Savannah Tindall
When Brooks Lockett graduated from Florida State University in the spring of 2019, he already had a job worked in New York City as a digital marketer
for pharmaceutical company. He felt unfulfilled at his day job, however, so he started to freelance as a writer.
Four months later, freelance writing became his full-time job.
"I realized the qualities that made me a less than ideal employee made me a great fit for freelancing," says Lockett, who studied English with a focus on editing, writing, and media at FSU.
Lockett's favorite part about being a freelance writer, he says, is the "freedom." He still must meet certain deadlines for his clients, but he does not work typical 9-to-5 hours—he is able to set his own work schedule. He enjoys "location-independence," he adds, and finds especially appealing the freedom of being at "beautiful cafes by the beach, an awesome co-working space, or traveling the country or world" instead of "boring offices."
Additionally, he has full control over his rates and how often and how much he works.
"The freelancing world is amazingly rewarding for those who aren't looking for shortcuts and are willing to do the work," Lockett says. "All the tools are there."
Lockett is not a general copywriter—he is a niche writer for SaaS companies, which specialize in software-as-a-service. As a SaaS copywriter, he focuses on "conversation optimization copywriting and digital marketing," or as he explains in layman terms, he "writes sales copy to help his clients sell more stuff."
"Since I really niched down from the beginning, the companies I attract are looking for specialized copywriters who have experience in the SaaS industry," Lockett says. "For that reason, they're willing to pay premium rates since there's a high demand and low supply."
He has worked with other, smaller startups, such as SimpleCrew and RAN Wireless. He has collaborated closely with the founders of these companies, and in addition to writing for them, he leads research efforts by putting together lead generation and customer acquisition campaigns. He then analyzes the results, which they use for their marketing.
The hands-on experience and quality work he produces has led him to work with SaaS industry leaders.
"I recently landed Google Cloud as a client, and that's been really fun," Lockett says. "I love nerding out with the San Francisco team over our weekly Google Hangouts chat. They're also crazy knowledgeable about all things in the technology-copywriting-digital business, so I know I'm learning from the best."
Lockett praises FSU's English department professors and instructors for giving him the tools to become a full-time freelance writer. Not only did he fine tune his writing skills in his classes, he also learned how to properly research, how to conduct an interview, how to effectively structure information, how to think critically, and how to communicate in a well-spoken manner.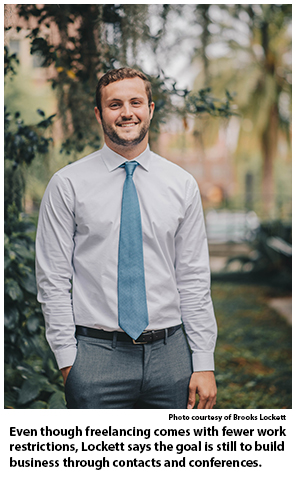 "A lot of people see these as 'softer skills,' but they couldn't be more wrong," Lockett says. "People ride their engineering and [master of business administration] degrees and think that liberal arts degrees are worthless in the business world. If you have an MBA but can't string together a coherent sentence, you're as valuable as a carton of eggs."
Lockett will continue as a SaaS freelance writer in the near future to take full advantage of the location-independence aspect and his travel around the globe, while expanding his business contacts through his business website, gocopytech.com. He will continue to learn from others, though, by attending copywriting conferences to help him reach his goal of building a "highly profitable" freelance business.
"Another thing I want to get involved with is mentoring aspiring freelancers," Lockett says. "I had amazing guidance when I was first starting out, and it made all the difference in the world to put me on the right track. I want to help people who are just starting out do the same."
Looking back, Lockett wishes he started freelance writing during his college years, and he has advice for students who are curious about how to get going on their own freelancing career.
"That's a big question, and really depends on which type of freelancing niche they choose to pursue," he says. "But if someone with little to no experience asked me, I'd tell them to be 100 percent real and ask themselves some really tough questions to see if they're the type of person who can handle it."
Here are questions and advice Lockett has for students who are exploring the freelance writing field.
Are you disciplined enough to work for yourself?
You'll never "make it" as a freelancer unless you go full time. For the first year, you'll have to spend 8, 10, sometimes 15 hours per day in front of your computer screen . . . with every single hour fully focused on building your freelance business. Nights, weekends, it's seriously a full send. You can't really do that by just dipping your toe in the water.
Are you willing to devote yourself to constantly learning and upskilling? You'll have to take online courses, read the right books and build the right relationships with the right people . . . and that's all outside your full-time schedule spent actually working with clients.
How quickly can you drop the misconception that freelancers are people who roll out of bed at 11 a.m. and work in their PJs? Successful freelancers DO NOT do that.
Are you ready to choose a niche and stick to it? If you like fashion, be the go-to fashion copywriter. If you're into tech, be the tech copywriter. My point is, own your niche! Don't try to be all things to all clients who can solve all their problems. That'll get you nowhere. You'll dominate the freelance world if you can get really good at solving one specific problem for one specific kind of client. In my case, that's a higher-converting copy for SaaS companies. But if your niche isn't 100 percent defined, you won't succeed (or at least struggle until you find a niche).
Savannah Tindall is a junior double majoring in English, with a concentration in editing, writing, and media, and public relations.
Follow the English department on Instagram @fsuenglish; on Facebook facebook.com/fsuenglishdepartment/; and Twitter, @fsu_englishdept