Alumna Toni Galeassi reflects on her time at FSU
---
Alumna Toni Galeassi reflects on her time at FSU
Q&A portion of this article by Ashley Schrader
Toni Galeassi arrived at Florida State University in the fall of 2016 with a goal to earn her bachelor's degree in biochemistry, mainly because of her interest in STEM studies and research. Originally from the Miami-Ft. Lauderdale area, Galeassi discovered that balancing her new environment and coursework was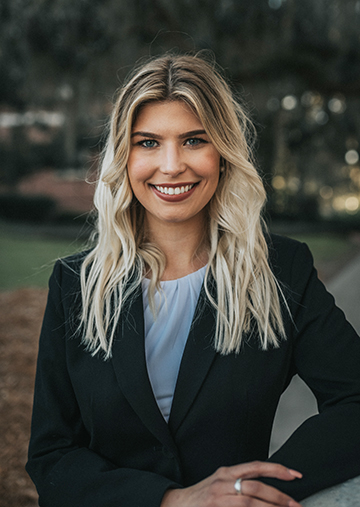 a difficult adjustment.
After a visit with her first-year advisor Troy Jordana, she had a new focus: becoming an English major.
"I owe my direction toward English to him," Galeassi says. "He recommended that I check out the English department as a possible pathway, and from that one visit, my career direction completely changed. I think the day I declared English as my major was one of the top highlights from my four years as FSU. I felt like I finally belonged in the space I occupied."
Not long after her graduation from FSU in the spring of 2020, Galeassi reflected back on her "experiences at Florida State University that could be summed up in the words, 'a journey,'" she says. During her final semester, Galeassi was nominated for the Phi Sigma Theta Honor Society, earned all A's in her coursework, and made the President's List.
"This was the ultimate poetic justice after coming here as a struggling freshman, and then leaving as a strong member of the FSU English alumni," she says.
In addition to her success in the classroom and with her coursework, Galeassi says she appreciated having one final year of FSU football and basketball to enjoy.
"Looking back at the academic and social time lost by the COVID-19 crisis, I'm extremely happy I made those memories with my senior colleagues," she says." Game days are indescribable in the student section, and I look forward to my future games as an alumna."
Galeassi learned as many new skills as she could during her four years as an English major, knowledge that she knows will be an asset on the job market. She took time to answer several questions, lining out her educational achievements and her work experiences in the writing and editing field.
When did you discover your passion for writing?
I discovered my passion for writing when I was a child. I would watch celebrity news on E!, absorb the material, and write my own periodicals about hypothetical events surrounding the stars. In high school, I was the editor-in-chief of Insight Magazine, my school's publication. My teacher gave me a lot of creative freedom and responsibility with the job, and I came into class with a passion to curate intriguing content. As you can see, I subconsciously dabbled in writing during my past, but my college experience made me realize this was a passion.
How have you applied your knowledge of editing that you have learned through the English courses you took as a student?
In regard to editing, it still is one of the hardest tasks for me as a writer. I believe my Advanced Editing and Writing course with English Assistant Professor Jaclyn Fiscus-Cannaday and Writing and Editing in Print and Online with (former English doctoral student) Jeannette Lehn influenced a keener eye for errors and proofreading. I learned that you have to set time aside to review work and it shouldn't be rushed as that will be reflected in the final drafts. Now, as I apply for jobs, I've used this knowledge to make sure my resume, cover letters, and professional portfolio are impeccable. The best advice for editing in real-world circumstances is to always have another set of eyes to look something over.
During the summer of 2018, you worked with the Odyssey, an online platform for people to share their writings, opinions, and perspectives on a wide range of topics. You focused on events in the music industry as well as on food, lifestyle, and other personal interests. What was your favorite story that you wrote for this chapter at FSU?
My absolute favorite story I wrote was my "Let's get Groovy: Top 5 of Florida's Hottest Music Festivals" piece. During my first and second year at FSU, going to music festivals was a captivating hobby of mine. Traveling around the U.S. to visit new places and listen to various music genres is something that I felt everyone should have the opportunity to experience. This topic was so close to my heart that I knew I wanted it to be my first published article for an online platform. Having the freedom to talk in depth about a personal passion of mine really sparked a fire inside of me to continue sharing my thoughts.
How will you apply what you learned from your time at the Odyssey in your future career?
During my time at the Odyssey, I always kept my audience in mind when creating article topics. Brainstorming ways to engage with consumer audiences will be crucial for me to connect people with the brand. I also learned about the importance of authenticity and original work. Now of course, remixes and remediations are another story, but original works (photographs, texts, or quotes) should ALWAYS be cited to give the author credit. In my future career, I strive to always cite source material to work with my name on it because credibility is extremely important in my field.
You interned with Nothing But Advice, which is an online site to help people connect with mental health professionals, and your responsibilities included writing promotional material for the company. Could you describe your process of finding the right language to use, considering the topic?
My process of finding the right language to use, especially for this company, was to use my own insights into the topic that could truly reach people. I think when an author is writing about a topic that they've experienced themselves, it's easier to tap into language mannerisms that fit for the subject matter. However, I think the best rule of thumb for writing about touchy material is to be kind, to ask people in those communities what their experience is/was like, and to use words to uplift those people rather than inaccurately represent them.
Did you find if there were any difficulties with the process?
The main difficulties with this specific process was remaining subjective enough that it could be posted to a company's website. There must be a balance between emotional appeal and straightforward points. Discussing some topics in the blogs brought up a lot of emotions for me as a writer. With any published work, though, you have to remain focused with the overarching theme you're trying to get across.
How did the WEPO course provide you with the information used in your internship for Nothing But Advice?
WEPO also helped me with rhetorical choices and strategic analysis of my marketing materials for Nothing But Advice, LLC. Everything has a purpose, and when you want to communicate a message to an audience, you need to understand how things like color, font, placement, medium, media, etc. will affect people's perception of that message.
You are a certified Wikipedia editor, which you gained during your WEPO course. How will incorporate this skill into your future profession?
My Wikipedia editing certification taught me how to talk about facts without plagiarizing. I find it easier to talk about topics that I can draw from my own experiences rather than ones that need research. This skill is so important to incorporate into communications and public relations because factual-based texts are the foundation to press releases and publicly disseminated material. Wikipedia's works are voluntarily contributed; however, they need to have accurate information to keep its credibility.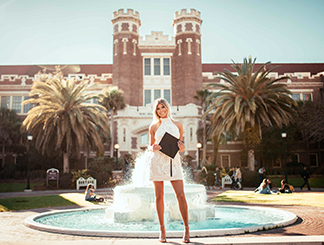 What plans do you have now that you have graduated from FSU?
Currently, I'm looking for public relations assistant or entry level positions across Florida, Massachusetts, and California. My biggest tips for post-graduation job placement during COVID-19 is to network with individuals via LinkedIn and Handshake (and FSU's new networking system, NoleNetwork), revise resumes/cover letters, learn new skills and start an online professional portfolio. I've been working on graphic designs with Adobe Photoshop and Indesign in my downtime after noticing their precedence on job postings. WEPO and the FSU internship course taught me how to curate online collections of my work with free sites such as Wix. Taking this time to figure out personal branding can really stick out to employers.
Ashley Schrader is a junior majoring in both English on the editing, writing, and media track, and international affairs with a minor in Portuguese.
Follow the English department on Instagram @fsuenglish; on Facebook facebook.com/fsuenglishdepartment/; and Twitter, @fsu_englishdept