Alumna Nicole Tripodis relied on self-determination and her studies in English to start a career in NYC
---
Alumna Nicole Tripodis relied on self-determination and her studies in English to start a career in NYC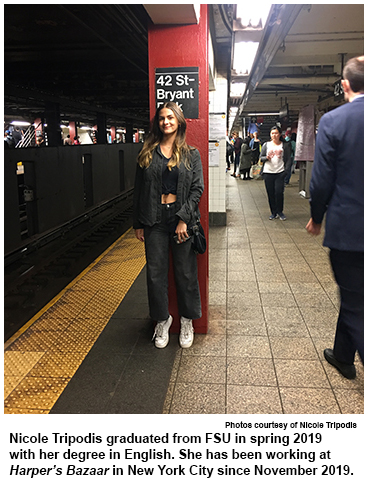 By Savannah Tindall
Nicole Tripodis graduated from Florida State University in the spring of 2019 with an impressive résumé, setting her up for an equally impressive job after college.
Tripodis had spent summers interning in New York City and London with Harper's Bazaar, Nylon, Flare, and Vogue UK. On FSU's campus, she worked for two-and-a-half years as the digital director, the brand director, and editor in chief for Strike FSU, an arts and culture publication. The English major and art history minor had a go-getter attitude and was determined to break into the fashion media industry.
After sending an email with her résumé to her current boss, Tripodis landed a position in November 2019 at Harper's Bazaar in New York City as an accessories assistant.
In her position with the women's fashion magazine, she serves as "the liaison between the fashion editors and the brands," and Tripodis makes sure the fashion editors have the necessary accessories they need for their photo shoots. Once she secures those items from the brands, she is responsible for them until they are returned. Her other responsibilities include doing market research for stories and helping out on the sets of photo shoots.
"The most challenging part is that I'm pretty much on my feet all day organizing and preparing the pieces for the editor to look through," Tripodis says. "Also, I'm usually running around the city to pick up pieces from brands when we are on a time crunch, which is almost always."
One of the shoots she helped produce is the recent March 2020 cover featuring reality star and beauty mogul Kylie Jenner. The theme of the shoot was Marie Antoniette and featured "hoop skirts, corsets, and actual 18th-century fine jewelry that is priceless in value," Tripodis says.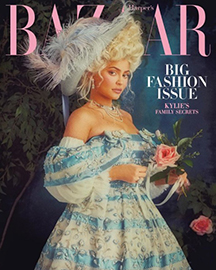 She says this is her favorite shoot she has participated in as an assistant because the setting combined her two passions, "history and costume."
"My favorite part is being a first-hand witness to the process of a raw idea manifesting, from start to finish, into a glossy, published story," she says. "I also can't help but fangirl over the couture pieces we receive in the fashion closet straight from the runway."
Her current position doesn't involve writing or editing, but Tripodis praises the education she received from her courses in the English department. She says those experiences helped prepare her for the position she has now.
"The FSU English Department surely prepared me with the proper framework to appropriately and effectively communicate with my colleagues and the brands that we work with," Tripodis says. "I must admit, I'm always thinking about rhetoric and the audience when I write to people, as funny as that sounds.
"Additionally, FSU prepared me for the research and pitching of ideas aspect of my job. I know that I would produce haphazard work without my lessons learned from the English department."
For current students who are interested in pursuing a career similar to hers, Tripodis recommends building a résumé throughout college and staying busy to add to your portfolio. She says that the best advice she could give is "reach out to everyone and anyone" and that approaching a potential employer could be a "power-move" that shows ambition.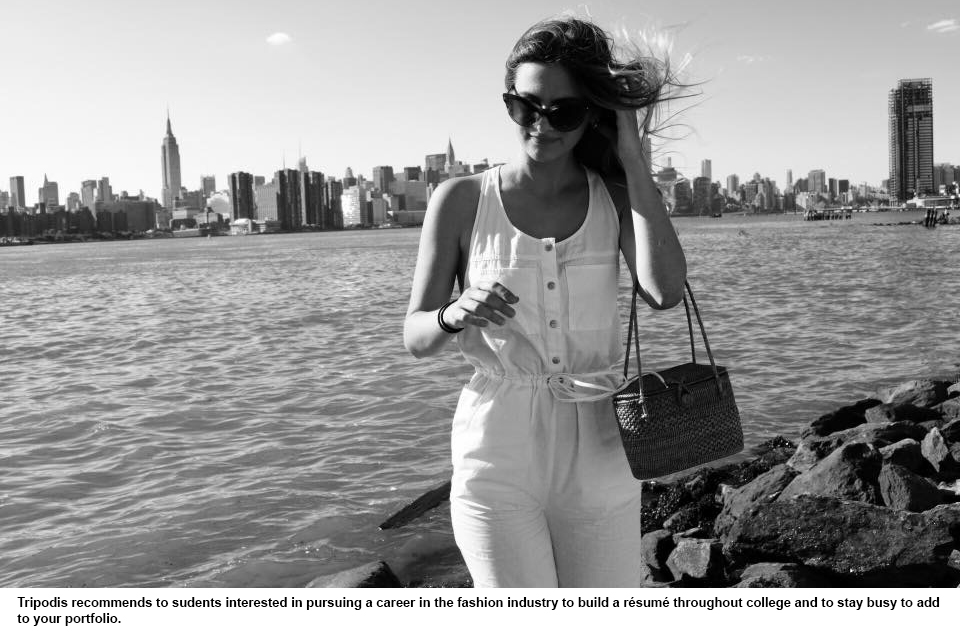 "I never waited for an opportunity to come my way; I made the opportunities myself," she says.
Tripodis will continue with her hustling mentality and learn from the professional experiences she gains as accessories assistant for Harper's. She plans to continue to pursue her dream in fashion media and hopes to one day be a fashion editor.
"To have complete creative control of the stories that get published is an ultimate dream," Tripodis says.
Savannah Tindall is a junior double majoring in English, with a concentration in editing, writing, and media, and public relations.
Follow the English department on Instagram @fsuenglish; on Facebook facebook.com/fsuenglishdepartment/; and Twitter, @fsu_englishdept