Alumna Kat Candler Turns Childhood Stories Into Filmmaking Reality
---
Alumna Kat Candler Turns Childhood Stories Into Filmmaking Reality
By Kelly Gomez and Jana Padula
Figuring who you want to be and what direction you want your life to go is a constant struggle many college students face.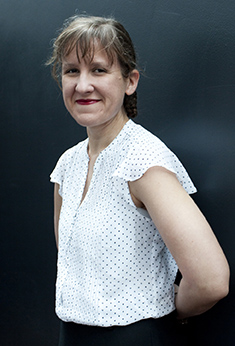 For Florida State University English department alumna and independent filmmaker Kat Candler, her own enthusiasm for movies and the help of some film students during her first year in college led her to the world of filmmaking.
She probably could not have scripted a better story for where she is now.
As a successful director and producer, Candler's résumé is a long list of credited film and television productions, either as director, writer, or producer. Her website, candlerproductions.com, highlights her career achievements, which continue to grow with her position as the show runner for the third season of the Oprah Winfrey Network show Queen Sugar, which premiered May 29. 
Candler grew up in Jacksonville Beach, Florida, and she regularly acted in plays and musicals. She spent her first semester of college attending Emerson College's School of Performing Arts in Boston, but withdrew after realizing that performing was not her passion.
Candler eventually moved to Tallahassee, where she attended FSU and graduated in 1996 with an English degree with a focus on creative writing. She decided on the major because many of her friends were in the same department. She had a job at a local movie theater, where she began to work alongside film students and volunteered to help them during film sets.
"I've been obsessed with movies all my life—growing up as a kid I watched movie marathons all weekend," Candler says, although she admits she never really knew the process to create a film. Working with the film students, however, Candler realized "making movies wasn't rocket science."
Soon after, she combined her imagination and writing skills and began writing plays.
"I have always been a storyteller," Candler says. "Growing up in Jacksonville, I used to play in the yard with my Hot Wheels and Barbie dolls making up stories."
Candler enrolled in a playwriting class where she was assigned to write an original one-act play. She chose a childhood memory, a time when her mother found a spider in their bathtub and how the entire day turned into a series of unusual events.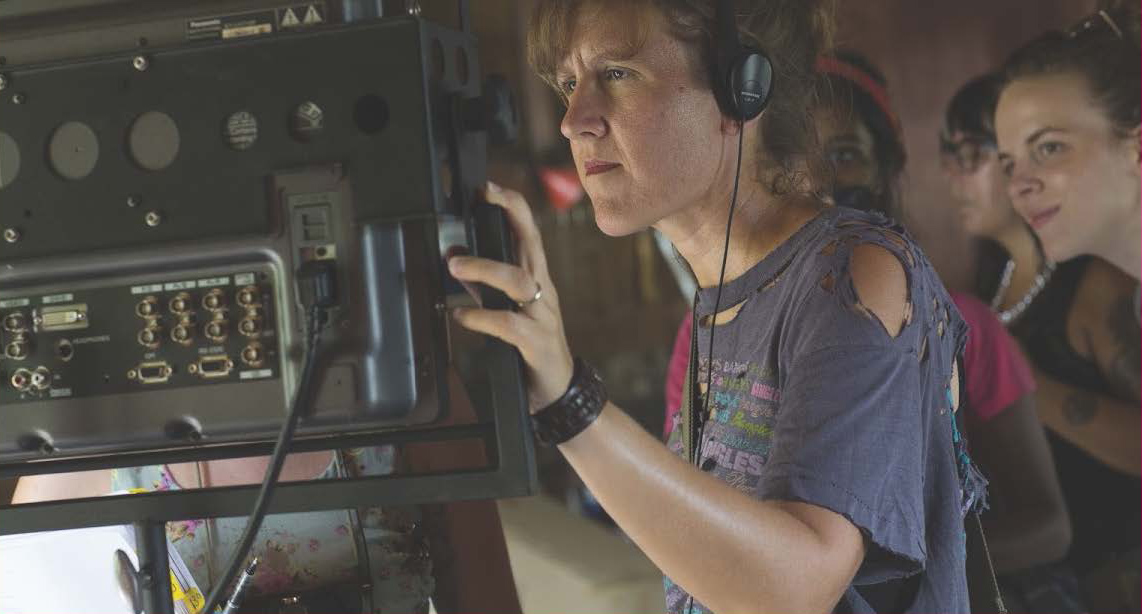 After reviewing the play, Candler's professor advised her to write screenplays or short films. With the encouragement from her mentors and peers, Candler began writing for film consistently.
Upon her graduation from FSU, Candler wanted to move somewhere that had a successful film industry. She knew she would not survive the harsh winters of New York, and she found little interest in moving to the film capital of the world, Los Angeles.
"I heard that Austin, Texas was this sort of haven for creativity and independent film," Candler says.
She flew to Austin and became enamored with the people in filmmaking, artists such as Richard Linklater and Mike Judge.
"Something special was happening there in the film community," Candler says.
Candler moved to Austin and began networking around the city, meeting collaborators she would end up working with in the future. She produced and directed several short films in addition to two longer films, Cicadas in 2000 and Jumping Off Bridges in 2006.
In 2012, Candler's seven-minute short-film Hellion was accepted into the Sundance Film Festival to play in Narrative Competition.
"I literally fell to my knees and started sobbing," Candler recalls.
Prior to that, Candler submitted films to Sundance for about a decade and had no expectations when she chose Hellion for her entry.
"It's something that you do, you make something, you submit it to Sundance, you cross your fingers and hope you get in," Candler says. Starring Aaron Paul and Juliette Lewis, Hellion became a feature film that was showcased at Sundance in 2014.
The inspiration behind Hellion came from her family.
"My uncle Frank and his brothers were hellraisers when they were kids," Candler says. "They would set fires inside my grandfather's Jeep."
Hearing these stories each Thanksgiving dinner, Candler says she "fell in love with the idea of a single, working class father in Texas, who was trying to raise a bunch of unruly boys."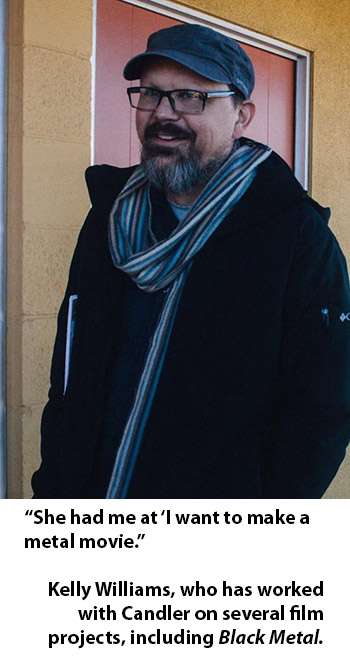 Kelly Williams was one of the producers for Hellion. The two met in 2001 at the Sundance screening for Richard Linklater's Waking Life. Williams, a film programmer at the time, contacted Candler 10 years later about collaborating on a project. Williams says Candler was "someone I felt like I had known for a long time," and he spoke to her about producing.
"She showed me the script for Hellion, and a couple months later we made it," he says. "The short film was just for fun, and there was no intention of making it into a featured film."
They filmed in Williams' hometown of Port Neches, Texas, and many of Williams' close friends were in the movie. Hellion's Sundance nomination "was so incredibly satisfying," Williams says.
Williams also worked with Candler on Black Metal, a short film released in 2013 about a musician's guilt that stems from a horrific crime committed in honor of his black metal band.
"She had me at 'I want to make a metal movie,'" Williams says. The two plan to work together again in the future.
After Hellion's success, Candler has continued with her own personal triumphs. She was a two-time San Francisco Film Society/Kenneth Rainin Foundation Grant recipient in 2014 and 2015. The organization has funded films such as Beasts of The Southern Wild and Fruitvale Station.
"They are just a killer organization," says Candler, who used the second grant to live in San Francisco and write and work on scripts. "They helped launch a lot of films that have had a lot of success in the independent film community."
In 2015, Candler received a Sundance Institute Women Fellowship. Each year, the group picks five or six women and rewards them a year-long mentorship program. The program pairs the women up with a life coach, allows them to attend workshops, and supports them in moving onto the next phase of their filmmaking careers.
 "They are just a phenomenal organization," she says. "Honestly, the life coach that I was partnered with was the most instrumental part of that year."
In 2016, Candler directed two episodes of the Oprah Winfrey Network show Queen Sugar, before being named the producing director. The show's creator, Ava DuVernay, was nominated for a Golden Globe Best Director Award in 2014 for Selma, and the film also was nominated for an Academy Award for Best Picture.
Candler is now the show runner for the show's third season, which premiered May 29.
"This show has been monumental for me, in my career," Candler says.
In 2017, Candler directed two episodes during the second season of 13 Reasons Why, a Netflix original series. She read the pilot script for the first season and tried to sign on with the production then, but it didn't work out at the time.
"It was really a fantastic experience," she says. "The cast is just phenomenal and they are all really good hearted human beings."
Although Candler is involved with Queen Sugar's third season, she has plenty of plans for future films and shows. Candler's path in life became clearer as she continued to immerse herself in new experiences.
She took that job at her local movie theater. She chose to major in English and made friends with film students. She took the risk and moved to the city she could not stop thinking about.
And the most important decision Candler made is she will not stop dreaming and writing.