Alumna Gail Levy focuses her reporting lens on the Panhandle's personal stories and community spirit
---
Alumna Gail Levy focuses her reporting lens on the Panhandle's personal stories and community spirit
By Molly Wexler
Gail Levy is known in Panama City, Florida, as the enthusiastic multimedia journalist on WJHG-WECP, the area's local news station. Throughout the Panhandle, Levy has reported on Floridian occurrences from community events to celebratory parades to severe weather.
Because of her personable and friendly manner, colleagues at her station have named Levy the "Queen of M.O.S. (Man On the Street) interviews" for her ability to talk with and interview practically anyone she meets in the field.
The Florida Association of Broadcast Journalists recognized Levy's skills and instincts during a May 9 virtual awards ceremony, honoring her with first place in the Feature Story-Hard category. Levy's winning segment was titled "First Responders Reflect."
"My winning story especially touched me and I know the lives of so many others who saw it," Levy wrote on her WJHG Facebook page. "Telling the story of first responders experiences with Hurricane Michael is something I am so proud of and thankful for. They are the rockstars of this community!"
Levy graduated from Florida State University with a degree in English, in the editing, writing and media (EWM) track. She says she enjoys covering local, fun events in Panama City, such as the recent Mardi Gras parade, because it gives her the chance to connect with the community.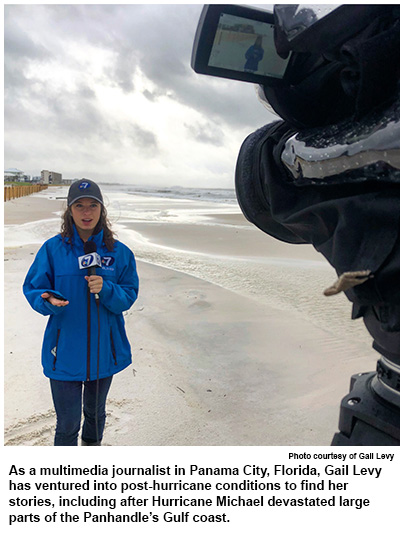 "You learn a lot from people," says Levy. "I feel like I've learned so many little facts about people and different ways to think from this job."
In addition to the jubilant parades and events she has covered, Levy also takes pride in the hard-hitting stories she brings to viewers. Four months into her job at WECP-WJHG, Levy experienced her own "initiation by fire" when Hurricane Michael hit the northern Gulf coast and Panama City.
Originally from Palm Beach Gardens in south Florida, Levy has lived through hurricane scares in her life; those predictions, more often than not, turned out to be inaccurate. Those close calls led Levy to question the likelihood of a devastating hurricane hitting the northern Panhandle.
This time, though, the predictions came true, and Levy became emotional as she recalled her coverage and experience of Hurricane Michael. The hurricane's aftermath was one of the scariest times for Levy and her coworkers, she says, as they went out into the local communities, such as the coastal town of Apalachicola, to find people and stories. They drove and walked around downed power lines, saw destroyed buildings, and met terrified residents.
WECP-WJHG multimedia journalists, who normally work alone, were sent out in pairs for safety due to the uptick in crime after the hurricane. As reporters tentatively wandered the streets, signs with the words "You loot, we shoot" adorned shop windows throughout the region.
Levy says that then returning to Panama City was just as overwhelming, with damage making certain areas unrecognizable. Due to the television station's condition, Levy and her colleagues were not able to put together polished media coverage, but instead had to upload their raw footage of the area's damage directly online.
After Hurricane Michael rocked that part of the Panhandle, Levy interviewed a wheelchair-bound man in the remains of his dilapidated home. Her story grabbed viewers' attention and inspired so much empathy that citizens volunteered to restore the man's home just a day after the segment aired.
Levy says she will soon conduct a follow-up interview with him to check in and show the help he received from the community in fixing his home.
"What feels good to me," says Levy, "are the stories that I know can make a difference."
Although her immersion in post-hurricane coverage has helped Levy navigate and adapt to different crises, nothing has prepared her for covering the current COVID-19 pandemic.
"The most challenging part about covering COVID-19 is the fact that there seems to be no end in sight," says Levy. "It's also very hard because this industry is so much person-to-person contact; it's been a bit of a challenge to try and switch to interviews via Facetime and Zoom."
While Hurricane Michael and COVID-19 both have created economic devastations, the issue now for reporters like Levy is that there is no one-time event of visible damage to report upon.
"This coverage is important, and that's what keeps me going. The fact that I know I'm putting useful information out is very rewarding..." — Gail Levy
Another challenge that COVID-19 has posed to Levy is the many people refusing to take seriously the precautions, such as social distancing and consistent handwashing. Despite Levy's shared fears of catching or unknowingly spreading COVID-19, she remains optimistic and strong.
"This coverage is important, and that's what keeps me going," Levy explains. "The fact that I know I'm putting useful information out is very rewarding and occasionally I get to do a more creative piece, which I hope puts a smile on someone's face."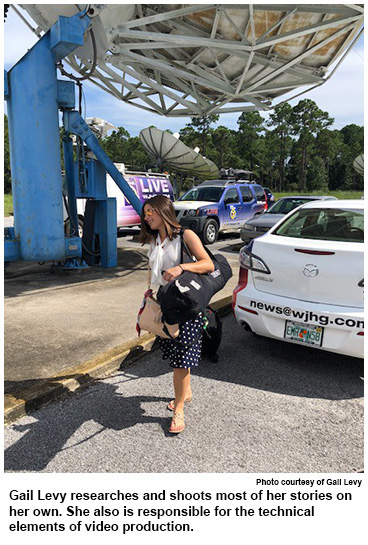 As a multimedia journalist, Levy handles everything from researching to shooting her stories all on her own. Even as part of an established local network such as WECP-WJHG, Levy is responsible for the technical elements of video production. She also makes sure the story she is reporting is unbiased and impartial.
"It is super important to be unbiased," Levy says. "Leave your opinions at the door whenever you walk into the station."
Even with a big election year in the swing state of Florida, local news remains impartial as network news takes over political coverage. Local stations routinely use "news sharing" with their network affiliations in order to show national political coverage and election results.
Local elections and interviews at polls are conducted by local stations, which Levy finds much more interesting and less intense than covering national politics.
"We really leave presidential elections up to network news," says Levy. "Our station—I think a lot of stations are like this—try to stay out of politics and leave that to the networks."
Levy gained most of her experience, while still in school at FSU, through semester-long internships at WCTV in Tallahassee and WPBF in West Palm Beach. Although she had a good experience at WPBF, she says she preferred WCTV because, as a smaller station, the work was more hands-on for her. Levy also had the ability to pitch and produce her own stories at WCTV, which gave her more freedom than she had in West Palm Beach.
Levy attributes her skills in interviewing "anyone, anywhere" to her internship at WCTV, which is where she first enticed individuals on the street to give impromptu interviews.
During Levy's time at FSU, she says she especially enjoyed working with Jack Clifford in the Department of English. Levy first met him and his co-instructor Susan Hellstrom when she studied abroad during the summer of 2016 in Valencia, Spain, with International Programs' EWM program. Her article assignment for Nomadic Noles, the program's publication, was to profile Juan Salazar, an archaeology professor and Valencia native.
She wrote about not just his teaching at FSU Valencia's study center but also his other job as an archaeologist in the city and in other locations, such as Ethiopia. In her bio for the student-produced magazine, Levy wrote, "Since Levy was about 10 years old, she has had a passion for broadcasting. Throughout her middle school and high school years, she participated in producing the school news."
Clifford took an interest in Levy's work after Valencia and as she continued her final two years of college. He helped her network with other professionals and contacts in the industry, and Levy says Clifford "always went above and beyond" to help her succeed.
"Gail was always so easy to work with, and she has the determination and drive to really do whatever she wants in the television reporting world," Clifford says. "I knew in Valencia when Gail told me that she wanted to be a broadcast journalist that she would become a very good one."
Levy admits that the journalism industry is tough to break into, but stresses that the key is to power through and work hard. Levy's advice to current English and communication majors is to not give up on their goals and to make connections in the field. Levy experienced this herself when she had a class with a current employee of WJHG, and she was able to land her current job straight out of college thanks to their friendship.
Levy has engaged with the Panama City community by joining Facebook groups to connect with diverse groups of people and to gather story ideas.
"Social media is such an important tool that we have in this day and age," Levy explains. Platforms such as Facebook have made it possible to make important connections and find unique stories that journalists like Levy otherwise would not have discovered.
Beginning in mid-June, Levy starts a new job, in Ft. Myers, Florida, with WINK-TV. Since Levy is originally from South Florida, she enjoys the beach and atmosphere of Panama City, and her new location offers her the same benefits. In the future, though, Levy hopes to work for a station with a larger audience and maybe even score a spot on her favorite television news show.
"This is the farthest north I will ever live, unless it's for the Today Show," Levy says, with a laugh. She cites winter as her "biggest fear," and adds she is "a proud Florida girl," but her admiration for the Today Show would have her relocating in a heartbeat.
If she is to remain in Florida, though, Levy is happy to continue reaching diverse communities throughout the state while living up to her title of "Queen of the MOS interview."
Molly Wexler is a senior majoring in English with a concentration in editing, writing, and media, in addition to a Teaching English to Speakers of Other Languages certification.
Follow the English department on Instagram @fsuenglish; on Facebook facebook.com/fsuenglishdepartment/; and Twitter, @fsu_englishdept