Alumna Chloe Addleson takes a leap to the big city and lands on her feet at Mediaplanet in New York
---
Alumna Chloe Addleson takes a leap to the big city and lands on her feet at Mediaplanet in New York
By Savannah Tindall
Shortly after an internship during the summer of 2019, recent Florida State University graduate Chloe Addleson made a daring change in her life. She took the chance to pursue her dream of working in communications in one of the world's busiest cities.
Following her intern position with International Programs' Editing, Writing, and Media study abroad program in Valencia, Spain, Addleson moved to New York City in August 2019. The decision paid off for Addleson, as she successfully landed a job in marketing with Mediaplanet. Addleson stumbled upon the agency post-graduation when she was job hunting.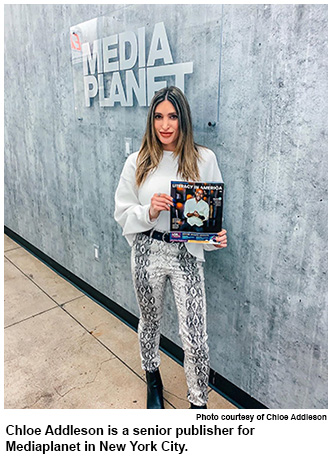 The company creates marketing campaigns using public figures and trends to guide decisions on the campaign's direction and how or where to distribute the information. She was "intrigued by the combination of content marketing and storytelling," she says, qualities that aligned with studies at FSU, where she majored in English with a focus in editing, writing, and media (EWM) and minored in communication.
She started working at Mediaplanet in late September of 2019 as a senior publisher. Her responsibilities include her doing in-depth research at the start of each quarter on relevant topics and current trends within a certain selected area.
"I must identify the most important influencers and experts while securing the best possible distribution channels," Addleson says. "I then must fund and pitch the campaign to the right clients. In the last weeks before the launch of the campaign, I work with the production team to finalize the campaign before publication."
USA Today featured her first campaign, "Literacy in America," as a centerfold insert, published in late December. Mediaplanet's content team assigned this campaign specifically to Addleson because of her love for journalism and her background in EWM.
"The campaign was designed to advocate for increased awareness of literacy and the role it plays in a successful future, educate the public on the available resources for those who struggle with reading, and foster dialogue about the best ways to manage dyslexia," Addleson says.
The campaign took between six to eight weeks to create, with Addleson in charge of piecing together the entire campaign. Addleson recruited celebrities to endorse the campaign, an undertaking that was new and a bit intimidating to her. She says the challenge proved to be her favorite part in creating the campaign, however.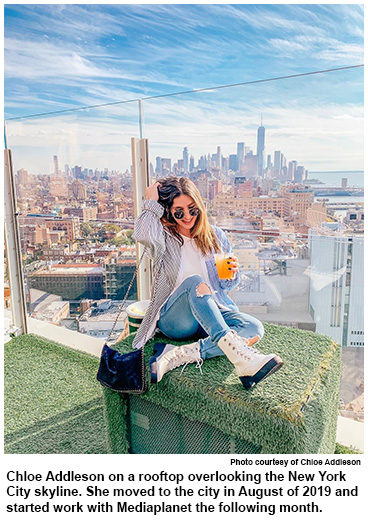 After conducting outreach to various publicists and mangers, Addleson recruited these celebrities: Karamo Brown, the culture expert for the Netflix series "Queer Eye"; Chloe Lukasiak, an original cast member of Lifetime's "Dance Moms"; and Henry Winkler, "the Fonz" from "Happy Days" and the title character's mentor in the HBO series "Barry."
"Karamo was an absolute dream to work with," Addleson says, referring to the person she most enjoyed working with on their campaign. Brown is an alumnus of Florida A&M University. "His kind and caring personality stood out, and he was grateful to be able to share his passion for reading with a new audience of educators, teachers, and beyond."
In addition to the initial appearance in USA Today, the campaign was distributed to six separate literacy conferences and events. The digital campaign can be found here.
The total estimated reach was 15 million, a number that Addleson was acutely aware of while she was creating the campaign. She says that fact made her work harder and strive for perfection, because she wanted the campaign to have a positive impact.
"Between gaps in literacy instruction and curriculum, to access the appropriate resources, so much needs to be done to empower and prepare our next generation of parents and educators for a prosperous, fulfilling future," Addleson says. "I hope this campaign will drive awareness and educate the public on the current literacy crisis the United States is facing."
Since her "Literacy in America" campaign, Addleson has also completed her next campaign, "The Fertility Journey." This topic, she says, hits close to home for her since her mother struggled with fertility issues. Her mother overcame her difficulties through pharmaceuticals, global fertility treatment centers, and in vitro fertilization, Addleson says.
To view Addleson's most recent campaign, click here.
Savannah Tindall is a junior double majoring in English, with a concentration in editing, writing, and media, and public relations.
Follow the English department on Instagram @fsuenglish; on Facebook facebook.com/fsuenglishdepartment/; and Twitter, @fsu_englishdept