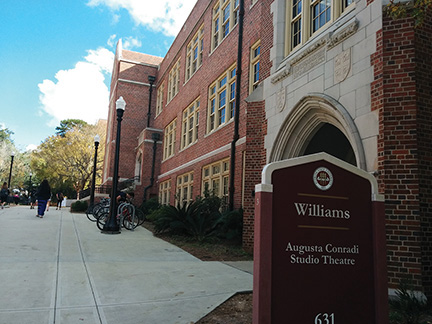 English Department
Florida State University
631 University Way, 405 Williams Building
Tallahassee, Florida 32306-1580
Phone: (850) 644-4230
Fax: (850) 644-0811
| | | |
| --- | --- | --- |
| Department Chair | Gary Taylor | gtaylor@fsu.edu |
| Associate Chair Graduate Studies | Stan Gontarski | sgontarski@fsu.edu |
| Associate Chair Undergraduate Studies | Rhea Estelle Lathan | rlathan@fsu.edu |
| Director, College Composition | Elias Dominguez Barajas | edominguezbarajas@fsu.edu |
| Director, Literature Program | David Johnson | djohnson@fsu.edu |
| Director, Creative Writing Program | David Kirby | dkirby@fsu.edu |
| Director, Rhetoric and Composition Program | Michael Neal | michael.neal@fsu.edu |
| Director, History of Text Technologies | David Gants | dgants@fsu.edu |
| Director, Reading Writing Center | Stephen McElroy | smcelroy@fsu.edu |
Staff
| | | | | |
| --- | --- | --- | --- | --- |
| Business Manager | Clare Harrison | mcharrison@fsu.edu | WMS 405A | 850-644-3280 |
| Administrative Associate | Dina Uscio | duscio@fsu.edu | WMS 405 | 850-644-4230 |
| Accounting Representative | Denise Atkinson | dyatkinson@fsu.edu | WMS 405F | 850-644-0236 |
| Administrative Associate / Chair's Assistant | Carolyn Hector Hall | chall@fsu.edu | WMS 405D | 850-645-0000 |
| Academic Program Specialist |   |   | WMS 457 | 850-644-2676 |
| Academic Advisor | Jarmal Desire | jdesire@fsu.edu | WMS 456 |   |
| Academic Advisor | Chantelle Tuffigo | ctuffigo@fsu.edu | WMS 460 |   |
| Career Liaison | Cathy Barrios | cbarrios@fsu.edu | WMS 459 | 850-644-1796 |
| Graduate Program Assistant | Janet Manuel-Atwater | jatwater@fsu.edu | WMS 405B | 850-644-2413 |
| College Composition Program Assistant | Claire Smith | cjw03h@fsu.edu | WMS 222D | 850-644-0438 |
| Media Specialist | Jack Clifford | jclifford@fsu.edu | WMS 227 |   |
| Web Site | Jason Ketterer | jketterer@fsu.edu | WMS 307 |   |
---
The Department of English offers work leading to the Master of Arts (M.A.), Master of Fine Arts (M.F.A.), and Doctor of Philosophy (Ph.D.) degrees in English and American literature, creative writing, and rhetoric and composition. It also offers course work and degree options in a number of related fields including popular culture, folklore, critical theory, women's studies, and film studies. Faculty and graduate students participate in a variety of interdisciplinary programs such as American Studies and Humanities, and the department is the administrative home of an Interdisciplinary Certificate Program in Critical Theory, a Certificate Program in Film Studies, and a Certificate Program in Editing and Publishing.
Trained at premier research institutions throughout Europe and North America, faculty have distinguished themselves by winning awards such as the Pulitzer Prize, the National Book Award, the Gustave O. Arlt Award in the Humanities, and the ACIS Book Award, as well as numerous College and University teaching awards. Faculty research regularly appears in books published by distinguished university presses such as Harvard, Oxford, Columbia, University of Chicago, and University of Pennsylvania, as well as the foremost journals in the profession, such as Publications of the Modern Language Association (PMLA), English Literary History (ELH), Modern Drama, and the Journal of English and Germanic Philology (JEGP).
As well as offering high-stature research faculty and a comprehensive range of courses, the department also provides an excellent teaching apprenticeship program. Each year the department appoints a number of graduate teaching assistants who normally conduct two sections of First-Year Writing each semester, in addition to enrolling in at least seven hours of course work. These teachers are supported in their work by faculty supervisors. New assistants without previous teaching experience participate in a teacher-training program during the summer term preceding their appointment, for which they receive a modest stipend; this program is taught by faculty specialists in rhetoric and composition, and it trains teachers not only for classroom instruction but also for tutorial instruction in the department's Reading-Writing Center. Two computerized classrooms allow graduate students to teach computer-assisted writing.
Two literary magazines, The Kudzu Review and The Southeast Review,are published in the department, and several scholarly journals are edited by faculty, including The Journal for Early Modern Cultural Studies, Frank Norris Studies, and The Journal of Beckett Studies. Many students gain journalistic experience by writing for the independent campus newspaper, The Florida Flambeau. The Writing Program sponsors readings one evening a week in the community and an annual Spring Writer's Festival, and the department also sponsors the World's Best Short Short Story contest, which attracts thousands of entries from around the world. Each fall, the English Colloquium features lectures by FSU and guest experts in literature and scholarship. A number of graduate students present their first scholarly paper at the annual Florida State University Film and Literature conference, which brings scholars throughout the nation to the campus each year.
The FSU Libraries provides the University community with more than 2.7 million book volumes, including over 200,000 electronic texts. Over three hundred online databases provide access to more than 38,000 paper and electronic periodicals. The Libraries are a member of the Research Libraries Group, the Association of Research Libraries, the Center for Research Libraries, the Association for Southeastern Research Libraries and the Southeastern Library Network (SOLINET). Strozier Library, the primary facility for materials in the humanities, arts, and social sciences, is located in the center of the main campus and occupies over 200,000 square feet of space on seven floors. Strozier houses depository collections for U.S. Federal, Florida, and United Nations documents and a significant collection of microforms, among them reproductions of historical texts from all recorded eras studied at Florida State University.
The FSU Libraries' Special Collections include manuscript and rare book collections and the University Archives. Among the collections of particular interest to literary scholars are the Shaw Childhood in Poetry Collection, a collection of Kelmscott Press imprints, the Ervin Collection, and many American first editions. The Shaw Collection contains American and British poetry primarily from the nineteenth and early twentieth centuries and a large number of nineteenth-century gift annuals and juvenile periodicals. Kelmscott was the press of William Morris; books the Kelmscott press produced are beautiful objects as well as good literature. The Ervin Collection contains popular culture materials from the 1950s through the '70s, including science fiction, fantasy, horror, and comic books. Each of these collections offers rich resources for original research.
The Libraries are open over 110 hours per week and provide an extensive range of services ranging from physical and electronic course reserves, interlibrary loan, reference services and research consultation programs, to library use instruction and information literacy training.
title-inside title-centered
2