ePortfolio as Curriculum: Models and Practices for Developing Students' ePortfolio Literacy
---
ePortfolio as Curriculum: Models and Practices for Developing Students' ePortfolio Literacy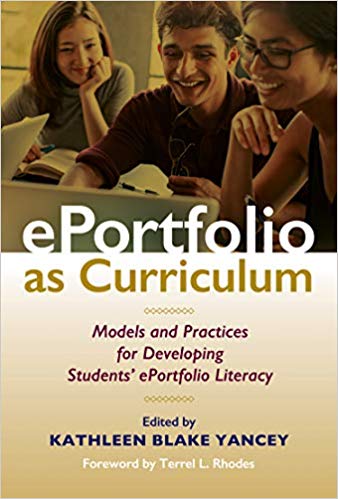 Find This Publication Online
At a moment when the ePortfolio has been recognized as a high impact practice – as a unique site for hosting student integrative learning and as a powerful genre for assessment – this book provides faculty, staff, and administrators with a set of frameworks and models useful for guiding students in designing and creating ePortfolios that clearly communicate their purpose and effectively use the affordances of the medium.
In short, this book both illustrates and provides guidance on how to support the development of students' ePortfolio literacy. The ePortfolio curricular models provided in ePortfolio as Curriculum include both those integrated within existing disciplinary courses and those offered through credit-bearing stand-alone courses.
In taking up questions focused on what students need to know and do in becoming informed, effective ePortfolio makers, the contributors to this volume – from the standpoint of their course outcomes and institutional contexts – present various approaches to developing an ePortfolio curriculum. Individually and collectively, the chapters explain ways to engage students in understanding the potential purposes, structures, audiences, and designs of ePortfolios; in developing the reflective practices for contextualizing and informing the selection and curation of artifacts; and in creating appropriate focus and coherence.
Synthesizing insights from the previous chapters, the concluding chapter identifies six consistent features of an ePortfolio curriculum that support the development of students' ePortfolio literacy. In addition, Kathleen Blake Yancey identifies and defines seven common ePortfolio curricular dimensions that contribute to students' ePortfolio literacy, among them student agency, digital identity, and campus and global citizenship. Not least, she describes new practices emerging from ePortfolio curricula, including new ePortfolio-specific genres; new metaphors used to characterize ePortfolios and their practices; and new issues that the ePortfolio curriculum raises.