Angela Lertkiratikul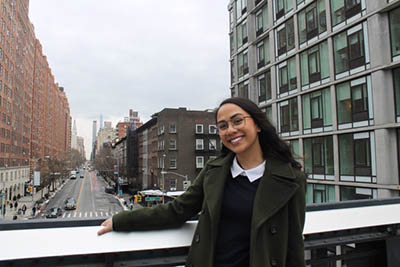 Angela K. Lertkiratikul is currently a senior majoring in English with a focus in Editing, Writing, and Media and minoring in biology. During the Spring 2019 semester, she interned at the Florida House of Representatives as an Executive Secretary in the Office of the Clerk, where she assists with editing and verifying the House Journals for the current 2019 Session as well as works with other legal documents (e.g., bills, amendments, etc.). Angela will intern in the summer of 2019 at the International Rescue Committee in the immigration department in Baltimore, Maryland, where she will work directly with refugees, asylees, and immigrant clients by assisting them in filing appropriate forms, completing follow-ups, and receiving immigration benefits (e.g., adjustment of status, citizenship, and family reunification). She also will learn basic policies and procedures of the USCIS and DHS.
Upon accepting the internship opportunity with the International Rescue Committee, Angela decided to postpone her graduation until December 2019. She will take advantage of the extra time by continuing her undergraduate thesis for honors in the major, which focuses on the circulation of "fake news" (news that is intentionally meant to mislead—for political or economic gain—based on false, misinterpreted, or manipulated facts), specifically the rhetorical persistence of false narratives surrounding immigrants in the United States. She plans to further investigate her case study by analyzing the timeline on online media platforms of Mollie Tibbetts's murder investigation; Tibbetts was a University of Iowa student who was murdered in the summer of 2018. Angela initially explored the anti-immigrant rhetoric aimed at the Hispanic community despite testimonies from Tibbetts's family requesting individuals to immediately stop the rhetoric.
During her time at Florida State University, Angela has become a member of Sigma Tau Delta, Chairperson of Immigration and Refugee Caucus for FSU Democrats, content creator for FSU's Odyssey community, and volunteered in the psychology department for the PRISM lab.