Writing across Contexts: Transfer, Composition, and Sites of Writing
---
Writing across Contexts: Transfer, Composition, and Sites of Writing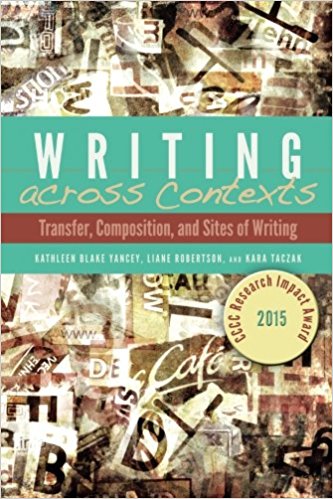 Find This Publication Online
Addressing how composers transfer both knowledge about and practices of writing, Writing across Contexts explores the grounding theory behind a specific composition curriculum called Teaching for Transfer (TFT) and analyzes the efficacy of the approach. Finding that TFT courses aid students in transfer in ways that other kinds of composition courses do not, the authors demonstrate that the content of this curriculum, including its reflective practice, provides a unique set of resources for students to call on and repurpose for new writing tasks.
The authors provide a brief historical review, give attention to current curricular efforts designed to promote such transfer, and develop new insights into the role of prior knowledge in students' ability to transfer writing knowledge and practice, presenting three models of how students respond to and use new knowledge—assemblage, remix, and critical incident.
A timely and significant contribution to the field, Writing across Contexts will be of interest to graduate students, composition scholars, WAC and writing-in-the-disciplines scholars, and writing program administrators.