Faulkner and Southern Womanhood
---
Faulkner and Southern Womanhood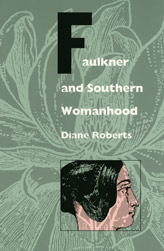 Find This Publication Online
This study examines the vexed and contradictory responses of the South's most celebrated novelist to the traditional representations of women that were bequeathed to him by his culture.
Tracing the ways in which William Faulkner characterized women in his fiction, Diane Roberts posits six familiar representations--the Confederate woman, the mammy, the tragic mulatta, the new belle, the spinster, and the mother--and through close feminist readings shows how the writer reactivated and reimagined them. "As a southerner," Roberts writes, "Faulkner inherited the images, icons, and demons of his culture. They are part of the matter of the region with which he engages, sometimes accepting, sometimes rejecting."
Drawing on extensive research into southern popular culture and the findings and interpretations of historians, Roberts demonstrates how Faulkner's greatest fiction, published during the 1920s and 1930s, grew out of his reactions to the South's extreme and sometimes violent attempts to redefine and solidify its hierarchical conceptions of race, gender, and class. Struggling to understand his region, Roberts says, Faulkner exposed the South's self-conceptions as quite precarious, with women slipping toward masculinity, men slipping toward femininity, and white identity slipping toward black. At their best, according to Roberts, Faulkner's novels reveal the South's failure to reassert the boundaries of race, gender, and class by which it has traditionally sustained itself.