The Way Things Go: An Essay on the Matter of Second Modernism
---
The Way Things Go: An Essay on the Matter of Second Modernism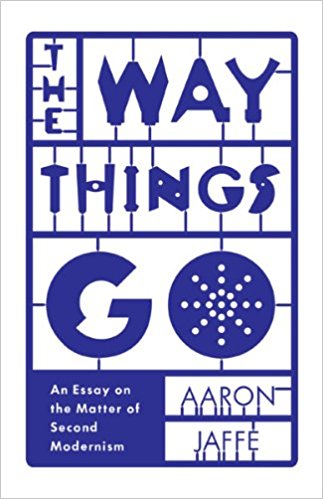 Find This Publication Online
Buffed up to a metallic shine; loose fitting, lopsided, or kludgy; getting in the way or getting lost; collapsing in an explosion of dust caught on the warehouse CCTV. Modern things are going their own ways, and this book attempts to follow them. A course of thought about their comings and goings and cascading side effects, The Way Things Go offers a thesis demonstrated via a century-long countdown of stuff. Modernist critical theory and aesthetic method, it argues, are bound up with the inhuman fate of things as novelty becoming waste.
Things are seldom at rest. Far more often they are going their own ways, entering and exiting our zones of attention, interest, and affection. Aaron Jaffe is concerned less with a humanist story of such things—offering anthropomorphizing narratives about recouping the items we use—as he is with the seemingly inscrutable, inhuman capacities of things for coarticulation and coherence. He examines the tension between this inscrutability on the one hand, and the ways things seem ready-made for understanding on the other hand, by means of exposition, thing-and-word-play, conceptual art, essayism, autopoesis, and prop comedy.
Among other novelties and detritus, The Way Things Go delves into books, can openers, roller skates, fat, felt, soap, joy buzzers, hobbyhorses, felt erasers, sleds, magic rabbits, and urinals. But it stands apart from the recent flood of thing-talk, rebuking the romantic tendencies caught up in the pathetic nature of debris defining the conversation. Jaffe demonstrates that literary criticism is the one mode of analysis that can unpack the many things that, at first glance, seem so nonliterary.