Vision, Rhetoric, and Social Action in the Composition Classroom
---
Vision, Rhetoric, and Social Action in the Composition Classroom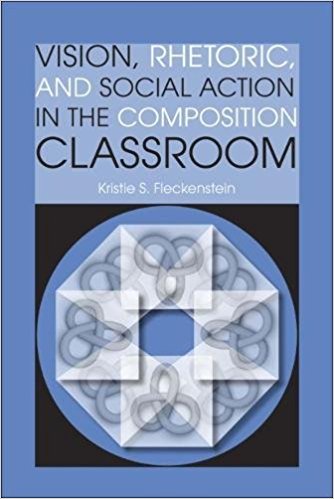 Find This Publication Online
In this innovative volume, Kristie S. Fleckenstein explores how the intersection of vision, rhetoric, and writing pedagogy in the classroom can help students become compassionate citizens who participate in the world as they become more critically aware of the world. Fleckenstein argues that all social action—behavior designed to increase human dignity, value, and quality of life—depends on a person's repertoire of visual and rhetorical habits. To develop this repertoire in students, the author advocates the incorporation of visual habits—or ways of seeing—into a language-based pedagogical approach in the writing classroom. According to Fleckenstein, interweaving the visual and rhetorical in composition pedagogy enables students to more readily perceive the need for change, while arming them with the abilities and desire to enact it.
The author addresses social action from the perspective of three visual habits: spectacle, which fosters disengagement; animation, or fusing body with meaning; and antinomy, which invites the invention of new realities. Fleckenstein then examines the ways in which particular visual habits interact with rhetorical habits and with classroom methods, resulting in the emergence of various forms of social action. To enhance the understanding of the concepts she discusses, the author represents the intertwining relationships of vision, rhetoric, and writing pedagogy graphically as what she calls symbiotic knots. In tracing the modes of social action privileged by a visual habit and a teacher's pedagogical choices, Fleckenstein attends particularly to the experiences of students who have been traditionally barred from participation in the public sphere because of gender, race, or class. The book culminates in a call for visually and rhetorically robust writing pedagogies.
In Vision, Rhetoric, and Social Action in the Composition Classroom, Fleckenstein combines classic methods of rhetorical teaching with fresh perspectives to provide a unique guide for initiating important improvements in teaching social action. The result is a remarkable volume that empowers teachers to best inspire students to take part in their world at that most crucial moment when they are discovering it.