Professor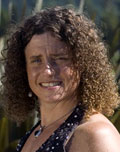 WMS 216
Critical and Cultural Theory, Postcolonial literature and theory, feminism, cultural studies
ROBIN TRUTH GOODMAN, Professor, BA in English from the University of Pennsylvania, MA and Phd in Comparative Literature from New York University. Dr. Goodman studies feminist theory as a critique of neoliberal ideologies. She is interested in how literature and critical theory help us understand and oppose the power of institutions and the social oppressions of the new economy. Besides her many authored and edited books, articles, and book chapters, Dr. Goodman received FSU's Developing Scholar award in 2009 and was a Global Fellow at University of California, Los Angeles in 2003-2004. She has served as the Director of the Literature Program from 2011-2014 and again from 2016-2018.
PUBLICATIONS
Books
The Bloomsbury Handbook of 21st-Century Feminist Theory (Bloomsbury, 2019) This Handbook reviews the recent history of feminist theory's major concepts in order to discuss, predominantly, where feminist theory is going next.
 
Promissory Notes: On the Literary Conditions of Debt (Lever Press, 2018). This book addresses how neoliberal finance has depended upon a historical linking of geopolitical inequality and financial representation that positions the so-called "Third World" as negative value, or debt. It shows how colonized spaces came to inhabit this negative value and goes on to argue that the twentieth-century continues to apply literary innovations in character, subjectivity, temporal and spatial representation to construct debt as the negative creation of value not only in reference to objects, but also houses, credit cards, students, and, in particular, "Third World" geographies, often leading to crisis.
 
Gender for the Warfare State: Literature of Women in Combat (Routledge, 2017). This is the first scholarly investigation of the written works of U.S. women combat veterans of the twenty-first century wars. By applying literary analysis to a sociological question, Gender for the Warfare State views women's experiences through story and literary traditions that carry meaning into present practices. Goodman shows that women in combat are not just entering and being victimized in "male institutions," but are also actively changing the story of gender and thus the structure of power that is constructed through gender. Moreover, this book unveils a new narrative of care that affects economic relations more broadly and the contemporary politics of the liberal social contract.
 
Literature and the Development of Feminist Theory. Ed. by Robin Truth Goodman (Cambridge University Press, 2016). Looking at the development of feminist theory through literature, this book traces the literary careers of feminism's major thinkers in order to explore the connection of feminist theoretical production to literary work. This volume also reflects on areas of literary study (like postcolonialism), genres (like science fiction and poetry), and central thematics (like liberalism, individualism, and work) in terms of how feminism constitutes itself and formulates its positions by thinking through the literary.
 
Gender Work: Feminism After Neoliberalism (Palgrave, 2013). Looking at intersections between critical theory, Marxism, and feminism, this book analyzes the revised connection between the economic needs for labor and the symbolic order of femininity in neoliberal times.
 
Feminist Theory in Pursuit of the Public: Women and the "Re-privatization" of Labor (Palgrave, 2010). This book argues that the critical language and arguments that feminist theory developed can now offer a response to the destruction of public life happening on a global scale, through the rise of neoliberalism, the privatization of labor, and the escalation of militarism.
 
Policing Narratives and the State of Terror (SUNY Press, 2009). This book examines the recent War on Terror and the increasing privatization of international policing through the lens of detective fiction and security and espionage narratives.
 
World, Class, Women: Global Literature, Education, and Feminism (Routledge, 2004). This book looks at the breakdown between the private and public spheres of modern neoliberal power, particularly in how it relates to feminism.
 
Strange Love, Or How We Learn to Stop Worrying and Love the Market, (Rowman & Littlefield, 2002). This book explores how popular culture, corporate curricula, multicultural and postcolonial literature, and film sell neoliberal policy to the public through narratives of compassion. Co-written with Dr. Kenneth J. Saltman, School of Education, DePaul University.
 
Infertilities: Exploring Fictions of Barren Bodies, (University of Minnesota Press, 2001). Applying feminist theory to the critique of globalization, this book looks at the ways Darwin's studies on sterility between species influence representations of female sexuality in postcolonial studies, fictions of empire, Latin American literature, and ethnographic film.
Articles
"Spreading Privilege: Ivanka Trump, a How-To on Architecting the Self." Symploke (2019). pp.385-392.
"A Critique of Violence in the Age of Mechanical Drone Warfare." Symploke 24, 1-2 (2018). pp. 219-245.
"Corporate Humanities and the Imperial University: The Economy of Debt in the Culture of Higher Education." College Literature 42, 2 (Spring 2015): 337-347.
"The New Taylorism: Hacking at the Philosophy of the University's End." Policy Futures in Education (2012).
"Kristeva's Sacrificial Murders: The Body of Work as the Work of Art." Philosophy Today (2012).
"In a State Without State: Beirut Fragments As a Thought Experiment in Public Disintegration," Contemporary Literature 50, 1 (Spring 2010): 27-57.
"Love My Rifle: What Schoolgirls Need and How the Army Can Give it to Them." The Review of Education, Pedagogy, and Cultural Studies 32, 3 (2010): 1-25.
"Terrorist Hunter: Walter Mosley, the Urban Plot, and the Terror War". Cultural Critique 66 (Spring 2007): 21-57.
"Sami al-Arian, the Politics of Injury, and the Academic Bill of Rights". College Literature 33.4 (Fall 2006): 113-136.
"Harry Potter's Magic and the Market: What are Youth Learning about Gender, Race, and Class," Workplace: A Journal of Academic Labor (Winter 2004). Read this article online.
"Teaching for Terror: Writing the Police State," Politics and Culture 3 (2003).
"Rivers of Fire: Amoco's Impact on Education," The Review of Education/Pedagogy/Cultural Studies Co-written with Dr. Kenneth J. Saltman, School of Education, DePaul University, 2001.
"Mario Vargas Llosa and the Rape of Sebastiana," Latin American Literary Review XXVII, 53 (January-June 1999): 81-107.
"Conrad's Closet," Conradiana 30.2 (Summer, 1998): 83-124.
Book Chapters
"The Commute: The Bend in Progress, Reproduction in The Road," in Philosophy, Travel, and Place: Being In Transit. Eds. Ron Scapp and Brian Seitz. Palgrave, 2019. pp.209-221.
"Introduction." Bloomsbury Companion to Twenty-First Century Feminist Theory. Ed. Robin Truth Goodman. Bloomsbury, 2018. pp.1-18.
"Feminist Theory." Bloomsbury Companion to Critical Theory. Ed. Jeffrey Di Leo. Bloomsbury, 2018. pp.125-139.
"Commodity." Bloomsbury Companion to Twenty-First Century Feminist Theory. Ed. Robin Truth Goodman. Bloomsbury, 2019. pp.369-382.
"Introduction." Literature and the Development of Feminist Theory. Ed. Robin Truth Goodman. Cambridge University Press, 2015. pp.1-12.
"Woolf and Women's Work: Literary Invention in an Obscure Hat Factory." Literature and the Development of Feminist Theory. Ed. Robin Truth Goodman. Cambridge University Press, 2016.
"Feminism, Gender, and the Literary Commons." The Values of Literary Studies: Critical Institutions, Scholarly Agendas. Ed. Ronan McDonald. Cambridge University Press, 2016.
"Feminist Theory and the Critique of Class." Living with Class: Philosophical Reflections on Identity and Material Culture. Eds. Ron Scapp and Brian Seitz. Palgrave, 2013.
"Gender, Knowledge, and Economy: Greg Mortenson, Turning Schools Into Stone." Critical Pedagogy and Global Literature: Worldly Teaching. Eds. Masood Raja and Zach Vande Zande, Palgrave, 2013.
"Shaherazad On-Line: Women's Work, 'Re-privatization,' and Technologies of War." Terror, Theory, and the Humanities. Eds. Jeffrey Di Leo and Uppinder Mehan. Open Humanities Press, 2012.
"Combat Girls: What Single-Sex Classrooms Have To Do With the Militarization of Women's Bodies", in Education as Enforcement, 2nd Edition, Eds. Kenneth J. Saltman and David Gabbard, Routledge, 2010.
"The Hunt for the World's Greatest Outlaw: Imperialist Policing, the Journalistic Novel, and the 'War on Terror' in Colombia," in Detective Fiction in a Postcolonial and Transnational World. Eds. Nels Pearson and Marc Singer. Ashgate, 2009. 115-134.
"The Independent Women's Forum: Teaching Women's Rights in the 'New Iraq'" in Schooling and the Politics of Disaster. Ed. Kenneth J. Saltman. Routledge, 2007.
"Etiquette and Missile Defense", In Etiquette: Reflections on Contemporary Comportment, Eds. Ron Scapp and Brian Seitz, SUNY Press 2007.
"Dick Lit: Corporatization, Militarism, and the Detective Novel." In Education as Enforcement: The Militarization and Corporatization of Schools. Eds. Kenneth J. Saltman and David Gabbard. Routledge, 2003.
"The Righting of Writing," In Tenured Bosses and Disposable Teachers: Writing Instruction in the Managed University, Eds. Marc Bousquet, Tony Scott, and Leo Parascondola, SIUP, November, 2003.