Associate Lecturer, Entrepreneur in Residence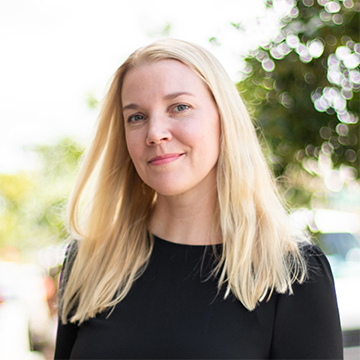 WMS 426
Editing, writing, and media; early modern English literature, gender studies, ecocriticism, and animal studies
MOLLY HAND, (Ph.D., Florida State University, 2009) directs the Editing Internship Program in the English Department and regularly teaches courses in Literature as well as Editing, Writing, and Media. Her scholarship focuses on animals, the environment, gender, and the occult in early modern English literature. She co-edited Animals, Animality, and Literature (Cambridge University Press, 2018), and her work appears in various journals and collections of essays. She is the book review editor for Borrowers and Lenders: The Journal of Shakespeare and Appropriation and has essays forthcoming in the journal Studies in the Literary Imagination, a volume on teaching the history of the book, and a volume on "doing academic careers differently."
Dr. Hand worked full time as an editor, process manager, and contract manager for the State of Florida (while teaching as contingent faculty, freelance editing, copyediting, and various other side hustles) before she was in this position. She has an abiding interest in, and encourages conversation around, professionalism, internships and career preparation, and careers outside of academia.
SCHOLARLY PUBLICATIONS
"'To Kill Harmless Cattle': Animal Victims and The Witch of Edmonton." Early Theatre 24.2 (2021): 99–120.
"Familiar Pursuits: Women's Occult Influences and Shakespeare's Preternatural Bear in The Winter's Tale." Preternature 10.2 (2021): 195-217.
Animals, Animality, and Literature. Co-editor, with Bruce Boehrer and Brian Massumi. Cambridge Critical Concepts series. Cambridge University Press, 2018.
"Animals, the Devil, and the Sacred in Early Modern English Culture." In Animals, Animality, and Literature, edited by Boehrer, Hand, and Massumi. Cambridge University Press, 2018.
"'More lies than true tales': Skepticism in Middleton's Mock-Prognostications." In The Oxford Handbook of Thomas Middleton, edited by Gary Taylor and Trish Henley. Oxford University Press, 2012.
"'You take no labour': Women Workers of Magic in Early Modern England." In Working Subjects in Early Modern English Drama, edited by Michelle Dowd and Natasha Korda. Ashgate, 2011.
"'Now is hell landed here upon the earth': Renaissance Poverty and Witchcraft in Thomas Middleton's The Black Book." Renaissance and Reformation / Renaissance et Réforme 31.1 (Winter 2008, published Summer 2008): 69-94.
REVIEWS AND OTHER PUBLICATIONS
Immateriality and Early Modern English Literature: Shakespeare, Donne, Herbert. By James A. Knapp. Book Review. Shakespeare Quarterly 72.3-4 (Fall-Winter 2021): 333–35.
Addiction and Devotion in Early Modern England. By Rebecca Lemon. Book Review. Early Modern Culture 14.1, Article 20 (2019): 210-13.
"Works Excluded from This Edition." With Jennifer Keith. In The Cambridge Edition of the Works of Anne Finch, vol. 1, edited by Jennifer Keith. Cambridge University Press, 2021.
"Finland." Women's Lives Around the World: A Global Encyclopedia, Volume 4: Europe. ABC-CLIO Greenwood Press. 2018.
A Midsummer Night's Dream. Performance Review. Shakespeare Bulletin 33.3 (Fall 2015): 505-508.
"Laura Johnson: Seeing Shakespeare Rooted in Red Clay." Beyond the Magnolias. Edited by Cameron Williams. March 3, 2015.
Women's Writings on Christian Spirituality (a historical anthology). Compiler and editor. Dover Thrift Editions, 2013.
"Marlowe's Doctor Faustus: The 1604 Text in Context." Program Essay. Performance of Doctor Faustus. The Shakespeare Tavern. October, 2013.
Doctor Faustus. Performance Review. Shakespeare Bulletin 31.1 (Spring 2013): 133-36.
"Review of Ye Yan (The Banquet)." Shakespeare 4.4 (December 2008).
INTERNSHIP INFORMATION