Assistant Professor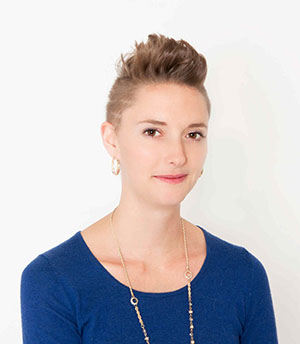 Eighteenth- and nineteenth-century British literature and culture, Romanticism, history of the book, history of text technologies, digital humanities
LINDSEY ECKERT, Assistant Professor, Ph.D., University of Toronto; M.Phil., University of Cambridge; B.A., Kenyon College. Dr. Eckert's research and teaching focus on the intersections between British Romanticism and media history. Dr. Eckert is interested in how Romantic literature was shaped by rapidly changing technologies at the turn of the nineteenth century, and she works across literary genres (poetry, novels, biography) and didactic texts (especially almanacs and pocketbooks).
Dr. Eckert is currently working on a book project entitled, The Limits of Familiarity: Authors and Romantic Readers, a portion of which is forthcoming in ELH. Examining the cultural value of familiarity and its shifting decorous limits, her research demonstrates how fears about familiarity explicitly and implicitly shaped the content and reception of Romantic texts. The book draws on archival research from Byron's fan mail and gossiping letters about the socialite author Lady Caroline Lamb to publishers' archives and private manuscript books in order to examine the increasingly personal feelings that readers had for authors whom they would never meet.
In the classroom Dr. Eckert strives to help students explore how historical text technologies and the literature that they circulated connect with current debates about literature, reading, and technology. She is the recipient of the North American Society of Romanticism Pedagogy Prize and was nominated for an Outstanding Teaching Award at Georgia State University. Additionally, she is a member of the Romantic Circles Pedagogy Advisory Board and sits on the executive committee of the MLA Discussion Group on Bibliography and Textual Studies.
Articles and Book Contributions
"Priscilla Wordsworth's Pocketbooks and Interfaces of Subjectivity," forthcoming in RES.
"Reading Lyric's Form: The Written Hand in Albums and Literary Annuals," ELH 85.4 (2018): 973-97.
"Elizabeth Thomas's The Prison-House; Or the World We Live in, A Novel (1814)" and "Elizabeth Thomas's Claudine; Or Pertinacity (1817)," in The Cambridge Guide to the Eighteenth-Century Novel, 1660-1820, ed. April London, under contract with Cambridge University Press.
Special Issue Co-Editor, with Lissette Lopez Szwydky, "Romanticism and Technology," Romantic Circles Pedagogy Commons Journal (2017).
Co-author with Julia Grandison, "The Almanac Archive: Theorizing Marginalia and 'Duplicate' Copies in the Digital Realm," Digital Humanities Quarterly 10.1 (2016).
"'I'll be bound': Clare's 'Don Juan,' Literary Annuals, and the Commodification of Authorship," Nineteenth-Century Literature 69.4 (2015): 427-54.
"Lady Caroline Lamb Beyond Byron: Graham Hamilton, Female Authorship, and the Politics of Public Reputation," European Romantic Review 26.2 (2015): 149-63.
Invited Lectures
"Lyric Voice, Lyric Hand," delivered at the University of Georgia, Athens, GA (Oct. 2016)
"Reading Lyric's Form: The Written Hand in Albums and Literary Annuals," delivered at the symposium "Manuscripts, Print, and the Organization of Knowledge," Wordsworth Trust, Grasmere, UK (Sept. 2016)
"'Though a stranger to you': Byron's Fan Mail and Readerly Love," delivered at the University of Tennessee, Knoxville, TN (April 2016)
"Reading Against the Interface: British Almanacs and Hacking Practices, 1750-1850," delivered at the Harvard University and Edinburgh University Symposia Series "Books and/as New Media," Harvard, Cambridge, MA (May 2015)
Selected Fellowships and Grants
Core Committee Member, Next Generation PhD Planning Grant, National Endowment for the Humanities, Georgia State University (2016-17)
E. Ph. Goldschmidt Fellowship, Rare Book School, University of Virginia (2016)
Research Fellowship, Centre for the History of the Book, University of Edinburgh (2015)