Associate Professor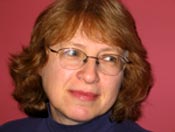 WMS 426
Creative writing, poetry, 20th-century literature, women's studies
JOANN GARDNER, Associate Professor, Ph.D., Johns Hopkins (1983), specializes in Nineteenth and Twentieth Century Literature, Poetry and Women's Studies. Her stories and poems have appeared in many publications, including Connecticut Review, Crazyhorse, Louisiana Literature, Barrow Street and Madison Review. Her collection La Florida won the Weldon Kees Prize. She is a member of the Squaw Valley Community of Writers, Co-founder and former Director of Runaway with Words. She won the 2018 Poetry Society of America Award for her chapbook The Deaf Island (published in 2019).
BOOKS
The Deaf Island, The Poetry Society of America, 2019.
La Florida (poems), Backwaters Press, 2006.
Runaway with Words: A Short Course on Poetry and How to Take It with You (textbook), Anhinga, 1998.
Runaway with Words: A Collection of Poems from Florida's Youth Shelters (anthology), Anhinga, 1997.
Yeats and the Rhymers' Club: A Nineties Perspective (criticism), Peter Lang, 1989.
POEMS IN JOURNALS (SAMPLES)
OTHER WORK
"Where All Ladders Start," Journal for the Art of Teaching, 2006.
"Glass Ceiling; Glass Sky," Kalliope, 2003.
"Thetford Interview: Grace Paley," American Poetry Review, 1994.
HONORS AND AWARDS
COFRS Fellowship, 2015, 2000, 1993.
Weldon Kees Prize, 2005.
President's Continuing Education Award (Finalist), 2003, 1995, 1994, 1993.
NEA Arts Education Grant, 2002-2003, 2001-2002.
Artist Residency and Fellowship, Blue Mountain Center for the Arts, 2001.
Artist Residency and Fellowship, Villa Montalvo, 2000.
NEH Travel to Collections Grant, 1984.