Professor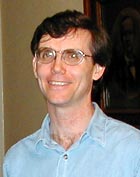 WMS 441
British Romanticism, Shakespeare, poststructuralist theory
JIM O'ROURKE, Professor, Ph.D. University of Washington (1985) is currently writing on Shakespeare's politics and the poetics of wonder.
Books
Retheorizing Shakespeare through Presentist Readings (Routledge, 2012). Nominated by Routledge Press for the Renaissance Society of America's 2013 Phyllis Goodhart Gordan Book Prize.
Sex, Lies and Autobiography: The Ethics of Confession, University of Virginia Press, 2006. Co-recipient of the Jean-Pierre Barricelli prize of the International Conference on Romanticism for Outstanding Book in Romanticism Studies for the year 2006.
Keats's Odes and Contemporary Criticism, University Press of Florida, 1998.
        --"an eloquently written tour de force"; Linda Dowling (SEL).
        --"an impressively learned book"; Duncan Wu (ECS).
        --"exquisitely intelligent readings"; Jack Stillinger (SiR).
Articles
"Major and Minor Narratives in 'Tintern Abbey,'" European Romantic Review (2014).
"What Never Happened: Social Amnesia in Sense and Sensibility," Studies in English Literature (2014).