Associate Professor, University Distinguished Teaching Professor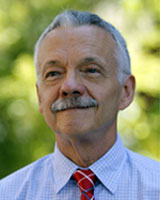 WMS 416
18th-century circumatlantic culture, antebellum U.S. and African American culture, American studies
DENNIS MOORE, Associate Professor and University Distinguished Teaching Professor, Ph.D. North Carolina (1990), is certainly in good company. He specializes in the literature and culture of eighteenth-century America and in U.S. literature to 1900 as well as in African American literature and culture. Associate Faculty, African-American Studies Program; affiliated faculty, History of Text Technologies program. He founded and now co-choreographs the American Studies Association's Early American Matters Caucus and is a Board member and recent president of the A.S.A.'s largest regional chapter, "SASA" — which met in early 2013 in Charleston. He is also a past president of the interdisciplinary Society of Early Americanists. Click here to read his presidential address at the SEA's first-ever joint conference (Williamsburg + Jamestown in 2007) with the Omohundro Institute of Early American History and Culture. He's a life member of the Toni Morrison Society, the St. Marks Wildlife Refuge Association, and SSAWW, among others. For seven years he served as Faculty Director of FSU's Bryan Hall Learning Community; click here for details about the discussion he led, mid-April 2012, on "Why We Still Teach!"
"Overall, Moore's edition of Letters From an American Farmer and Other Essays offers readers a meticulously researched, comprehensive, accessible collection that will significantly contribute to Crèvecoeur scholarship and early American studies."
   --from review of the Harvard University Press edition in Early American Literature's special 50th-anniversary issue
Presentations (including one at the Library of Congress and another as a Road Scholar : ) and a panel on that Harvard volume.
PUBLICATIONS
D. M., Letters From an American Farmer and Other Essays -- Belknap Press of Harvard University Press.
D.M., "[Review:] Meredith Neuman, Jeremiah's Scribes: Creating Sermon Literature in Puritan New England [U. of Pennsylvania P.], Karen Weyler, Empowering Words: Outsiders and Authorship in Early America [U. of Georgia P.], and Philip Gould, Writing the Rebellion: Loyalists and the Literature of Politics in British America [Oxford U.P.]" American Literature 51.2 (June 2016), i.e. forthcoming
D.M. et al., "Chaos History: A Roundtable on Kathleen Donegan's Seasons of Misery," Common-Place.org, 15.2 (Winter 2015)
D.M. et al., "Hidden in Plain Sight: Colloquy with Annette Gordon-Reed on The Hemingses of Monticello: An American Family," Early American Literature 47.2: 443-59.
D. M., "Satire, Inoculation, and Crèvecoeur's Letters Concerning the English Nation," Early American Literature 46.1 (Spring 2011): 159-66.
D.M. et al., "Colloquy with Marcus Rediker on The Slave Ship: A Human History." -- Lead piece in Atlantic Studies, 7. 1 (2010): 5-45
D.M. et al., "Colloquy with the Author: Vincent Carretta and Equiano, the African." -- Lead piece in Studies in Eighteenth-Century Culture, v. 38 (2008): 1-14
Assembling The New Crèvecoeur, a collection of theoretically informed essays.
"From 'The Melting Pot' to Multiculturalism." Teaching the Literatures of Early America, ed. Carla Mulford. New York: Modern Language Association, 1999, 309-20.
More Letters from the American Farmer: An Edition of the Essays in English Left Unpublished by Crèvecoeur (editor), U of Georgia Press, 1995 -- designated "An Approved Edition" by Modern Language Association's Committee on Scholarly Editions, 1994.
"'A Family Truly Divided Indeed': Domesticity and the Golden Age in Crèvecoeur's Unpublished Manuscripts," Studies in the Humanities, 1991.
Two decades and counting: quite the array of interdisciplinary colloquies [click here for list-in-progress]
ACADEMIC SERVICE
Florida State:
Chair, new Faculty Senate committee creating FSU's ROAD SCHOLARS series
"Listen. Reflect. Discuss. Repeat as Needed": leading discussion, "Faculty Luncheon Series" at the Presbyterian University Center, April 17, 2012
Organized and served as moderator for all-day, interdisciplinary "Coffee Symposium," at invitation of Scholars' Commons, Strozier Library (October 10, 2011)
Faculty member on Golden Tribe Lecture Series committee, 2010 to present
Faculty member on "One Book / One Campus" committee, 2006-2014
In conjunction with 2011 selection, The Immortal Life of Henrietta Lacks:

co-leading discussion (with Dr. Barbara Stevens Heusel) for Strozier Library, August 17, 2011
leading discussion for Bryan Hall Learning Community, September 8, 2011
participating in interdisciplinary panel organized by FSU's Center for the Humanities and Society, September 16, 2011

Faculty Director, Bryan Hall Learning Community: 2000-summer 2004 and again summer 2008-summer 2011
Coordinating Director, summer 2003 to summer 2008, University Learning Communities
Elected At-large member of Faculty Senate representing College of Arts and Sciences, 2002-2012
Elected member of Faculty Senate Steering Committee, 2003-2008; Elected Chair of Senate Library Committee, 2008-2011, and elected Co-Chair, 2011-2013
Faculty advisor, Presbyterian University Center's student organization and Running Club at FSU
Board, Friends of the FSU Libraries, 1994 to present, and Program chair, 1995-2005
Member of the Library's Advancement Board (2009--) and its Editorial Board (2010--)
Regionally:
the American Studies Association's southern-regional affiliate, SASA: President, 2011-2013; Executive Board, 2005--; leader of its Critoph Prize Committee (Chair, 2004-2011; co-chair, 2011-2013) honoring best paper by a graduate student at SASA's biennial conference; and co-chair of host committee for its 2003 conference
Southeastern American Society for Eighteenth-Century Studies, regional affiliate of ASECS: elected to Board for two three-year terms: 1992-1995 and 2006-2009
Nationally:
Organizer and now co-choreographer, "Early American Matters" caucus within American Studies Association
Society of Early Americanists Founding mentor, the SEA's Junior Scholars' Caucus, 2015-2018; President, 2005-2007; co-chair of program committee for the SEA's first-ever joint conference with the Omohundro Institute of Early American History and Culture, 2007; associate chair of program committee for SEA's 2001 national conference and member of program committees for 2007, 2008 and 2009 national conferences
Member, representing SASA, of ASA's Regional Chapters Committee, 2007-2016
American Society for Eighteenth-Century Studies: member of program committees for national conferences at Colorado Springs (2002) and Williamsburg (2014)
Advisory Board, ASECS's On-Line Book Reviews project
Internationally:
International Iris Murdoch Society: founding member, at the 1986 MLA, and active ever since
AWARDS
2017, Recipient of the Excellence in Graduate Student Mentorship Award from ASECS, the American Society for Eighteenth-Century Studies
2013, University Teaching Award again, "In Recognition of Excellence in Teaching"
2009, Reese Fellowship in American Bibliography and the History of the Book (for May 2010), from the Beinecke Rare Book and Manuscript Library, Yale University
2008, one of FSU's three nominees, this time, national Professor of the Year Award
2007, one of FSU's two nominees, again, Professor of the Year Award
2006 to present, Society of Early Americanists' "Honoring Excellence in Teaching" list
2005, University Teaching Award
2005, one of FSU's two nominees, again, Professor of the Year Award
2005, Being There Award -- Division of Student Affairs
2004, one of FSU's two nominees, Professor of the Year Award
2003, FSU's Seminole Faculty/Staff Award
2002 to present, "ASECS Honors Its Great Teachers" list
2002, Member, Omicron Delta Kappa National Leadership Honorary Society ("ODK")
2002, Faculty recipient of Knowledge Award, ODK's third annual Leadership Celebration
2001, Honorary Member, Golden Key International Honour Society
1999, University Distinguished Teacher Award list
1999, Being There Award -- Division of Student Affairs
1995, Teaching Incentive Program (TIP) Award, "For Excellence in College Teaching"
1995, Seminole Teaching Award -- Division of Student Affairs
1995, FSU Faculty Member of the Month Award -- Golden Key
1993, University Teaching Award, "In Recognition of Excellence in Teaching"
1991, Summer stipend, National Endowment for the Humanities