Associate Professor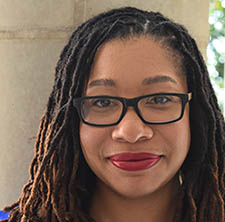 WMS 228
African American literature and studies, popular culture, gender and sexuality studies, cultural studies, New Southern studies
Alisha Gaines is an Associate Professor with a PhD in English and African and African American Studies from Duke University. From 2009-2011 she held a Carter G. Woodson postdoctoral fellowship at the University of Virginia. Since joining the faculty, Dr. Gaines was named a 2014-2015 McKnight Junior Faculty Development Fellow. In 2014, FSU's Spiritual Life Project honored her with a Transformation Through Teaching Award, and she won a university-wide Undergraduate Teaching Award in 2017.
Her first manuscript, Black for a Day: Fantasies of Race and Empathy,, was published with UNC Press (Spring 2017). The project rethinks the political consequences of empathy by examining mid-to-late twentieth and twenty-first century narratives of racial impersonation enabled by the spurious alibi of racial reconciliation. Black for a Day constructs a genealogy of white liberals who temporarily "become" black under the alibi of racial empathy. Its genealogy includes: the magical racial change of a white Senator in the 1947 musical, Finian's Rainbow; journalist Ray Sprigle's four weeks as a black man in the South in 1948; journalist and memoirist, John Howard Griffin's, five weeks as a black man in 1959; Grace Halsell's stunt as a black woman in Harlem and Mississippi for six months in 1969; and the families of the Sparks and the Wurgels switching races for reality television in 2006. The project's epilogue then turns to the cultural nerve struck by the viral media story of Rachel Dolezal, a former NAACP chapter president who was "outed" for claiming she was black.
Her interdisciplinary teaching interests include African American literature and culture, black queer theory, media and performance studies, narratives of passing, and New Southern studies. Dr. Gaines is also a life-long fan of Michael Jackson. She taught a course on the artist in 2012.
Her most recent article, "Passing for Tan: Snooki and the Grotesque Reality of Ethnicity" is in the edited collection, Neo-passing: Performing Identity after Jim Crow, forthcoming from University of Illinois Press in 2018.
Publications
Black for a Day: White Fantasies of Race and Empathy. Chapel Hill, NC: University of North Carolina Press, 2017.
"John Howard Griffin" entry in the Children's Literature Review Series, Vol 211. GALE/CENGAGE Learning, 2017. (Editor)
"'A Secondhand Kind of Terror': Grace Halsell, Kathryn Stockett, and the Ironies of Empathy," in From Uncle Tom's Cabin to The Help: Critical Perspectives on White-Authored Narratives of Black Life. New York: Palgrave Macmillan, 2014.
Presentations
"Fantasies of Empathy and the Age of Trump." Scholar's Symposium. University of Tampa: Tampa, FL. September 22, 2017. (Invited)
"Soul and the Voice of (Obama's) America: A Roundtable." Annual Pop Conference, "Sign O' the Times: Music and Politics." Seattle, WA. April 20-23, 2017.
"What Does It Mean to Play a Slave?: A Roundtable." American Studies Association Annual Convention. Toronto, Canada. October 8-11, 2015.
"90 Minutes a Slave." Southern American Studies Association Biannual Conference. Atlanta, GA. February 19-22, 2015.
Respondent. "Coming Out Black and Queer with Crissle and Kid Fury." University of California at Riverside: Riverside, CA. November 7, 2014. (Invited)
"Passing for Tan: Snooki and the Grotesque Reality of Ethnicity." American Studies Association Annual Convention. Washington, D.C. November 21-24, 2013.