Catherine Deborah Davidson-Hiers is a small-town girl with big ambitions
Born and raised on a 40-acre farm in Molino, Florida, located about 25 miles north of Pensacola and a town that recently received its first red light, she has taken FSU and all its opportunities by storm.
The 21-year-old senior, who is double majoring in French and English with a concentration in creative writing, used her IDEA grant to fund research on how people are connected to their food and, in turn, how that creates culture.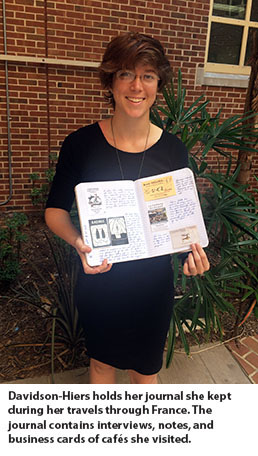 Her interest in this topic has its roots in her personal experience with food.
The overarching question Davidson-Hiers asked to her subjects, "What is your relationship with food?" was one that resonated within her, because her life changed for the better when she assumed a vegan diet.
Davidson-Hiers suffered from migraines, hitting an all-time low her sophomore year with one that lasted 21 days, which required her drop down to one class in an attempt to maintain her student status. Just two days after switching to a vegan diet, her migraine disappeared and she has not had one since.
"It was one of the most reversing decisions I have ever made," she says.
She also received the 2016 Ada Belle Winthrop-King Undergraduate Summer Semester Scholarship in French, which allowed her to study abroad in Paris while she continued her research.
Davidson-Hiers took her experience and interest to France where she worked on a farm for 10 days through an organization called the World Wide Opportunities on Organic Farms (WWOOF). She also visited a small mountain town and various Parisian cafes to interview locals and to research how they interacted with their food.
"It's how food is rather the overlooked basis for culture, especially in France, because Americans have such an idea of French food," she says. "When we think of French cuisine, we think of as many baguettes as you can fit into one frame, maybe with the Eiffel Tower in the background. In France, there's this magnified culture surrounding food."
Her nonfiction essay collection What is Food?, which is still in progress, will combine the knowledge she acquired during her 10 days on the farm with her experiences at French cafés.
"It's probably going to be 10 days, 10 essays linking the entirety of my experience to something on the farm," she says. "For instance, how does pulling garlic in a storm link to having a conversation with a woman in a pastry shop that I saw every day in Paris?"
Davidson-Hiers' ability to speak French helped her immensely while abroad, especially when she interviewed people such as Élise, a woman who lived on the farm with her and who had a connection to organic producers in Chamonix, a commune in southeastern France.
"She was so easy to talk to and she didn't speak any English," she says. "She was very passionate about the food cultivated there and getting together with this network of cultivators. She was a charm to be around."
Davidson-Hiers' fascination with France began in high school, when one of her teachers emphasized the importance of language immersion. She continued her French studies at FSU, which brought her in contact with one of her mentors, Assistant Teaching Professor of French Marie-France Prosper.
Prosper helped Davidson-Hiers with background information on her research and was a great resource for any questions she had. Prosper even invited Davidson-Hiers to her home in Brittany, France to add to her experience in France.
"I supported her research because her project was very interesting and well thought out, and I knew she was committed to it," Prosper says. "CD (Catherine Deborah) is very focused, self-motivated, and eager to learn."
Diane Roberts, a literature and creative writing professor in the English department, also mentored Davidson-Hiers' during her research.
"The most essential quality of a student is curiosity and she has lots of it," says Roberts, who helped Davidson-Hiers hone her nonfiction writing skills. "She's highly intelligent, independent, and a joy to teach."
As for Davidson-Hiers' success in research and school, Roberts expects nothing less.
"Her success does not surprise me at all, but it does delight me," she says. "It's great to see students who work hard to achieve something like a research grant from the university to pursue research and creative work in France."
The week of the President's Showcase was an exciting and stressful time for Davidson-Hiers, but overall rewarding and memorable.
Distinguished University Scholar Barbara Hamby, who first saw Davidson-Hiers read at Black Dog Café at Railroad Square Art Park, says she admires Davidson-Hiers' ability to eloquently discuss her research.
"I heard her give a talk on her summer in France, and I was so impressed by how down to earth and articulate she was about what she experienced," she says. "She is an adventurous woman and I see a very bright future for her."
Davidson-Hiers plans to take a gap year after graduating in Spring 2017 to ensure her school interests carry with her outside of the classroom. Her ultimate goal, though, is to become the next J.K. Rowling, writing with what she calls "an aura of awareness" that puts minority characters at the forefront of her narratives.
Davidson-Hiers is hopeful about the future and is thankful for the experiences she has had with her professors, or friends as she likes to call them, during her time at FSU.
She knows that the skills she has learned in both the classroom and in her research will carry with her long after she graduates.
"You learn how to eloquently phrase your own experiences and I think that's one of the most powerful lessons that I've learned," she says. "Having the authority to be an authority of your own life."
Marisa Anderson is a senior majoring in English with a concentration in editing, writing, and media.
 
title-inside title-centered
2