University Student Star Sydney Cole discusses her academic experiences and extracurricular activities as an English major
---
University Student Star Sydney Cole discusses her academic experiences and extracurricular activities as an English major
By Emily Valmana
Florida State University regularly recognizes exceptional students who go beyond achieving success in not only an academic scope but also in various dimensions of student life. Whether a student stands out because of their research or because of their service to the university and community at-large, Student Stars are nominated for their overall excellence.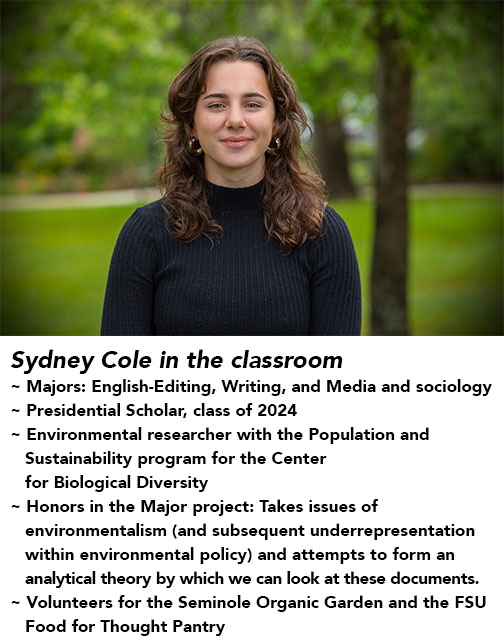 Sydney Cole, a junior who is a double major in English-Editing, Writing, and Media and sociology, earned the honor as a Student Star. Her school-life balance is impressive considering just how much she has been able to take on since her first year at FSU. She is a Presidential Scholar, an avid environmental researcher, community service organizer, and a member of the FSU's Swimming and Diving team, showing that Cole is making the most out of her undergraduate experience. Following her Student Star highlight in July 2023, English major Emily Valmana interviewed Cole about how she balances her studies as an English major with each of her other student roles on campus.
Please start by telling us a little about your background.
I was born and raised in Nebraska. I spent my whole life there until I came to Florida for college. I'm the middle child and have two sisters. I have quite liked coming to Florida—it's been a nice change. Especially being near the ocean. I love the ocean.
What made you choose Florida State University? Did you know you wanted to be an English major coming into college?
Initially, I found Florida State after being recruited for swimming, but what really pushed it over the edge compared to other schools ended up being the Presidential Scholars Program and everything associated with it.
And yes! I kind of already knew what I wanted to major in before I started college, so I was just very appreciative that things worked out so nicely.
Tell us a little bit about the high school journalism project you conducted on how comprehensive health and sex education was in your community in Omaha. What type of research did you conduct? What was the journalistic aspect of this project?
That project was mostly just my researching our own standards, finding class curriculums, and speaking with the teachers about what was being taught within our own school before I branched out and started looking at other districts. A lot of my information was gathered from a meeting I have with the Vice Superintendent who oversees all of that. The journalistic aspect came to be when I turned it into a written piece that I published—which did include some interviews.
You have mentioned how this project eventually got published and led to your work with the Center for Biological Diversity. What did a day in your life look like at this center? What was some of the work you did and what came out of it?
A day in the life at the Center varies quite a bit. Typically, most of my meetings are on Zoom, but I just got flown out to Colorado for a week to meet with everyone, so that was very exciting. Typically, though, a lot of the work I do is data collection and advocacy outreach.
Right now, I'm working on a set of databases that track environmental standards in universities across the country as well as climate action plans on the federal, municipal, and state level. My advocacy work is mostly centered on turning this information into presentations that we can present on a national level. My work is constantly changing, and that is part of what I appreciate about it. A day working at the Center is never the same. That being said, I've only worked for the Center for about a year or two now, so I can't speak much on their overall mission—but this is what I, personally, do on a daily basis.
How does being an English-EWM major align with your career goals?
I'm a double major in English-EWM and sociology – and while the sociology aspect is a bit more apparent in my work – EWM has given me the writing skills and follow through to complete my projects. Writing is the basis of any research I do. I must be able to form a comprehensive report at the end if I hope to make my research not only shareable but also digestible.
Are there any courses you have taken on the EWM track that have helped you with your research?
I don't know that there's any one course I can point to—quite honestly, I think it's been a culmination of them all. I am a far better writer now than when I entered college, and I do think that says something. To get more specific, though, I have enjoyed my rhetoric classes. They've forced me to think more critically about what I'm trying to convey in every aspect of my work.
How do you think being an EWM major has complemented your work surrounding environmental issues and sustainability?
I think it has given me the resources and ability to put my interests into words. I can be as passionate as I want about a topic, but if I can't explain to others why they should also care then it tends to fall a bit short.
Tell us a little bit about your honors in the major thesis project. What topics do you hope to discuss and what sparked your ideas?
I would say my thesis project is the culmination of my professional and academic work. My thesis advisor is a professor from one of my rhetoric classes. The project takes issues of environmentalism (and subsequent underrepresentation within environmental policy) and attempts to form an analytical theory by which we can look at these documents. I really feel that it marries my love of writing and reading with the environmental issues that I am passionate about.
What does a day in your life look like for you as a college student?
A day in the life as a college student tends to be very hectic. For athletics, I practice daily—more often than not, it's multiple times a day. I try my best to volunteer at least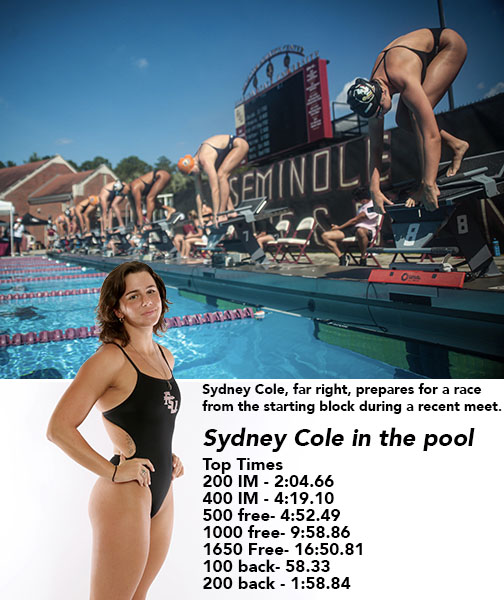 once a week. I run off to class, and sometime in between all of that I attend my work meetings. However, on the weekends I do my best to make sure that I find time to socialize—it's very important to me that I have some time off.
Who are the professors/graduate students you have worked with who have influenced your studies?
Dr. Tarez Graban is my thesis advisor. I took one of her classes and was incredibly appreciative of the way she runs it. Sometimes class discussion falls short of productive, but it never felt that way in her class. I would highly recommend her as a professor if you ever get the opportunity.
How do you find balance as a college student among all your responsibilities and maintaining interaction with your organizations?
Honestly, I do sometimes tend to run myself into the ground a bit. College, for me at least, has been a process of learning how to say "no." While I do many things—and I would love to be involved even more—we do have to set time aside for ourselves and know the limitations of our reach. Alongside that, I also just think I have found a lovely group of friends who are more than accommodating with my schedule. They always find time to hang out with me, and I'm very thankful.
What are some of your post-grad career goals?
Post-grad, I am hoping to pursue some sort of master's degree. I'm applying here and there, so we'll see where I end up —if at all. What I do know is that I would like to spend my career doing something that makes me feel fulfilled. I think working in environmentalism might be just that—but you never know.
Emily Valmana graduated at the end of the Summer 2023 semester with double majors in English-Editing, Writing, and Media and in psychology. 
Follow the English department on Instagram @fsuenglish; on Facebook facebook.com/fsuenglishdepartment/; and Twitter, @fsu_englishdept