Kristy Cherry-Randle finds the best paths to take to successfully proceed in the right direction
---
Kristy Cherry-Randle finds the best paths to take to successfully proceed in the right direction
By Madison Maley
The journey has been long for Kristy Cherry-Randle to become the accomplished doctoral candidate in Florida State University's Department of English that she is today. Being awarded a spot in FSU Library's Project Enhancement Network and Incubator for the Spring 2022 cohort is an accumulation of all she has learned on that journey..
The Cabeza Matrix—the data visualization project that earned her the spot in PEN and Inc.—developed in the first course she enrolled in at FSU as part of her master's in American Studies. One of the reading assignments was The Narrative of Cabeza de Vaca, a European adventure tale that includes narratives of his first contact with natives.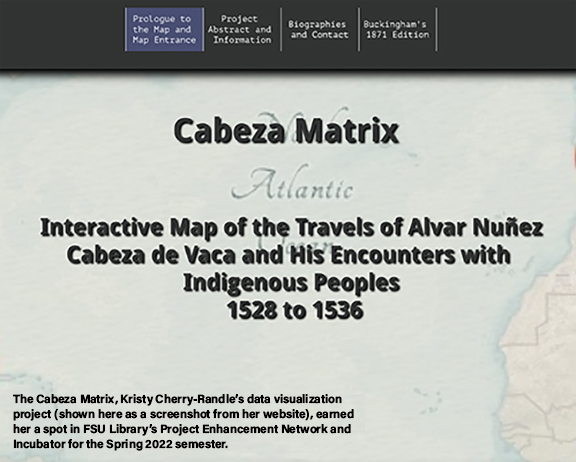 The novel details explorer Cabeza de Vaca's travels through southeastern North America in the early 1500s. As she read, Cherry-Randle was confused at not being privy to the native people's perspective of these meetings with Cabeza de Vaca, and those omissions hooked her.
While that experience inspired Cherry-Randle's project, her plan for the design stems from a longtime trust in and love for maps. She even easily recalls an anecdote from her childhood.
As the daughter of an Air Force member, Cherry-Randle called many places home throughout her childhood: South Carolina, Georgia, Alabama, and Maine, among other places. The extensive travel sparked an acute interest in how to get from one place to another.
And those experiences may have been the starting point in her lifelong love of maps.
"I've always had this thing, this relationship with maps," Cherry-Randle says, reminiscing on a specific family road trip gone awry in her childhood.
When driving from Canada to Alabama, taking a route through Buffalo, New York, her father missed an important turn. Cherry-Randle was in a second car with her mother, following him through the unknown terrain, and she had been tracking their route on the unfolded paper map in her lap.
She used the CB radio to tell her father he was going in the wrong direction (to which he replied adamantly that he was not). She recalls the feeling of being able to use the map and know where the family was with certainty. If he had only listened to her, the family would have made it to their destination much sooner with less gas wasted.
The PEN and Inc. Program provides cohort members with time and resources to work on digital projects for seven weeks during the Spring 2022 semester.
The trust in maps has translated over to her project, The Cabeza Matrix, which Cherry-Randle will be working on with the resources from PEN and Inc. The incubator provides the opportunity for dedicated time to work. This opportunity is what first caught Cherry-Randle's eye when she saw the email request for PEN and Inc. applicants.
"I'm going to apply for this," she recalls thinking at the time, "because I need somebody to help hold me accountable, to force me to spend time working on [The Cabeza Matrix]."
The PEN and Inc. Program provides cohort members with time and resources to work on digital projects for seven weeks during the Spring 2022 semester. But Cherry-Randle's project has been in the works for some time: the project as it looks today has taken about 50 iterations, according to her, the first iteration being, essentially, a study tool for Cherry-Randle.
The Narrative of Cabeza de Vaca winds and follows Cabeza de Vaca and his men through travels, explorations, and captivity. Cherry-Randle needed a visual tool to help keep track of all the places he visited throughout the narrative. Mapping out the narrative was second nature for her, referring to the early version as her "cheat sheet" to help navigate the confusing trail made by the colonizers.
As the project grew and time went on, though, the lack of Native perspective in each first-contact event nagged at her.
Cherry-Randle's past work history allowed her to demonstrate her stamina and dedication in finding information. In 2010, she worked for the U.S. Census Bureau and was regularly given the hardest cases because her superiors knew she would continue until she dug to find the most accurate count of each household.
She has investigative skills to boot—in fact, one of her two undergraduate degrees was in journalism from the University of Alabama—and they have certainly served her well. That academic background helped her find numerous accounts of first meetings between Europeans and Native Americans from the Native perspective to counter those narratives told from the biased perspective of colonizers.
In The Cabeza Matrix, Cherry-Randle plots each first-contact point in The Narrative of Cabeza de Vaca on a map, and hopes to pair them with counter-narratives, first-contact accounts in the same area from the Native Americans' perspectives.
Cherry-Randle credits her doctoral dissertation committee for keeping her accountable and ensuring the project does justice to the experiences of Native peoples. Her committee is composed of English faculty members Assistant Professor John Ribó, Assistant Professor Trinyan Paulsen Mariano, and Associate Professor John Mac Kilgore. Cherry-Randle says they each offer diverse perspectives that push her and her project into the best possible version it can be.
"[Dr. Kilgore] is always pushing me. He said to me, 'Think through this. We don't want them to read the colonized narrative. You're trying to decolonize something, think about that,'" Cherry-Randle says of her committee chair and all the help he has provided.
Kilgore says Cherry-Randle is a dedicated scholar and teacher and that her project "remediatizes an important colonial narrative."
"First, by providing a visual experience of Cabeza de Vaca's travels, and second, by including paratextual information about the Indigenous peoples encountered by Cabeza de Vaca," Kilgore says. "In this way, Kristy aims both to make the primary text more accessible for 21st-century audiences and to critique the narrative's Eurocentric ideology."
The great contribution of her work is to create a new relationship between digital mapping and anti-colonial or decolonial knowledge, he adds, and is why her project is winning awards.
"Beginning with the fact that settler colonialism operates through the erasure not only of Indigenous peoples but also Indigenous understandings of and relationships with place, space, and land," he says, "Kristy's project then pursues how the ArcGIS platform can work to counter the authority and epistemology of colonial narrative maps, allowing users to critically examine the political agenda of Cabeza de Vaca's text."
In addition to Kilgore, Ribó, and Mariano helping her project find its voice along the way, Cherry-Randle also sings praise for the FSU Library staff who have been invaluable in helping her project find its digital home.
Cherry-Randle admits she did not know about the digital possibilities available for The Cabeza Matrix until she showed up for her first appointment with Sarah Stanley, a librarian in the Office of Digital Research and Scholarship.
"Sarah was wonderful, talking about the different digital platforms that this might work in and about some of the different applications and tools I could use," Cherry-Randle says.
Sarah Stanley was wonderful, talking about the different digital platforms that this might work in and about some of the different applications and tools I could use.

— Kristy Cherry-Randle
Stanley is enthusiastic about The Cabeza Matrix, as well.
"Kristy Cherry-Randle's project is being created using a new library service called CreateFSU," Stanley says. "The service is new enough that Kristy's project is really going to be quite cutting edge."
Working with Cherry-Randle has been a pleasure, Stanley adds.
"She has really committed herself to this project and has put in a lot of time and effort," Stanley says. "She makes our job easy by always coming to the table with new data and ideas for her website."
Using the FSU Library's PEN and Inc. resources, Cherry-Randle will continue to update the map and the website that houses it. A new abstract, updated bibliography, more points on the map, and a cleaner aesthetic are all in the works for The Cabeza Matrix.
Cherry-Randle says she hopes the first thing readers take away from the map is a new understanding of first-contact events. She wants the map to provide Native representation in events that have historically been recorded as one-sided: the colonizers as active speakers, the Native peoples as silent observers.
"There was a conversation going on," Cherry-Randle says, referring to Native American voices. "And we know very little [about one side] because counter-narratives are missing from literature studies."
The issue of diverse voices being absent from that type of literature is sometimes reflected in academic departments as well, Cherry-Randle learned from personal experience. After a 20-year career as a chef in Alabama, Cherry-Randle returned to school to set an example for her teenaged son. She had already earned her two bachelor's degrees and one master's degree from the University of Alabama.
When she moved to Tallahassee to further her graduate studies at FSU, she says the difference in English departments between the two schools was stark.
"I was like, 'wow!' The English department [at FSU] is huge," says Cherry-Randle, who is in her final semester as FSU chapter president for Sigma Tau Delta, an international English Honor Society. "I didn't realize English departments could be this huge…It was very diverse…It was so dynamic. There's a lot of different people here."
The excitement for where her life's journey has brought her mirrors that of her excitement for mapping out the journeys of others—no matter how long it takes.
The advice she shares with others from the knowledge acquired during that journey comes as no surprise and is simple: "Don't be in a hurry."
Madison Maley is an English alumna, on the editing, writing, and media track, with a minor in Communications, who graduated in the summer of 2022.
Follow the English department on Instagram @fsuenglish; on Facebook facebook.com/fsuenglishdepartment/; and Twitter, @fsu_englishdept