FSU's Society for Collegiate Journalists continues to offer regular events for student journalists
---
FSU's Society for Collegiate Journalists continues to offer regular events for student journalists
The Florida State University chapter of the Society for Collegiate Journalist (SCJ) is a registered student organization that "that aims to connect \students who are interested in pursuing a career in journalism with one another and professional opportunities."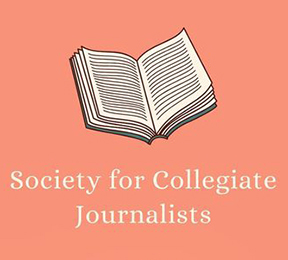 President Lauren Gordon, Vice President Savannah Tindall, and Social Media Chair Grace Castilow lead the organization, which hosted several virtual events during the Fall 2020 semester despite COVID-19 restrictions.
Gordon is a double major in marketing and management information systems with minors in communication and English. Tindall is a double major in public relations and English-editing, writing, and media. Castilow is earning bachelor's degrees in media/communication studies and English-editing, writing, and media.
The three SCJ leaders spoke with FSU English student and department intern Cristi McKee more about their experiences with the club.
What types of events does SJC host?

Lauren Gordon (LG): The Society for Collegiate Journalists hosts events geared toward students interested in the fields of journalism, editing, and publishing. During the fall semester, we hosted virtual events with representatives from local and campus publications such as the Tallahassee Democrat and Her Campus at FSU to provide insight on how to get involved and what makes you stand out as a journalist during this time. We also hosted a Q&A session on our Instagram page with Carly Thompson to provide a space for our followers to learn more about the media, journalism, and publishing fields from a professional with ample experience.
Savannah Tindall (ST): While COVID-19 is the reason why we had to host virtual events during the Fall 2020 semester, I think this allowed us to connect with a larger audience and everyone who was interested was able to participate. As Lauren has mentioned, we had two big events, and over winter break, we featured editors-in-chief of different FSU-affiliated publications who took over our Instagram story to answer questions from students interested in applying to their individual publications.
Grace Castilow (GC): Though I am a new addition to SCJ's leadership, I attended our first panel where we were able to ask several journalism professionals about their experiences within the industry and facilitated our most recent Instagram takeover where we asked our following to send in questions for a media, journalism and publishing professional.
Can you discuss a little bit about how/when SCJ was started?
LG: Florida State has had a chapter of the Society for Collegiate Journalists for many years. In fall of 2017, however, with the help of former president Teaghan Skulszki [who graduated from FSU in the spring of 2020 with her English degree], the dormant organization was re-established on campus with the vision of offering resources to students with a passion for writing and storytelling.
ST: As Lauren mentioned, Teaghan really revitalized the organization with the help of Jack Clifford, media specialist in the FSU English Department. I was first exposed to SCJ as a first-year student because I saw it being promoted on the FSU English department's Instagram feed and became more involved after studying abroad with Jack and working with Teaghan on Strike Magazine.
GC: I am honestly unsure as to how/when SCJ was started here at FSU but I would LOVE to know :) From my experience, this organization pairs perfectly with my professional aspirations and I hope that others see that too!
Why should students get involved? Why did you specifically get involved with this organization?
LG: I believe students should get involved with SCJ because we provide a plethora of resources and networking opportunities for those interested in the field. Despite the shift to virtual education and social life, I think it is critical for students to remain motivated in this field and join organizations or attend events that can reignite their passion and make them remember their "why." I joined SCJ because I wanted to continue to carry the torch that Teaghan had reignited and helped students with similar passions find their niche or connect with folks in the journalism and editing fields. I think, especially during this time, that it is imperative to keep in contact with professionals and peers with experience in this field because they can pour into you and help guide you on your journey.
ST: When I first came to FSU, I had my heart set on becoming a journalist post-graduation. Although now I am more open to different career options, being involved with SCJ has opened up so many doors for me because I am able to network and find resources I never would have found on my own. Students who are interested in having a career as a copywriter, no matter the setting, should get involved with SCJ because they can meet students and experts who are interested in the same field and grow professionally.
GC: Students should get involved with SCJ based on their interest in the field of journalism and dedication to furthering their professional opportunities and connections. I got involved with SCJ to further explore my interest in journalism and determine whether or not I can see myself in this role within my future. I can genuinely say that SCJ has taught me more about the field than any other opportunity I have had and I am so excited to continue my involvement with this organization!
What are you most looking forward to in the Spring 2021 semester with SJC?
LG: I am looking forward to meeting new people and culminating a community for students and professionals to network and share experiences with each other. Also, I am excited to execute engaging virtual events with my team.
ST: I am looking forward to coming up with new, fresh ideas about how to connect students with resources and grow this community in a remote setting.
GC: I am most looking forward to continuing to host events where our members can hear more about the field from passionate professionals and collegiate leaders alike. I am also excited to develop connections with similarly motivated individuals within and outside of the organization and learn more about journalism as a profession.
How can interested students get involved?
LG: Students can get involved with SCJ by following our Instagram and completing the Google form in our bio to become a member and sign up for our newsletter.
ST: Follow us on IG @scj_fsu_ to stay up to date.
GC: If you're interested in becoming a member of SCJ or taking part in our events (and I strongly encourage you to do so), I recommend attending or participating in our events on Zoom or our socials. The first step is definitely following our Instagram @scj_fsu_ where we post about what we're up to and how you can best get involved.
Cristi McKee is an English major, on the editing, writing, and media track, with a minor in business.
Follow the English department on Instagram @fsuenglish; on Facebook facebook.com/fsuenglishdepartment/; and Twitter, @fsu_englishdept