Faculty profile: Ronisha Browdy, assistant professor for the English-Rhetoric and Composition Program
---
Faculty profile: Ronisha Browdy, assistant professor for the English-Rhetoric and Composition Program
By Rachel Zak
When Ronisha Browdy was in college studying the field of rhetoric, she thought the curriculum was presented in a "particular Western way."
"We talk about these classic rhetoricians a lot and most of them were white elite males, and I just did not fit," Browdy says. "I thought 'How do I talk about this thing that is very much about black women and women's experiences and about people of color's experiences but still use this rhetoric framework?'"
Her primary research focuses on Black women's and Black feminist rhetorical practices, histories, and experiences. Browdy is now an assistant professor at Florida State University in the English-Rhetoric and Composition Program.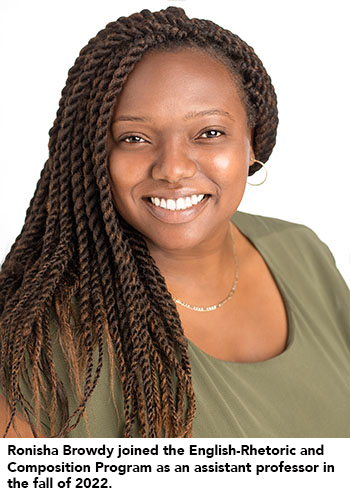 .
"Rhetoric was where I wanted to be," recalls Browdy of her undergraduate days when she was still navigating her way through an English degree.
After earning her doctorate in Rhetoric and Writing from Michigan State University, her Master of Arts in English from the University of South Florida, and her Bachelor of Arts in English from the University of Florida, Browdy has brought her talents to teach at FSU. (Watch Ronisha's New Faculty Introduction here.)
To further her studies while pursuing her degrees, Browdy read and researched others who were working toward the same goal. She mentions scholars such as Jacqueline Royster and Shirley Wilson Logan as two who inspired her and helped advance her research.
Browdy remembers thinking, "Okay that's what I want to do—now how can I do it my way?"
As she discovered and developed her path, Browdy began to publish her ideas in various journals. Her article in a 2021 issue of Peitho Journal is titled "Black Women's Rhetorics: A Conversation Starter for Naming and Claiming a Field of Study."
She is co-editor and co-author with Esther Milu for a special issue of Rhetoric Society Quarterly, "Global Black Rhetorics: A New Framework for Engaging African and Afro-Diasporic Rhetorical Traditions." Milu earned her doctorate at Michigan State University and currently is assistant professor of English-Rhetoric and Composition at the University of Central Florida. Browdy and Milu were in MSU's Writing, Rhetoric, and American Cultures Program, where they met as doctoral students.
With rhetoric being such a broad discipline, Browdy says pinpointing what students should learn about the subject is difficult. One concept Browdy hopes students take away from her teachings in Black women's and feminist rhetoric is how people can be so different, but so interconnected at the same time.
"I think right now we live in a world that is very much 'I'm on this side and you're on that side' and there's no middle ground," she says, adding that black feminism and global black rhetoric draws from a philosophy of community. "We need each other to understand this world and we are responsible for each other."
She continues, saying, "I want to emphasize the idea of rhetoric as a community and what that looks like and how we can use it not only in the classroom, but in our real lives. We need more community."
This idea is what ultimately led her back to the Sunshine State and FSU. Browdy graduated from Michigan State in 2017, and she then spent almost five years as an assistant professor in English at North Carolina State University. Her two twin boys were born in Raleigh, and trying to raise a new family during a pandemic was hard on Browdy. Her desire to be back with a community and support system in Florida became a motivating factor to return.
I want to emphasize the idea of rhetoric as a community and what that looks like and how we can use it not only in the classroom, but in our real lives. We need more community.

— Ronisha Browdy
"I saw Florida State as a great space for me and the type of work that I wanted to do," she says.
Though the Fall 2022 semester is her first teaching at FSU, her students speak highly of her and her classroom environment.
"I really enjoy taking a class with Dr. Browdy," says junior English-Editing, Writing, and Media major Mia Gluckman, one of her students in the course Media Theory and Practice: Podcasting: The Art of Persuasion. "Her style of teaching is extremely engaging and entertaining. She is very encouraging and passionate about each topic she discusses. While learning about our own voices and their impacts, she continues to ensure that every student is comfortable and welcomed."
Browdy says that the best thing about teaching is learning from her students. She admits that the pressure of walking into a classroom and having to be the expert on everything is often overwhelming, so when students approach her with ideas or connections that they have made, she is ecstatic.
"I know those moments don't seem like a big deal because I was a student for a long time, and I still consider myself a student," Browdy says, "but you would be amazed how those little moments translate and how they affect the entire experience, especially for teachers."
Barbara Rivera-Nieves, an English-Editing, Writing, and Media major who is in the same class as Gluckman, appreciates Browdy's approach to teaching.
"Professor Browdy incorporates our own interest and understanding of the world into how we use and experience rhetoric," Rivera-Nieves says. "She exposes us to not just classical rhetoric, but a diverse variety of rhetoric. Our class takes the entertainment of podcast and how rhetoric is implemented in them to better establish our understanding."
Browdy remembers her college classes and feeling like she did not fit in the white male space of rhetoric. Now, as a professor, she creates an open and understanding space for education, working toward preventing her students from facing the same challenges.
Rachel Zak is an English major on the editing, writing, and media track, with a minor in humanities.
Follow the English department on Instagram @fsuenglish; on Facebook facebook.com/fsuenglishdepartment/; and Twitter, @fsu_englishdept