Faculty profile: Mais Al-Khateeb, assistant professor for the English-Rhetoric and Composition Program
---
Faculty profile: Mais Al-Khateeb, assistant professor for the English-Rhetoric and Composition Program
By Rachel Zak
While teaching middle school in Jordan, Mais Al-Khateeb had a revelation. She had earned her bachelor's degree in 2004 in English Language and Literature from Al al-Bayt University in Mafraq, but Al-Khateeb knew she needed to do more than teach.
She knew then that she wanted to pursue her graduate studies.
After teaching in Jordan for three years, Al-Khateeb came to the U.S. as an international student, and she eventually earned a Master of Arts degree and doctorate in Rhetoric and Professional Communication from New Mexico State University in Las Cruces.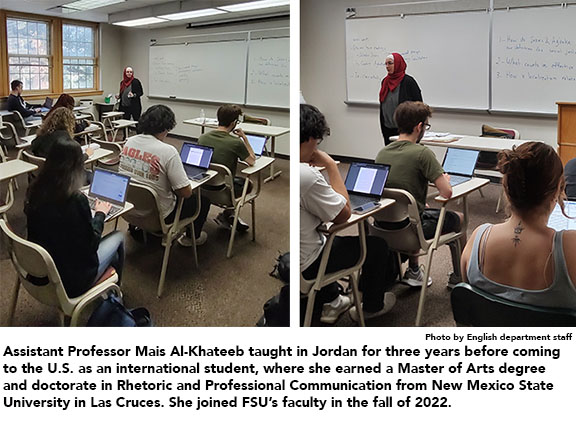 Now an assistant professor of English-Rhetoric and Composition at Florida State University, Al-Khateeb was at NMSU until 2019. She admits that "the transition—like any person who transitions between an undergraduate degree and a graduate degree—was hard."
"I came here as an international student," she continues, "so, leaving my family and everything behind to pursue a degree in a different country had its challenges."
Once she finished her doctoral studies at NMSU, Al-Khateeb became an assistant professor of Rhetoric and Writing Studies at California State University in Los Angeles. While she enjoyed her time there, the university's objectives primarily focused on teaching, so she had little to no time to do research. Research is invaluable and important to her, though, so Al-Khateeb knew it was time, once again, to find a more suitable environment for herself. While searching for research-based institutions, she came across FSU.
FSU has an excellent reputation as a research institution, along with a strong, nationally recognized Rhetoric and Composition Program for graduate students, so Al-Khateeb felt the Tallahassee campus was the right fit for her.
"What inspired me to pursue rhetorical studies, other than a love for reading and writing, was thinking about and witnessing the power of rhetoric in shaping and affecting change in the world," Al-Khateeb says. "Rhetoric is powerful; it invites us to examine and reflect on how we use language to connect or disconnect from other bodies and how to use this understanding to participate in creating a more inclusive, equitable, and sustainable world."
Her recent academic focus has been on transnational feminist rhetoric, which she says examines how entities, such as languages, bodies, and technologies cross transnational borders and come together to create specific realities for and about people. Transnational feminist engagements, she adds, allow us to think about rhetoric from a global perspective and reflect on the possibilities and limitations that rhetoric creates in the world.
"I incorporate that into the classroom by inviting my students to think about rhetoric and its effects from a global perspective," she says.
Daniel Stefanelli is a second-year doctoral candidate in FSU's Rhetoric and Composition Program. They took Al-Khateeb's Fall 2022 seminar The Rhetoric of Health and Medicine, which provided students with a general introduction to the rhetoric focus on health and medicine as well as an opportunity for students to explore specific topics of interest within the field.
Despite entering the seminar with "almost no knowledge" of the emerging polydisciplinary field, Stefanelli says Al-Khateeb made the course "engaging and accessible by connecting issues in the field with contemporary public debates, such as those surrounding reproductive health, immigration and citizenship, and racial justice."
"However, even more important than the specific content is the fact that Dr. Al-Khateeb is an outstanding teacher, not to mention a warm and compassionate person," Stefanelli adds. "I characterize her teaching style as exemplified by three outstanding features: a genuine interest in and respect for students, a deep and extensive knowledge of the content area, and a thoughtful but flexible course design. I have been a student for many years and an instructor myself during my time at FSU, so I can attest to how difficult it is to consistently excel in all three areas at once.
"The fact that Dr. Al-Khateeb managed this gracefully in her first semester at FSU is, I think, a testament to her intellect, amiability, and professionalism."
Al-Khateeb's most recent scholarly article is titled "Toward a Rhetorical Account of Refugee Encounters: Biometric Screening Technologies and Failed Promises of Mobility," published in a 2021 issue of Rhetoric Society Quarterly. Her in-progress monograph tracks the rhetorical production and circulation of screening discourses and practices targeting refugees in the wake of the 2015-16 terrorist attacks in the U.S. and Europe.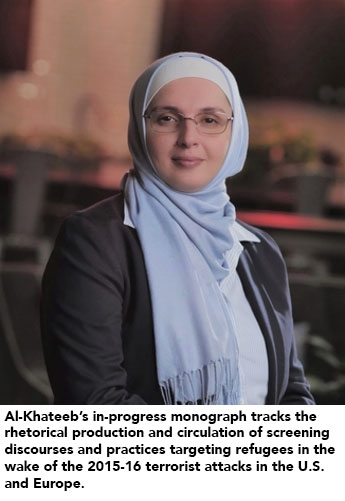 In addition to her appreciation for time to do research, Al-Khateeb enjoys the teaching component of her work. She does not rely on lectures in the classroom, preferring to have conversations instead.
"I am really passionate about teaching," she says. "I think teaching should not be just about walking into a classroom and teaching a specific lesson or concept we want students to learn. That's only a small part of it. To me, teaching is about co-constructing and building knowledge with my students. So, it's also about appreciating and including the experiences, stories, and knowledges students bring to the classroom."
When Al-Khateeb walks into a classroom and presents her own ideas without expectations, she appreciates "the magic of teaching," she says, seeing how students engage with the material. "The knowledge that is co-constructed as a result of that engagement—that's what really makes me passionate about teaching," she says.
FSU senior Jessica Anastasia, who is majoring in English-Editing, Writing, and Media on a pre-law track, was a student in Rhetorical Theory and Practice, which Al-Khateeb taught in the fall of 2022. The course content centered on early rhetoricians, such as Lloyd L. Bitzer and Richard Vatz, and progressed into a focus on rhetorical ecologies. Students were assigned to groups that facilitated class discussions based on that week's readings.
"In most classes, professors have a difficult time getting students to participate, but Dr. Al-Khateeb's passion for her subject matter and thought-provoking content made class discussion extremely dynamic and engaging, with almost every student willing to participate," says Anastasia, who is also majoring in Communication-Media Communication Studies. "I loved attending class because of the environment Dr. Al-Khateeb created. An environment where my classmates began to feel like friends, and we were all able to gain knowledge not only from the course material, but from the conversations we had with one another about it."
Anastasia adds that Al-Khateeb found ways to make the difficult course content easier to understand, assisting students based on their needs and being patient with their individual writing processes. What resonated with her the most, Anastasia says, is Al-Khateeb's ability to bring the students together to discuss the course content as well as to grasp any difficult concepts.
"I don't believe there is any student from this course who walked away without the level of knowledge higher education serves to provide" she says. "Personally, I greatly admire Dr. Al Khateeb's intelligence and her talent for educating, especially as a woman. She has become a role model for me and has increased my interest in one day working in academia."
Second-year doctoral candidate in Rhetoric and Composition Gabriela Diaz Guerrero echoes Anastasia's appreciation for Al-Khateeb's teaching style and encouragement for students' work both in and outside of the classroom.
"Dr. Al-Khateeb's teaching and mentoring style is so incredibly helpful for demystifying graduate-level work and publishing in Rhetoric and Composition," says Guerrero, who also took the Fall 2022 seminar Rhetoric of Health and Medicine. "In figuring out my final project, for example, she was very supportive of my desire to potentially take the project further beyond the semester, and she always provides so much helpful feedback for our writing and is always open to talking more about the process later."
Guerrero says the focus of the fall seminar is fascinating to her, and topic is a timely one to explore. She adds that Al-Khateeb emphasized both the practical applicability of the work scholars are doing in the field and how emerging scholars could shape future research.
"She's extremely detailed and clear in describing how to put together research methodology in ways different from what I've experienced in other grad seminars, and she's also great about giving us time to sit and think with big discussion questions before having us share in small seminar discussion," Guerrero says. "All of this helped us to both absorb the course material better as well as get a useful working understanding of how the field overall is being shaped by current concerns in health and medicine."
Al-Khateeb has been in the U.S. for 10 years now, with the past half-year spent in Tallahassee. As she settles into her new home, Al-Khateeb has been taking advantage of the area's many parks and outdoor areas, enjoying nature walks in her free time.
"I have loved living in Tallahassee so far," she says. "As a walking enthusiast, I have enjoyed exploring some of the walking trails in Southwood and the Northeast of Tallahassee, and I am excited to explore more."
Rachel Zak is an English major on the editing, writing, and media track, with a minor in humanities.
Follow the English department on Instagram @fsuenglish; on Facebook facebook.com/fsuenglishdepartment/; and Twitter, @fsu_englishdept