English Department's Annual Award Ceremony
---
English Department's Annual Award Ceremony
By Amber Deschene
Click here for full list of award recipients
The Florida State University English department honored 26 undergraduate and graduate students April 20 during the annual awards ceremony for their exceptional writing and work.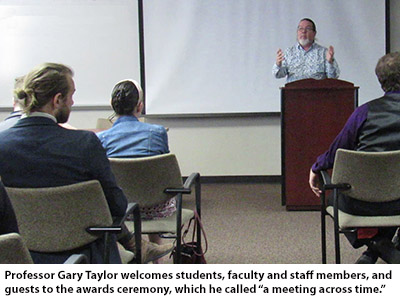 "We are celebrating not only our current students, but we also are simultaneously celebrating previous students, alumni, and donors, those people who have looked back fondly on this department, and this institution, and this discipline, and for whom these awards are named," Professor Gary Taylor, chair of the department, said in his opening remarks. "It's a sort of meeting of the English department across time."
Faculty members who work closely with the individuals, whether as their professor or mentor, chose all of the winners.
"I wasn't expecting the award -- it caught me by surprise, since it was a nomination," said undergraduate Katherine Lutz, who was awarded the Fred L. Standley Award for Undergraduate Excellence. "When I found out Celia Caputi nominated me—she's been my mentor forever—it just made it extra special for me."
Two Ph.D. students, Alex Quinlan and Aimee Jones, were awarded the Bertram and Ruth Davis Award for Outstanding Career as a Graduate Student.
Quinlan is currently pursuing his Ph.D. in poetry at FSU and he is the editor of The Southeast Review, the department's literary journal since 1979. His poems and nonfiction writing have appeared in several journals, including Bat City Review, Beloit Poetry Journal, OH NO!, Pebble Lake Review, Tampa Review, and Tusculum Review, where Quinlan has been a contributing editor.
"It's very humbling to receive such an award amongst so many deserving candidates," Quinlan said. "It's with full awareness of that, that I get to accept this award, so it feels really great to be recognized amongst so many people for the work I've done here."
Jones, who earned her Ph.D. in June 2017 and whose doctoral dissertation is titled The Role of Motivation in International ESL Graduate Students' Engagement with Writing at the University Writing Center, will begin a teaching professor position in fall 2018 at Barry University in Miami.
"I think I was really shocked because I didn't think that something like working at the Writing Center was really very outstanding," Jones said, referring to the time she spent as a tutor at the Reading Writing Center. "I'm so grateful and appreciative. It just feels really good to be honored for doing something I love."
The Edward H and Marie C Kingsbury Fellowships, also known as the Kingsbury Award, were given to William Fargason and Rita Mookerjee.
"It feels great to have my work recognized by people I respect so much, it really means the world to me," Fargason said.
He is currently a Ph.D. candidate and says he is excited to have the time and space he wants to work on his first collection of poems. He earned his B.A. in English at Auburn University and his M.F.A in poetry from the University of Maryland. He's had poetry published in the New England Review, the Barrow Street, the Indiana Review, the New Orleans Review, and the Nashville Review.
"There's really nothing better than when a writer gets time to work on their own writing, rather than other obligations," he said.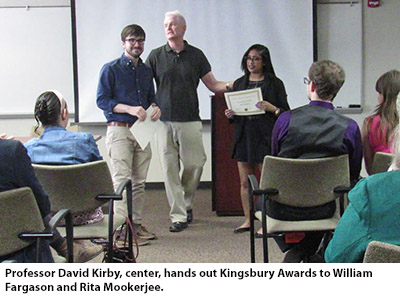 Rita Mookerjee won the Kingsbury Award for the second year in a row.
"It's a really good feeling that I don't take lightly," Mookerjee said, "The English department fosters really good material and research for me, so I'm really happy to be recognized for that."
Mookerjee is a PhD candidate specializing in contemporary literature of the Caribbean with a focus on gender and food studies. Her recent critical work has been featured in the Bloomsbury Handbook to Literary and Cultural Theory, the Bloomsbury Handbook of Twenty-First Century Feminist Theory, the Routledge Companion to Food and Literature, and Palaver Journal.
The Kingsbury Award is given for 50-60 pages of writing on any subject of intellectual value representative of the disciplines at FSU. The criteria the Department of English is looking for is originality, persuasiveness, accuracy, insightfulness, timeliness, etc.
There is a Kingsbury Fund that determines the number and amount for the yearly award. The recipients of this award are able to enroll in a full load of courses and also may hold a quarter time research or teaching assistantship.
Professor Leigh Edwards leads the awards committee, which also includes Professors Joann Gardner, James Kimbrell, David Kirby, and Elizabeth Stuckey-French. The ceremony awarded many talented writers for their hard work and dedication to original, quality writing.
"This was a celebration across generations of what it is we all love doing—and that some of us do extraordinarily well," Taylor said.