Alumna Kaylah Jackson's story has developed through her journalism career and helping others
---
Alumna Kaylah Jackson's story has developed through her journalism career and helping others
By Rachel Loring
Spend some time skimming Kaylah Jackson's LinkedIn profile, and you'll find a journey through several states, universities, degrees, involvements, reporting jobs, military service, as well as her current position as associate editor of optimization at Vox, a news website.
And that's just a summary.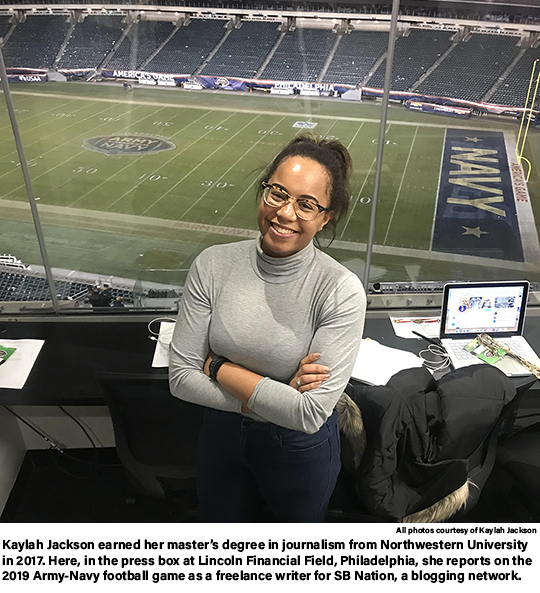 Jackson's work ethic has propelled her to unique, and sometimes niche, corners of her field. Or as she calls it, "bumping around in different parts of journalism." Jackson uses her personal experiences and the wide foundation of skills and interests she picked up as an English major at Florida State University to further her journalistic career.
Visibility is important to Jackson not only in her own writing and identity, but also in uplifting other writers around her. Her philosophy on writing and editing relies on developing one's identity to positively reflect their experiences.
"You can try to separate yourself, as you should, from some topics," says Jackson, who graduated from FSU in  2016. "But I also feel like utilizing your personal experiences and identity through your reporting is important. When I think about reporting and topics I would want to report on, it's really important for me to use myself as a lens."
Her current position at Vox has evolved from being social media-based to a focus on search engine operation. She sees misconceptions surrounding SEO as a branch that only cares about clicks and site engagement. Instead, Jackson says SEO in the workplace can function as a resource to ensure articles are being seen and writers' hard work is being promoted properly.
"[SEO] is really important because we have all these writers and reporters doing this good work, and if no one sees it, what's the point," Jackson says. "My job is to partner with the newsroom and reporters and really try to increase the visibility for the work they do."
This is not the first time Jackson has partnered with writers. As an undergraduate student at FSU, she worked as a peer tutor with the department's Reading-Writing Center, her favorite involvement, she says. As a tutor, Jackson improved her own editing skills while working with students on their writing techniques.
"You got to experience and work with all different types of students: students who had English as a second language, student-athletes," Jackson explains. "You also worked with the English language, not only writing and editing but also how to communicate English with different types of people coming from different backgrounds"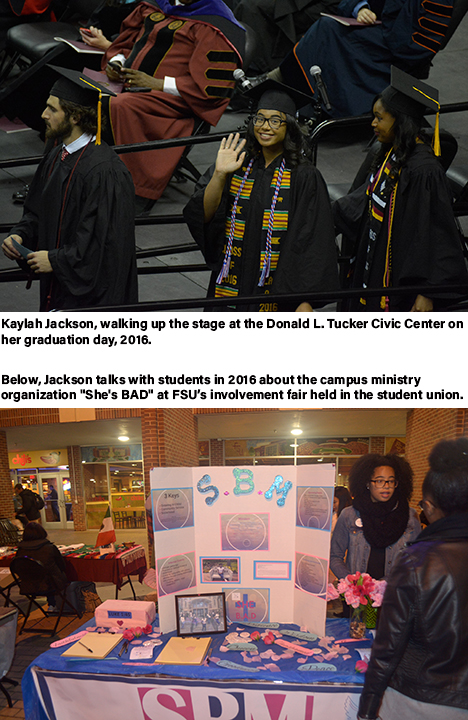 Knowing how to work with people of different backgrounds is important in Jackson's line of work. After graduating from Northwestern University with a master's degree in journalism, she often found herself as one of only a few young people in reporting spaces.
This offered a unique set of challenges for Jackson, like learning how to navigate a brand's social media.
"You're the young person on the team. So, [superiors] say: 'Hey you have a Twitter, figure it out.' I knew how to work my own Twitter, but for a brand it's different," Jackson says. "But I also took it upon myself. If they said, 'Hey we need a Twitter strategy,' I said 'OK, I'm going to go one hundred percent on this. I'm going to get us verified, I'm going to do all of the extra work to learn for myself.'"
Learning a new skill is something Jackson regularly pushed herself to do while at FSU. She diversified her courses and took English electives and classes outside of her editing, writing, and media concentration to try her hand at different forms of writing.
"I took a Latin and Greek root word class, that was probably one of the most helpful classes that I had ever taken in my college career," Jackson says. "I geek out on etymology, so it was really cool."
Jackson also took classes with former English doctoral student Anna Claire Hodge and found her experimental classes especially interesting.
"Dr. Hodge was really awesome, we talked a lot about cultural references within English," Jackson says. "She was a hip-hop head, so we talked about music and pop culture in class. I just thought she was an awesome instructor."
Hodge relays the same sentiment about Jackson, saying that having students like Jackson in her classes is what she enjoyed most about teaching. Jackson was a student in Hodge's final course she taught at FSU before earning her doctorate in 2016.
"This class stands out in my mind for its diverse and bright cast of characters and the excellent chemistry we had…[Jackson] was a crucial part of that class and I was in awe of her poise and grace," Hodge says. "When other students might have had one foot out the door thanks to 'senioritis,' she was laser-focused on her goals. I never doubted that she'd soon achieve them.
"She stood out immediately to me and continues to shine."
Jackson's focus on her goals pushed her further in her career when she first started reporting full-time.
"I covered the Department of Veterans Affairs, specifically issues with women in the military. Their experiences in and outside of service, getting VA benefits, that type of thing," Jackson says. She also attended Department of Defense budget meetings. "Some of it was fun, some if it not so fun. But it was a pretty good first experience."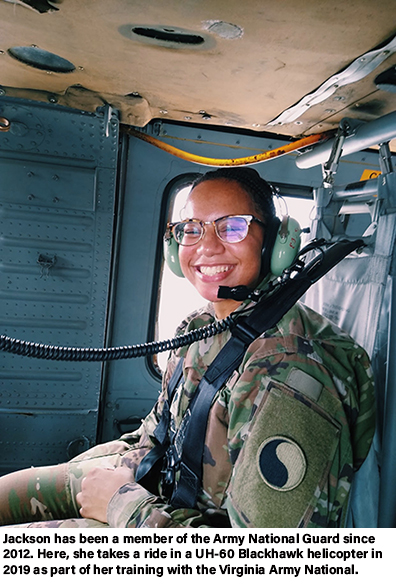 Covering the military hit close to home for Jackson. As a member of the Army National Guard since 2012, she is privy to issues that affect military personnel, especially women and people of color.
"In some ways that can be hard to report on, but in general I feel like I'm a woman, I'm a black woman in the military, so some of the issues aren't going to be brought up because if you're not in that community you don't know it exists," Jackson says. "No matter what I'm doing down the line, reporting on issues of people who look like me is always going to be really important because sometimes, at the end of the day, if you don't nobody else will."
Jackson also freelances for SB Nation, a sports blogging network, and those same issues allow her to shine a light on people who might otherwise be disenfranchised. Ensuring that people's voices are heard also applies to her current work. Jackson regularly meets with the news team at Vox to offer trend reports, so that what is being reported is important to Vox's audience.
"It's what resonates with our readers: What should we do more reporting on? What do people have more questions on?" Jackson says. "We want to explain the news and give people context and background. They aren't just getting headlines, but also what this means in the larger context of their day-to-day life."
Helping others through her work is not going to change in Jackson's future. She would like to be able to teach English, something she's been doing in one way or another since her tutoring days at FSU.
"I still want to report long term," Jackson says. "I would like to teach… English is something I'm passionate about. Literacy is something I'm passionate about. And young people. So, if I can do something within those realms in the next few years I'll be satisfied."
Through her many accomplishments at and after FSU, Jackson remains dedicated to her passion for helping others, community spirit, and the importance of the English language.
Rachel Loring is double majoring in English on the creative writing track and in family and child sciences.
Follow the English department on Instagram @fsuenglish; on Facebook facebook.com/fsuenglishdepartment/; and Twitter, @fsu_englishdept